Faurecia bullish about future of hydrogen-fueled cars in China
Share - WeChat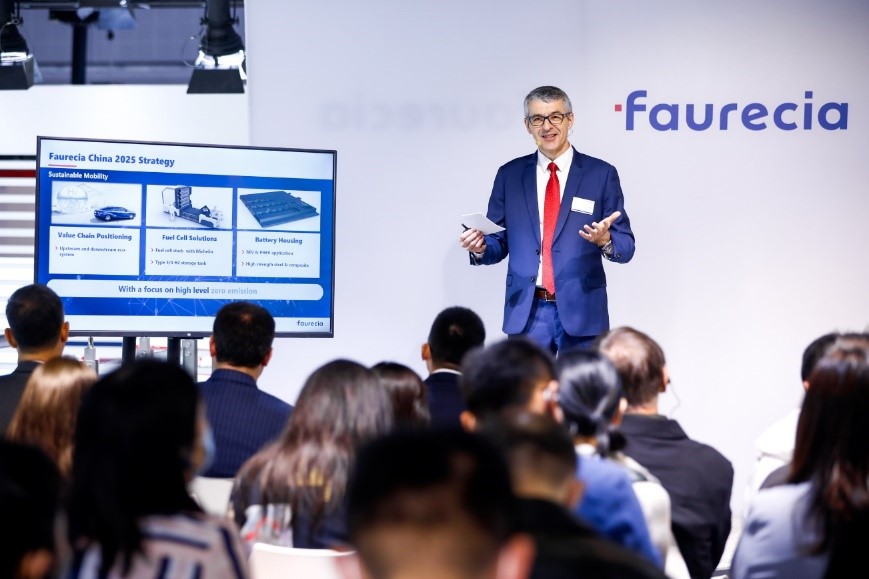 China's focus on reducing its carbon footprint means that there will be much room for growth for hydrogen-fueled cars in the country, Francois Tardif, president of Faurecia China, said during the ongoing China International Import Expo.
To address China's goal of achieving carbon neutrality in 2060, the Paris-based automotive supplier has brought its latest hydrogen storage solution – a fuel cell stack - to the annual expo. According to the company, the device can power a car for at least 500 kilometers and generates no carbon dioxide.
Tardif said his positive outlook for hydrogen-fueled vehicles is backed by hydrogen's longer storage period when compared to other clean energies. Another major advantage of such cars is that they can be refueled quicker than other types of green vehicles.
The promotion of hydrogen-fueled cars can be carried out by deploying fleets for use in airports, local logistics systems and even law enforcement, Tardif suggested.
Tardif pointed out that another reason to be optimistic about the future of hydrogen-fueled vehicles in China is the fact the country is both the world's largest consumption market for automobiles and a global leader in connected vehicles and NEVs.
Data from the China Passenger Car Association showed that China accounted for 32 percent of all cars sold in the world in 2020. In addition, more than 1 million new energy vehicles were sold each year in China from 2018 to 2020.
The size of the new energy vehicle market has also driven the development of technologies related to this sector.
"Faurecia used to bring in the most advanced technologies to China before localizing them. Today, frontier concepts and technologies need to be transferred into mass production first in China before they are promoted to other markets," said Tardif.
Founded in 1997, Faurecia has 266 factories and 39 research and development centers all over the world. The company had in mid-August signed an agreement to acquire a 60 percent stake in German automotive supplier Hella. The move, when completed, will allow Faurecia to enhance its development of electromobility and become the world's seventh largest automotive supplier.