Weary Team China bids to salvage Cup dream
Share - WeChat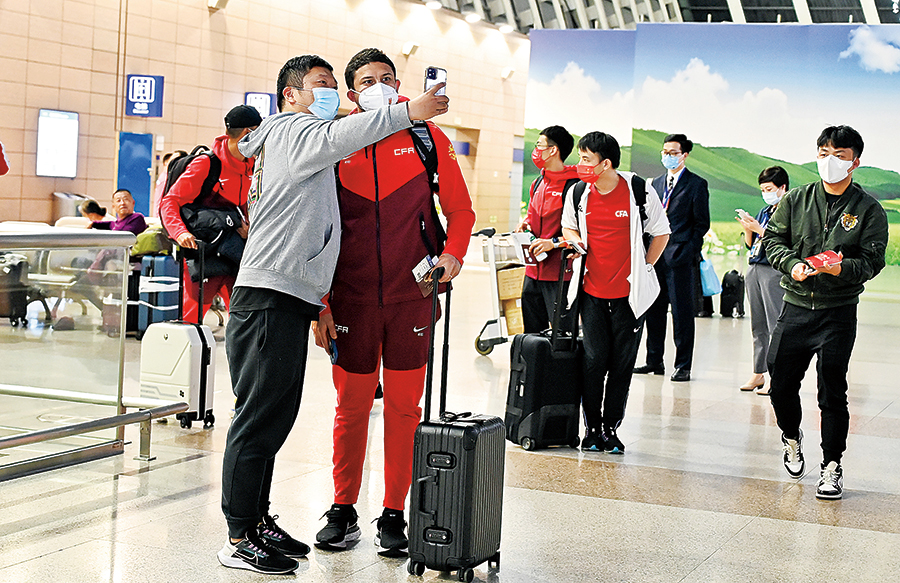 Pandemic-related challenges make national squad's task even tougher
As if Team China's World Cup qualification bid wasn't tough enough already, the loss of home advantage has given Li Tie's men an even bigger hill to climb.
Li's players returned to their now familiar routine of long-haul flights and extended stays in bio-secure bubbles on Saturday night when they set off for Sharjah in the United Arab Emirates, where they will play Oman on Thursday and Australia five days later.
China has played all of its matches in the Middle East since the final phase of Asian zone qualifying kicked off in September, with the pandemic situation deterring the nation from hosting home games.
The loss of home advantage has left Li's players racking up the air miles and needing to adjust to the monotony and isolation of bubble life in foreign countries.
"After the players returned to China last month, they were quarantined for 14 days, leaving them with a two-day break. That was the first time they'd met their families in two months," Tencent Sports reporter Zhao Yu wrote on social media.
"After the short break, training resumed and preparations began for two warm-up matches against Chinese Super League teams, after which they had another two-day break. It's been tough for all the players to spend such a long time in the bubbles, but most of them understand the situation, as pandemic prevention is still a priority. No one wants to make any mistakes regarding this matter."
Clearly a little weary of their extensive travels, however, head coach Li Tie recently described his players as being "like homeless kids", before a Chinese Football Association announcement earlier this month dashed hopes that the national team's home games will be staged in China any time soon.
"Everyone knows how important home advantage can be. After the previous matches, all the players were looking forward to playing the next two qualifiers at home, and some players even wanted to buy tickets for their families to watch from the stands," Li told Xinhua over the weekend.
"But it hasn't worked out that way, and we simply have to accept and deal with it. Now the only thing that I need to think about is how to get the best out of my players in this situation.
"When we heard the news, many players reacted quite emotionally. The toughest task for us during this period is making sure the players are in the right frame of mind. All this, with the long stints in the bubbles, is a new experience for the national squad. All we can do is to tell them that coping with this situation is what it takes to win and to think positively.
"I'm proud that they've held on until now and have trained really hard. From this perspective, I can't fault them at all. Playing in the bubble for such a long time, they are certainly not at their best, but I hope they can improve."
Indeed, a drastic improvement is required if Team China is to reach its first World Cup finals since a solitary appearance in 2002. It currently sits fifth in Group B, with just one win from four games.
The top two finishers from each six-team group will qualify automatically for the finals in Qatar. The two third-placed teams will face off in a two-legged playoff, with the winner of that tie then needing to negotiate an intercontinental playoff.
Head coach Li has come in for heavy criticism for his tactics and apparent reluctance to fit some of the team's naturalized players into his starting XI.
Defender Tyias Browning was the only naturalized starter in last month's 3-2 defeat to Saudi Arabia. However, facing a 2-0 deficit at the interval, Brazilian-born trio Alan, Ai Kesen (aka Elkeson) and Luo Guofu (aka Aloisio) were all introduced and immediately revitalized the team, with the latter producing a stunning volley after just 20 seconds on the pitch.
Li reportedly gave naturalized stars more playing time during the recent behind-closed-doors warm-up games, with Alan and Luo Guofu seeing the full 90 minutes.
According to Soccer News, however, there are no guarantees that the pair will start either of this week's games.
World Cup winner Fabio Cannavaro, who coached both Alan and Luo Guofu at Guangzhou Evergrande and briefly with the national team in 2019, believes Li's sparing use of the two attackers is due to their fragile fitness.
"Alan is a really outstanding player, but intense training and competitive matches can aggravate his knee. He can play about 20 to 25 minutes and no more… Especially during international matches, if you are not 100 percent ready, you can leave a bad impression with the fans," Cannavaro told Tencent Sports.
"Luo Guofu is in a similar situation. Two years ago he could play about 30 to 45 minutes. Now he can play about 60 minutes. I'm not the Guangzhou or Team China coach anymore, but I understand Li Tie's thinking.
"He needs to know when to utilize the naturalized players to maximize their impact. So the sensible choice is to play them in the second half."
Li refused to be drawn on his selection plans over the weekend, but said of Alan and Luo Guofu: "Over the past two months, they have trained really hard, and their fitness has improved a lot. The coaching team is using all the technology at its disposal to monitor the players' physical condition.
"No one knows more about the players' condition than me, and no one wants to win the qualifiers more than me. No matter who the player is, as long as he can help the team at a certain point in a game, I will send him on the pitch."
There are also concerns over star striker Wu Lei's lack of first-team minutes in Spain, with the 29-year-old largely restricted to appearances off the bench for Espanyol.
Wu remains a reliable performer for his country, even if some fans believe it's time for him to cut short his stint in La Liga.
Former China international and Bundesliga star Shao Jiayi does not subscribe to that view.
"We need to be more patient with Wu Lei and give him more time. Look at how well South Korean player Son Heung-min is doing at Tottenham. But it took him many years to reach this level in foreign leagues," Shao told thepaper.cn.
"The final phase of World Cup Asian zone qualifying is not easy, but I think we still have hope. The performances haven't been ideal so far, but we are still strong enough with the addition of the naturalized players. I believe Li Tie can strike the right balance."
Most Popular
Highlights
What's Hot