Smooth operators Sui and Han glide to another gold
Share - WeChat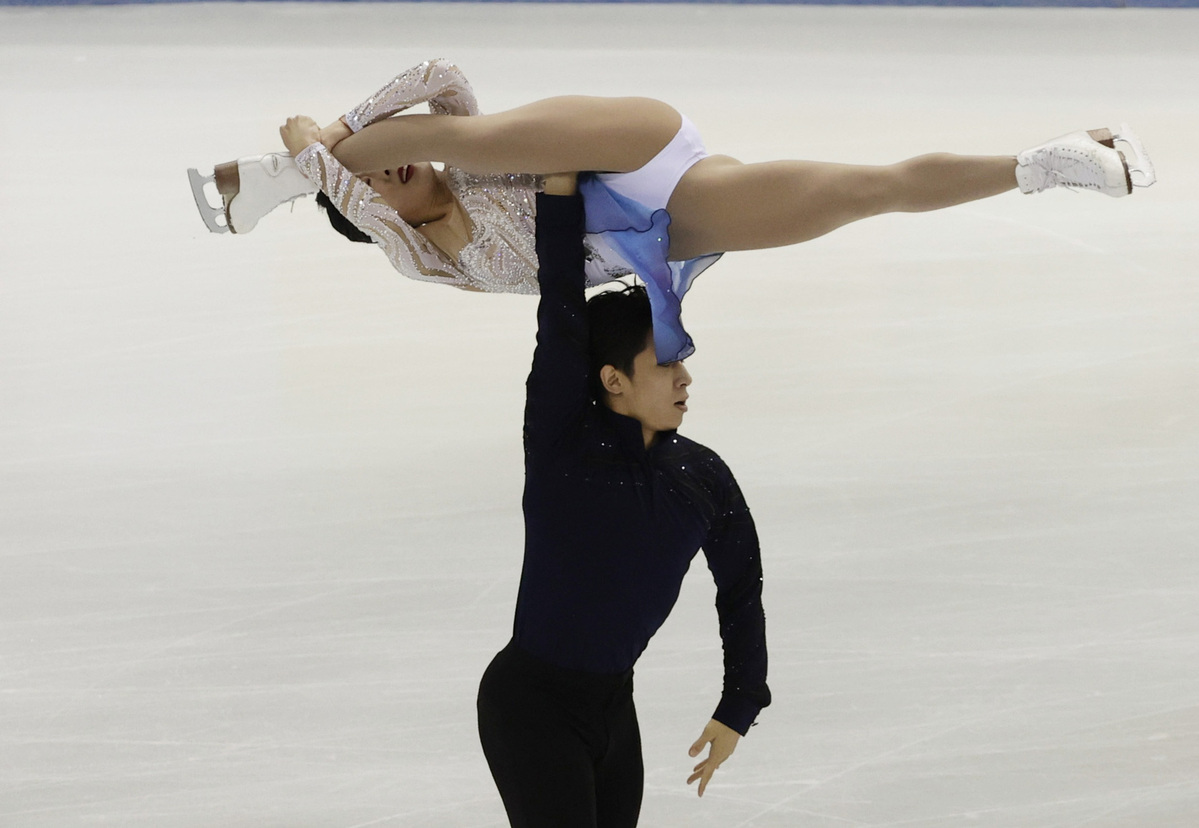 Sui Wenjing and Han Cong secured their second straight win of the ISU Grand Prix series with victory in Turin, Italy on Saturday.
China's 2018 Olympic silver medalists scored 144.48 points in the pairs free program to triumph with a total of 224.55 at the Gran Premio d'Italia. A week ago, they won the previous round in Canada.
Another Chinese pair, Peng Cheng and Jin Yang, delivered a solid performance to finish second with a total of 211.86. Russia's Iuliia Artemeva and Mikhail Nazarychev were third on 187.01.
Skating to Bridge Over Troubled Water, Sui and Han completed a triple twist, triple toe-double toe-double toe, triple Salchow and throw triple flip in their free routine. A twist, reverse lasso lift and the rarely seen forward outside death spiral merited a level four on the scoresheet while two lifts received a level three.
The 2019 world champions have endured a hectic schedule over the past month, competing in three cities around the world.
"It's been a hard month for us with three competitions and changing time zones several times," said Sui. "After the short program, my energy and body did not feel so good today, but we overcame it and are feeling very good now. Although we have a lot to improve on, I am really satisfied with our performance today."
Skating to The Banquet soundtrack, Peng and Jin produced a solid performance that included a triple toe-double toe, triple twist, throw triple Salchow and level-four lifts. However, Peng under-rotated the triple Salchow and stepped out of the throw triple loop.
"This is our first grand prix. We really treasure the opportunity to be on the ice and in a competition. We want to thank the audience because this experience means a lot to us," Peng said.
Russian bronze medalists Artemeva and Nazarychev were also proud to make the podium on their ISU Grand Prix debut.
"We prepared really hard for this event, the practice sessions went well and our skate should have been like the practice, but I guess we lacked some work and we have a second event soon in France. We'll try to fix all our mistakes and show what we want-the best we can do and beautiful skating," Nazarychev said.
Both the men's and women's competitions panned out in similar fashion-the title favorites, who skated poorly in Friday's short program, found their form in the free skating to get their hands on gold.
Japan's Yuma Kagiyama surged from seventh place in the short program to win the men's title with 278.02 points. The 2021 world championship silver medalist scored 197.49 in the free.
"Coming into the long program, I didn't even think about being on the podium or getting a good score, I was just planning to do my best," said the 18-year-old. "After the short program I couldn't change my mindset and even this morning I was feeling low in practice.
"My coach said let's forget about what we did last year-the position, the record-so I shook it off and though I'm starting from scratch, I'm doing my best and it helped."
Skating to Schindler's List, Russia's Mikhail Kolyada won the silver while the bronze went to local favorite Daniel Grassl.
Russia's 17-year-old world champion Anna Shcherbakova, who finished third after the short program, clawed her way back to take her third grand prix gold with 236.78 points, featuring a personal best score in the free of 165.05.
Compatriot Maiia Khromykh was second in her ISU Grand Prix debut ahead of Belgium's Loena Hendrickx, who was the surprise winner of the short program on Friday.
"My main goal for this competition was to show that my quad is back and I reached that goal," said Shcherbakova, who skated to Ruska, The Master and Margarita, and Lacrimosa.
"I made some mistakes in the short program so I will work on them," she said. "The short program has to be clean every time, but I'm happy and satisfied with my performance today."
Four-time world champions Gabriella Papadakis and Guillaume Cizeron of France won the ice dance ahead of second-place Americans Madison Hubbell and Zachary Donohue. Russia's Alexandra Stepanova and Ivan Bukin were third.
The event was originally scheduled for Chongqing, but was moved to Italy due to China's current travel restrictions and other pandemic-related issues.
It is the third of six competitions on the ISU Grand Prix schedule, with the series moving on to Tokyo next week (Nov 12-14), followed by Grenoble in France (Nov 19-21) before finishing up in Sochi, Russia (Nov 26-28).