'Complete package' Zhang primed for title showdown
Share - WeChat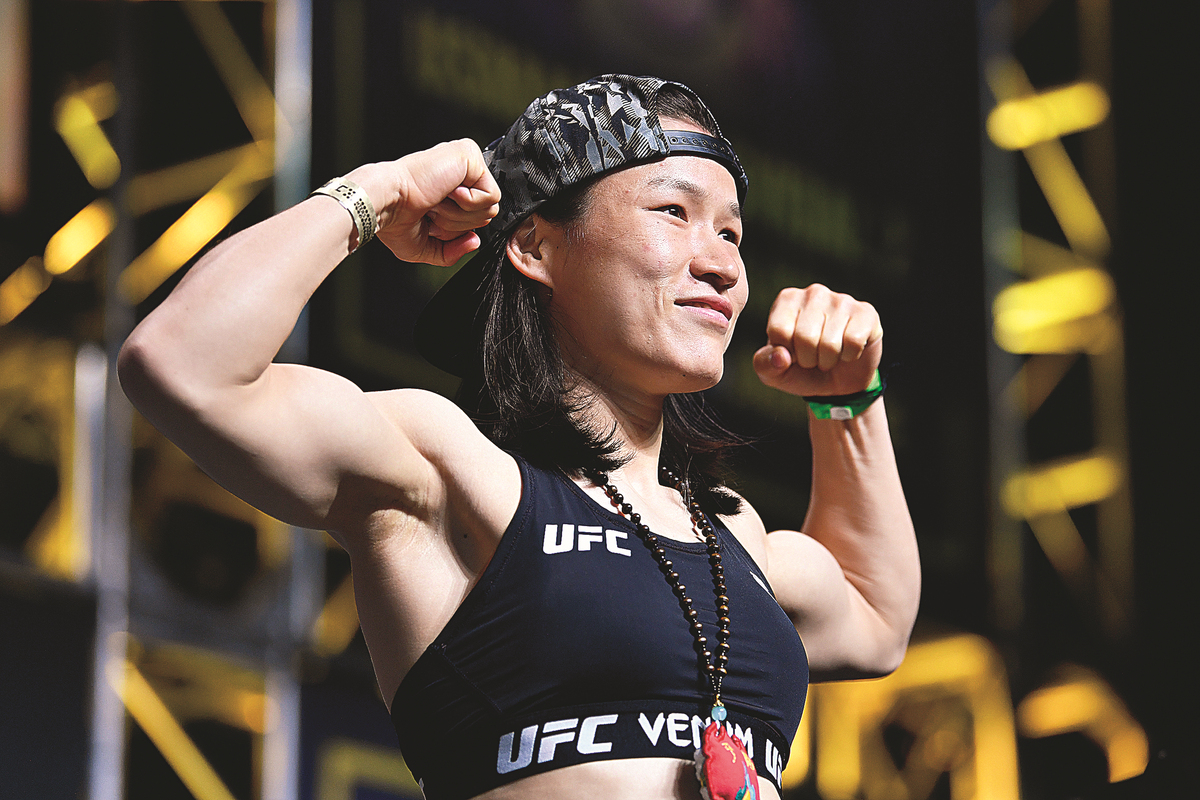 Chinese star raring to showcase 'brand-new self' in rematch after expert input from MMA greats
Returning to the Octagon as a more complete fighter, China's former UFC strawweight champion Zhang Weili is primed to reconquer the division just six months after losing the belt to American "Thug" Rose Namajunas.
As the only Chinese, man or woman, to ever be crowned UFC world champion, Zhang had enjoyed a smooth ride in her early days in the promotion, which she joined in 2018. That was until April 25 this year during the second defense of her title, when a high kick from Namajunas connected cleanly with Zhang's right cheek to send the Chinese champ crashing to the canvas.
The defeat saw Zhang lose the coveted belt that had transformed her into a national hero, and ended her 21-bout win streak to put a severe dent in the mental armor that she had long been proud of.
The TKO loss, however, offered Zhang a chance to rebuild for a stronger return when she challenges Namajunas in the co-main event of UFC 268 at New York's Madison Square Garden on Saturday night.
"I am not approaching the rematch as a revenge mission or anything like that," Zhang, who has been preparing for the bout in New York, told China Daily during a recent teleconference call.
"My mind is clear. It's a brand-new fight for me to demonstrate a brand-new self, a more complete and more focused MMA fighter that only cares about doing my best in what I can control, and nothing else."
With their last bout ending much sooner than expected thanks to Namajunas' fierce kick just 78 seconds into the opening round, Zhang blames a lack of concentration for the lapse in her defenses, admitting she was overwhelmed by a hostile crowd at her rival's home arena in Jacksonville, Florida.
"Physically I was ready but mentally I was carried away by the crowd reaction," Zhang said.
"Now as a challenger, I've got nothing to lose but to start over again. I will stay as focused as possible to execute my fight plan as best I can," added Zhang, who wrested the women's 115-pound belt off Brazilian brawler Jessica Andrade in Shenzhen, Guangdong province in August 2019.
Zhang's preparations for the rematch have included an eight-week training stint at former two-division UFC champion Henry Cejudo's camp at Fight Ready in Arizona. Her rigorous program was devised by Cejudo, renowned wrestling mentor Eric Albarracin and Brazilian jujitsu coach Pedro Jordao.
Now she is confident the specialist input has helped her become a more well-rounded warrior.
"Even though I stayed unbeaten for a long time and won so many fights, it might sound unbelievable that I didn't have a professional MMA coaching team until I got here this time," said Zhang, a 31-year-old Hebei native who goes by the moniker "Magnum" in the Octagon.
Dubbed "Triple C" after collecting two UFC titles and a wrestling gold medal at the 2008 Beijing Olympics, Cejudo has helped Zhang add more weapons to her arsenal beyond her trademark ferocious striking and jujitsu moves on the ground.
"Whatever deficiencies she has, she can work on her wrestling," said Cejudo, one of the most accomplished fighters in UFC history, who won flyweight and bantamweight belts from 2018 to 2019.
"She wants to become more of an MMA athlete and that's why we have her here."
With Cejudo and the rest of the Fight Ready team in her corner, Zhang has evolved into a 2.0 version of herself who punches harder and grapples smarter, according to legendary MMA coach Albarracin.
"I think the wrestling is the most important thing for her to improve because it connects the striking to the jujitsu," said Albarracin.
"She is one of the best strikers out there. She hits like a truck. Her jujitsu is very good, she is very aggressive on top. The wrestling is what connects them both. You put it all together you get a complete MMA fighter so she's improved her MMA game."
Most Popular
Highlights
What's Hot