Silk, song and sailing all part of an immersive experience
Share - WeChat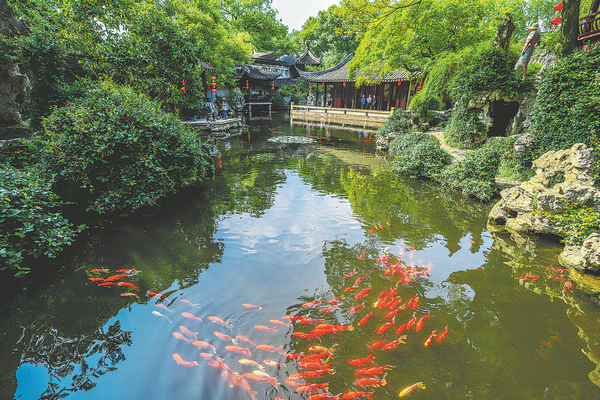 She was one of several online influencers invited by the Wujiang culture and tourism bureau to get a taste of the tourism plans the local authorities have for the area.
In June last year, Wujiang was named a provincial demonstration zone for what the industry calls all-for-one tourism, meaning tourism that extends well beyond just individual scenic spots and into cultural appreciation that also results amenities being upgraded to the economic and social benefit of locals. Ideally, proper planning for this results in a thriving tourism ecosystem.
The local authority is now working to upgrade the district into a national model for such tourism.
The district is home to historical towns including Zhenze, Tongli and Lili. The aim is to generate tourism income by making the most of Tongli's night economy, of Zhenze's rural charm and of a cluster of museums that have taken shape in Lili.
One attraction in Tongli old town is the Nanyuan tea house, built in the late Qing Dynasty (1644-1911), where local food can be enjoyed in a quaint setting. In the afternoon the delicacy to be enjoyed is of the aural and visual kind, a Suzhou pingtan performance.
Zhenze offers a historic and stimulating walk that takes visitors through attractions dating back up to 2,000 years, including Shijiantang, a sprawling mansion about 200 years old that features exquisite and imposing wood and tile carvings, Ciyun Temple Tower and the tomb of the 17th century astronomer Wang Xichan.
For gourmands, old chicken soup, stir-fried shrimp, crispy marble beef rib, steamed grouper, stone pot moray eel and meat mooncakes are a must try.