In high spirits
Share - WeChat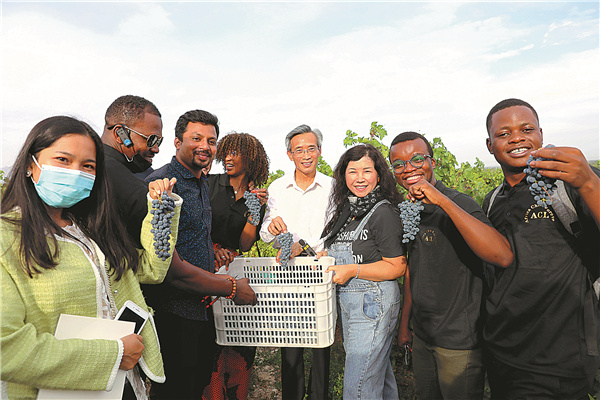 "When I was young, my grandmother told me, 'life is full of disappointments, hardly any of which we can confide in others'. When I grew up, I realized we are trying to strike a balance between trying to get what we want and trying to accept what goes against our will. So ruyi is not just a good wish, but also a high standard," explains Ding, who tries to render the idea through her wine.
Among those trying to showcase local culture on their wine bottles is Zheng Zichao, owner of Woerfeng Estate, where visitors can get a clear view of Helan Mountain. He put part of the mountain, which seems like the head of a supine Buddha, as a design on the bottle.
Jade Vineyard is also taking the lead in combining music with wine. That attracted Yao Mengshi, 30, to volunteer at the vineyard in September when the grape-picking season began.
"Walking down a spiral staircase in a well-designed white building, there is a cellar where rows of oak barrels of wine are stored. A cellar concert often starts when visitors arrive, and music runs through the cellar along with flowing blue light. The atmosphere is really appealing. On the rooftop lounge, visitors can get a bird's-eye view of the whole vineyard while tasting the wine," says Yao.
Most Popular