Harvesting the future
Share - WeChat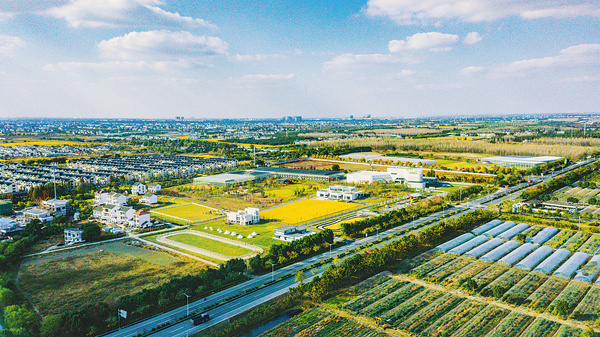 Smart technology and temperature-control systems resemble a space-age approach to agriculture, Yang Feiyue reports.
Smart farming is making its presence felt and is bringing in positive results in an eastern Chinese city.
You could be forgiven for thinking that the space age has dawned on agriculture. Visitors to a vegetable cultivation greenhouse at the Xiangjiadang agriculture digitalization plant that opened in Jiaxing, East China's Zhejiang province, in June have to undergo strict entrance procedures. These involve a strong jet of air washing over visitors from head to toe in a sealed room.
"This is to get rid of any possible hazards that could undermine the growth of produce here," says Geng Weibin, an official with the plant.
Green vines spread along elevated racks and dark green cucumbers were ready for picking in mid September.
"All it takes is 28 days from the moment we plant the seedling," Geng says.
The cucumber greenhouse covers an area of 6,000 square meters and can produce more than 60 kilograms of cucumber per square meter every year, he adds.
In addition to cucumbers, the facility in the city's Nanhu district has tomatoes, cherry tomatoes and bell peppers.
It involves an investment of 60 million yuan ($9.3 million) and takes up an area of 62 mu (4.13 hectares). The whole place offers smart agriculture and management through the internet of things, automatic sorting and packaging, food sourcing and e-commerce trading.
Most Popular