Beijing's winter warmer
Share - WeChat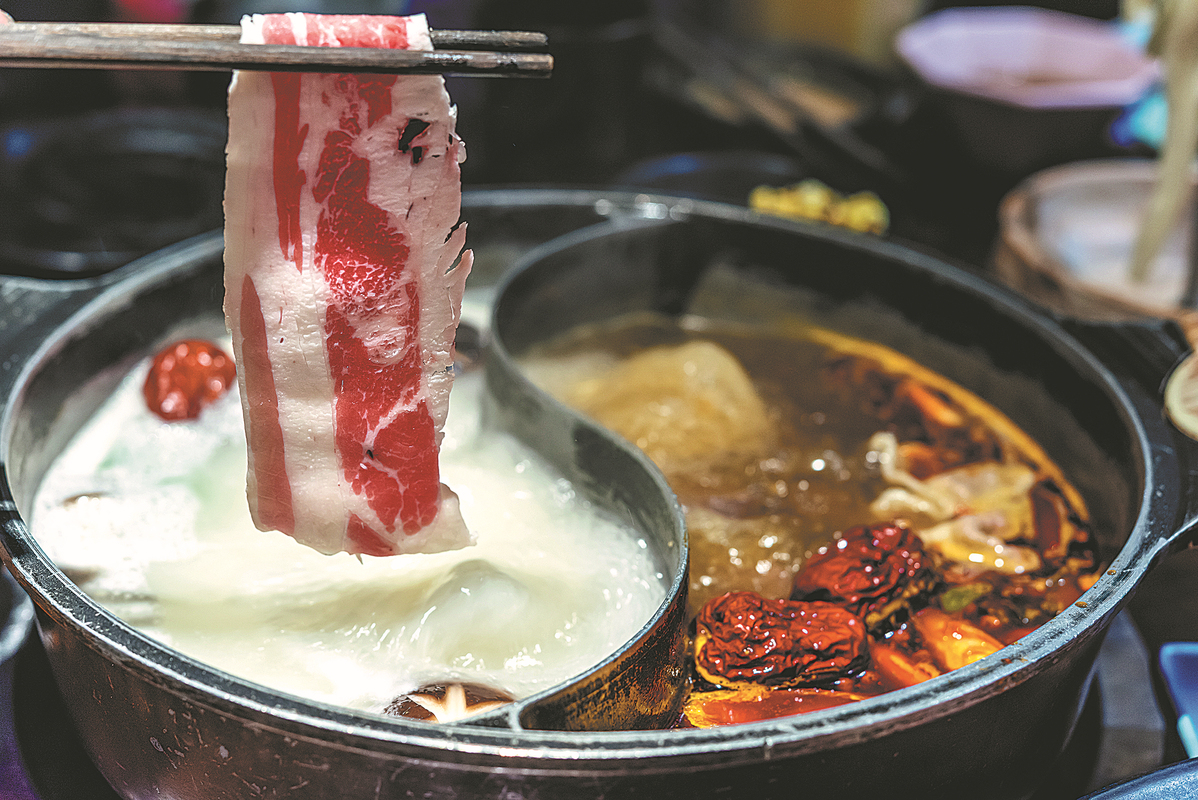 "They are popular among our female customers," he says.
Good knife and butchery skills also count for a lot.
An experienced chef can slice the meat so thin that people can read the words of a book through the meat.
Although the advent of mutton slicers has relieved chefs of manual butchery to a large degree, many restaurants have retained the tradition of hand-cutting meat.
"The skill of slicing the meat is actually a culture in and of itself,"Cai says.
At Donglaishun in Beijing, Chen Lixin has become the fourth-generation inheritor of the restaurant brand's mutton slicing technique that was named a national intangible cultural heritage in 2008.
The sliced rear leg should contain relatively more fat and less lean meat, so the dipped meat can be consistent in thickness.
He says that even his master teacher could only slice 120 plates a day.
Mutton slicing has even become a performance art at the restaurants these days.
Frozen tofu, Chinese cabbage, vermicelli made from bean starch and baked pancakes are equally indispensable ingredients in authentic old-fashioned mutton hotpot.
When the water boils, a dish of fatty slices from the tail is poured in to grease the pot, and then the mutton slices can be added. After the meat, it's time for frozen tofu, which will absorb the mutton soup and create an explosion of flavor on the palate. Then, cabbage leaves can be baptized in the brine to balance the taste and nutrition, easing the cloying of the rich, meaty flavors and making room for the last serving of the baked sesame pancakes.
The copper pot and ingredients, including sesame sauce, chili oil, pickled leek flowers and vinegar, also have to be present to complete the ritual.
Certain old ways, though, have been adapted to modern tastes and requirements.
At Manhengji mutton hotpot restaurant in Beijing, boss Man Jun has installed ventilators on each table to remove the smoke from the burning charcoals.
He believes it makes for a better guest experience.
Cai replaced the charcoal grill with an electric hot plate following customer requests for cleaner air.
He also invented a way of serving the sliced meat on a meter-long wooden board, which creates a visual impact and was quickly adopted nationwide.
In the old days, such restaurants only started serving mutton hotpot from Mid-Autumn Festival (the 15th day of the eighth lunar month). Business often waned after Spring Festival. And some staffers would have to find a new job after Dragon Boat Festival (the fifth day of the fifth lunar month), when business came to a halt. Today, however, mutton hotpot has become a perennial favorite to China's gourmands.
The technology development in mutton production has allowed for year-round supplies of fresh meat.
"We have guests waiting in a long line during winter, and while summer sees such extreme demand drop off, our tables are still often fully booked," Cai says.