Beijing's winter warmer
Share - WeChat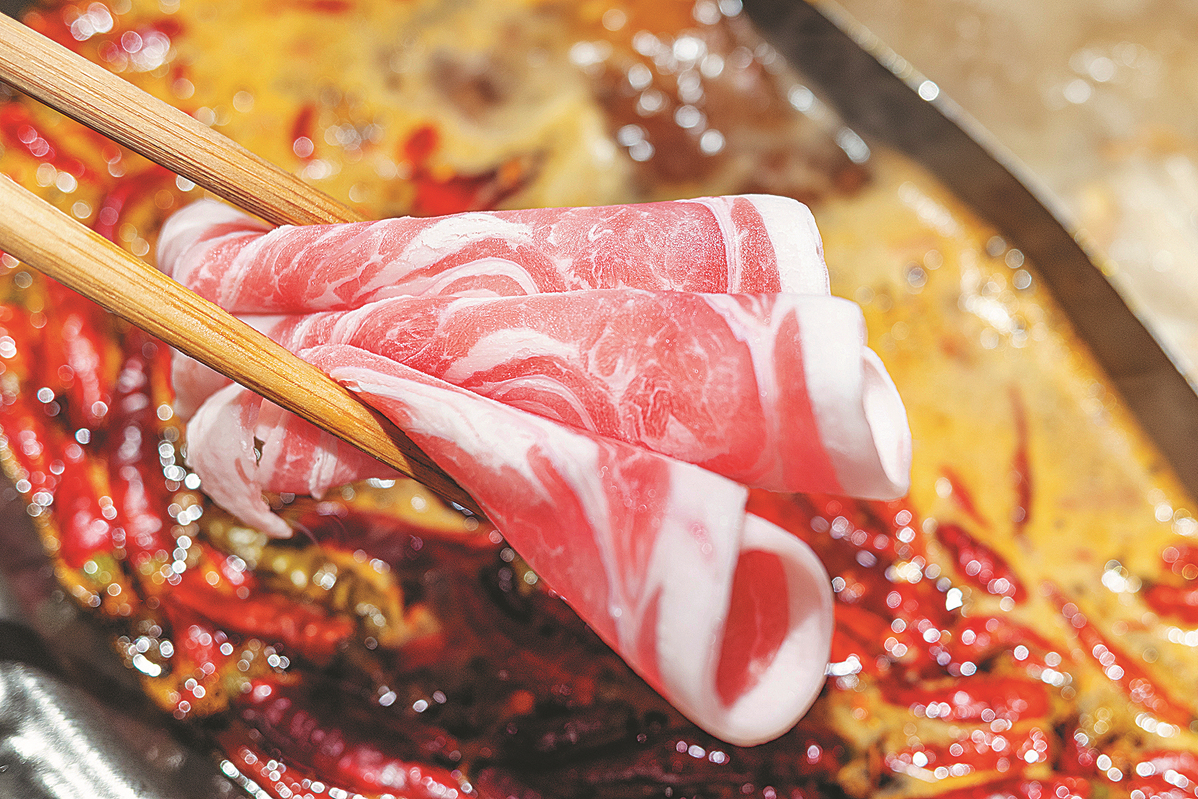 Many folk customs favor mutton over beef in part because cattle were once considered more important as a means of production.
Currently, the capital city is home to more than 2,000 mutton hotpot restaurants, according to restaurant- and cafe-rating platform, Dazhong Dianping, with a dozen well-known brands laying down roots, such as Jubaoyuan, Manfulou and Donglaishun.
Traditional Beijing instant boiled mutton is known for its simplicity, to the point that many southerners would think of it bordering on tedium. It has no saliva-inducing hotpot soup but plain water infused with some scallion and ginger slices. In some more luxurious cases, Chinese desert thorn, dried mushrooms and shrimps are added.
Since 1996, Cai Shihong has stuck to the old-fashioned way at his Uncle Yang's Mutton Hotpot (Yangdaye) restaurant in Beijing.
His business was small at first but was soon overwhelmed by legions of hungry customers.
From just six tables, Cai's mutton hotpot business has grown to six spacious venues in Beijing, Shanghai, Hubei province's Wuhan and Zhejiang province's Hangzhou.
Outside business investors came knocking, offering franchise opportunities, but Cai refused most of them to ensure the quality of his product.
"I strayed for a short period in the past, creating many new ways to prepare and eat mutton, some of which I even had patented," says the 64-year-old Beijinger.
"But it didn't go well," Cai admits, adding that the key to his success is keeping everything traditional.
The quality of the mutton plays a significant role in the hotpot experience, and quality control should be in place from the very start.
The meat tastes the best when the sheep is about 1 to 2 years old, Cai says.
"Sheep growing up completely in the wilderness have too much muscle and too little fat, and are therefore hard to chew, while those who spend all their time in a pen will carry an odor that needs to be covered with spices."
The best meat comes from sheep reared in a combination of the two environments, so the fat and muscle are at an optimal balance for the taste buds, he adds.
Today, many mutton hotpot restaurants divide the meat into a dozen categories based on which part of a sheep it is cut from.
The rear legs are full of muscle, quite chewy and are especially preferred by diners hailing from the Inner Mongolia autonomous region.
Modern diners are warming to cuts less commonly served for hotpot, such as the shanks and chops.
"Magic happens when those parts are frozen and then sliced for hotpot," Cai says.
The shanks are full of tendons and taste fresh and light, while the chops look fatty but taste glutinous instead of greasy.