Foreign trade maintains momentum of rapid growth
Share - WeChat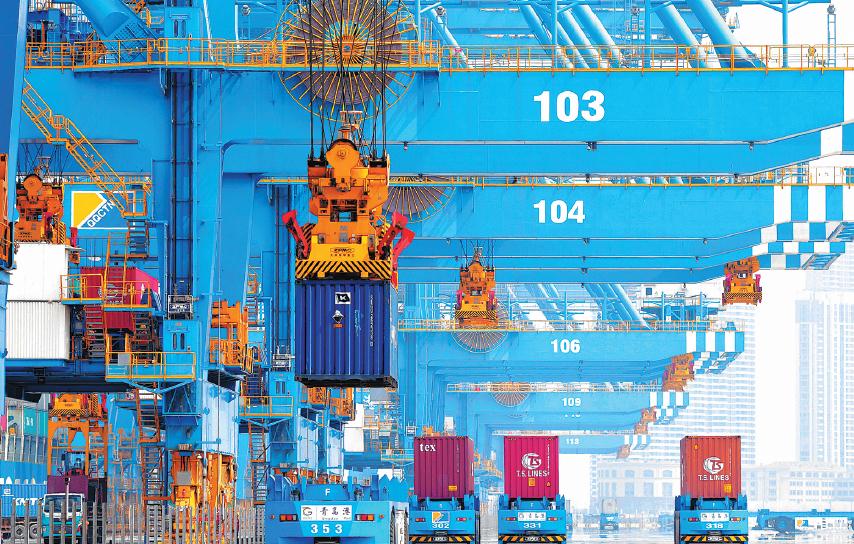 China's foreign trade for the whole of 2021 is expected to maintain relatively fast growth, although the year-on-year rate of increase will likely narrow in the fourth quarter due to a high comparison base last year, government officials and experts said on Wednesday.
Having shown stronger resilience, the nation's foreign trade still faces challenges from increased external uncertainties and complexities, they said.
China's exports will be well supported by recovering global demand and the country's complete and well-functioning industrial chains, they said.
However, as growth of demand from overseas will slow down, along with the resumption of production in Southeast Asia, the nation's fast export growth will gradually return to normal, they added. Together with the high comparison base last year, this will result in a decline in exports' year-on-year growth in the fourth quarter, they said.
Data from the General Administration of Customs showed that China's foreign trade in goods in the first three quarters totaled 28.33 trillion yuan ($4.4 trillion), up 22.7 percent year-on-year.
Compared with the same period in 2019, China's total foreign trade expanded 23.4 percent, while exports increased 24.5 percent and imports grew 22 percent.
However, the year-on-year growth rate of each quarter has been slowing down, although the overall trade volume has been continuously expanding quarter by quarter.
The import and export value for the first quarter stood at 8.51 trillion yuan, a year-on-year increase of 29.7 percent. The value for the second quarter was 9.59 trillion yuan, up 25.2 percent year-on-year, and for the third quarter, 10.23 trillion yuan, an increase of 15.2 percent.
Imports and exports in September grew by 15.4 percent from a year earlier-3.5 percentage points lower than in August.
"China's foreign trade has a firm foundation to register more stable and improved performance," said Li Kuiwen, a spokesman for the customs administration, at a news conference in Beijing on Wednesday.
"However, the external conditions are more complicated, as world economic recovery is obstructed by the resurgence of the pandemic, which imposes more uncertainties on China's foreign trade," said Li, who is also head of the administration's statistics and analysis department.
According to Li, factors such as the recovery of the global economy and foreign trade, and surging commodity prices have pushed up exports during the first three quarters, while the stable growth of the Chinese economy and government measures to facilitate and stabilize foreign trade amid a global drop in exports and imports have also supported the growth of foreign trade.
Wen Bin, chief researcher at China Minsheng Bank, said foreign trade growth started to decline from its high level in the third quarter, and the decline is expected to become more obvious during the fourth quarter.
"The index for newly signed export orders in September had been on a negative growth track for six successive months," Wen said.
"Strained shipping capacity and surging freight costs have continued, which will prolong delivery time frames and increase operational costs for foreign trade companies, especially the small and medium-sized ones," Wen said.
Li Huiyong, chief economist at Hwabao WP Fund Management Co, warned that surging commodity prices may curb enterprise profitability and export activities in the future.
Both of the analysts suggested that the authorities take more measures to stabilize foreign trade and reduce cost burdens for enterprises.
However, Zhang Yongjun, deputy chief economist at the Beijing-based China Center for International Economic Exchanges, said that based on the current situation, foreign trade will perhaps show a better-than-expected performance in the fourth quarter, although the growth rate is likely to slow down due to last year's high comparison base.
The prices of goods and total trade values have been pushed higher by factors such as appreciation of the renminbi and surging commodity prices, Zhang said.
Experts also said the upcoming 130th session of the China Import and Export Fair, to be held from Friday to Tuesday in Guangzhou, the capital of Guangdong province, will also advance the common growth of industry, supply and innovation chains as well as bring about effective interaction between the international and domestic markets.
Zhou Lanxu contributed to this story.