Forum focuses on shared future for mankind
Share - WeChat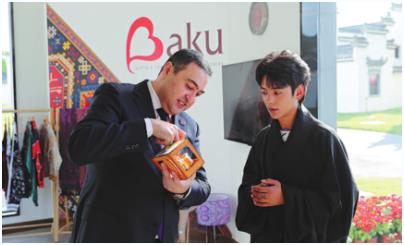 Leading officials and scholars at home and abroad highlighted on Tuesday the importance of stepping up efforts by different civilizations to build a community with a shared future for mankind in order to respond to the challenges of the times such as military conflicts, the COVID-19 pandemic, climate change and terrorism.
They made the remarks as they gathered in Bengbu, Anhui province, for the sixth annual conference of the Taihu World Cultural Forum.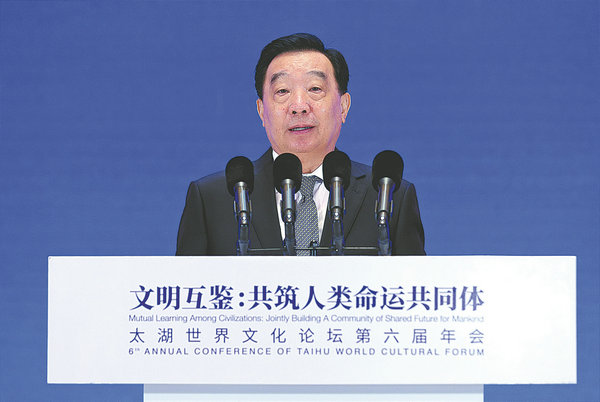 Speaking at the opening ceremony of the forum, Wang Chen, a member of the Political Bureau of the Communist Party of China Central Committee and vice-chairman of the National People's Congress Standing Committee, said that despite the severe challenges faced by mankind, countries are increasingly connected with and dependent on each other, and it is the common aspiration for people around the world to pursue peace and development.
"With an eye on the development of human beings and the world's future, China proposed building a community with a shared future for mankind. It conforms to the trends of world development as well as people's shared interests," he said.
In March 2013, for the first time, President Xi Jinping formally put forward the concept of building a community with a shared future for mankind in his speech at the Moscow State Institute of International Relations in Russia.
According to Wang, since then, China has been working actively to implement the philosophy through putting forward the Belt and Road Initiative, combating the pandemic, alleviating poverty and promoting ecological progress, greatly contributing to global efforts in these areas.
"China will also work with people in other countries to make new and greater contributions to world peace, global development and people's health and well-being," he said.
Ilham Aliyev, the president of Azerbaijan, said in a congratulatory message to the forum that the complex situation caused by the pandemic and other challenges facing mankind reaffirms how critical intercultural dialogue and mutual support are.
"We deem it crucial that representatives of different cultures come together and launch discussions aimed at addressing global problems," he said.
In his congratulatory message sent to the forum, Bulgarian President Rumen Radev said that he shared the opinion expressed by a number of world leaders that mutual knowledge and the ability to learn from each other are the main prerequisites for building a common future, regardless of cultural, ideological or current political attitudes.
"The knowledge will give us an explanation for many of the religious, cultural and sometimes political misunderstandings we face in today's world," he said.
Romano Prodi, former prime minister of Italy, said in a video speech that "we have tensions, we have problems, and this is unavoidable in a way, but dialogue is the only strength that we have now in order to react to the terrible situation."
"At this moment, understanding is much more important than anything else," said Prodi, who also is honorary president of the Taihu World Cultural Forum.
Yan Zhaozhu, the forum's chairman, said that there was never in history just a single social system or culture, and the ancient Silk Road proved that different cultures could coexist with each other in a peaceful and inclusive manner and learn from one another.
"Now faced with the serious threat posed by global challenges, people should join their hands to overcome the difficulties despite their differences in social systems, values and economic development level," he said.
"No country can develop on its own, and we need the peoples of the world to breathe together and share the same fate," said Li Yi, secretary of the leading Party members group of the China Federation of Literary and Art Circles.
Zheng Shanjie, Party secretary of Anhui, said that civilizations will become more colorful through communications and exchanges and will become more abundant through mutual learning.
"We will enhance soft cultural power so as to make Anhui's contribution to the development of world civilization," he added.
Wang Chao, president of the Chinese People's Institute of Foreign Affairs, said that the depth and scope of mankind's civilizations in the future will greatly advance with the development of science and technology.
"By adhering to equality, mutual respect and inclusiveness, different countries and civilizations will definitely provide the wisdom and impetus needed for addressing global challenges," he said.
Zhou Shuchun, a member of the Standing Committee of the National Committee of the Chinese People's Political Consultative Conference and publisher and editor-in-chief of China Daily, said that in the three years since the forum's last annual conference was held in 2018, and particularly since the pandemic broke out, people have realized that all countries share their weal and woe with a shared destiny.
"Against the background of changes unseen in a century, we should further deepen the exchanges and mutual learning among civilizations with greater efforts and strive to build a community with a shared future for mankind," Zhou said.
It is the first time that the conference, which runs through Wednesday, has been held in Bengbu since the city was named the permanent host of the Taihu World Cultural Forum in May.
The forum, a high-end, unofficial platform founded by China in 2008 for international cultural exchanges, has previously been held in Suzhou, Jiangsu province; Hangzhou, Zhejiang province; Shanghai; the Macao Special Administrative Region; and Beijing.