Cyberculture aiming to tell 'great Chinese stories'
Share - WeChat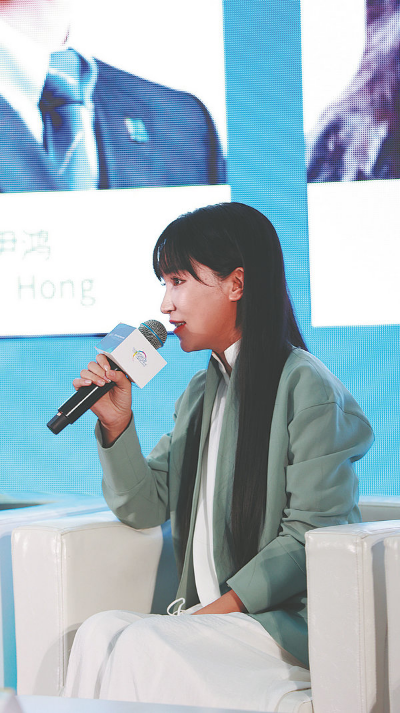 To tell great Chinese stories is to tell stories to the world and make the world willing to listen, Yin Hong, a professor at Tsinghua University and vice-chairman of the Chinese Association of Film Artists, told a cyberculture forum on Tuesday in Bengbu, Anhui province.
As part of the sixth annual conference of the Taihu World Cultural Forum, the meeting invited celebrities, experts and scholars to explore the current cyberculture market. The core issue of discussion was how to use China's increasingly influential cyberculture to tell great Chinese stories.
"For me, 'great' is to tell a Chinese story that is acceptable to the world and makes the rest of the world agree with it-not just a story belonging to the Chinese people," Yin said, taking Li Ziqi, a well-known online video blogger, as an example.
As an internet celebrity, Li promotes the traditional Chinese lifestyle on social media platforms overseas. She has more than 16 million YouTube subscribers and 55 million followers on TikTok.
Yin said the reason so many people enjoy Li's videos on YouTube is "the unfamiliar lifestyle, food and cooking methods, and even space and living conditions. However, we also see the familiar pursuit of happiness, which adds another dimension to life."
He added, "She (Li) has created a realm and state of life for us, which I think we all can share."
Li, who was a guest at the forum, said she began to share her videos overseas to protect her rights because her work was constantly posted on foreign websites by other people. Some even pretended to be her and to have made the videos.
"I seldom speak in my videos. Sometimes, I speak in the Sichuan dialect, but it still allows friends across the world to feel different emotions while watching my content. They can feel the exquisite skills of Chinese culture, the change of the seasons in my hometown and their longing for a better life in different environments," she said.
"The world is like a small village in the universe. Different countries and regions may not understand each other's languages, but there must be emotions or values in common, such as culture, food, art and humanity."
She added that this may be the reason people like her videos, in addition to traditional Chinese culture, delicious food and great rivers and mountains.
According to Hao Xianghong, director of the Communication Center for Literature and Arts on the Internet of China Federation of Literary and Art Circles, by the end of the year, there will be 4.6 billion internet users among the global population of 7.8 billion, with about 4.2 billion social media users. Among them, cyberculture users-represented by online videos, music and games-occupy the mainstream.
"The era of cyberculture has come, which has laid the foundations and conditions for the emergence of literary stars and cultural masterpieces in the new era," Hao said.
Xu Li, executive vice-chairman and secretary-general of the China Artists Association, said cyberculture provides everyone with a stage on which to present themselves.
However, to truly portray the country, there are still many aspects of traditional culture and aesthetics that are worth thinking about.
"The younger generation has grown up in a very open and good environment. They keep pace with the world and study all over the world," Xu said. "Moreover, they are relatively free and self-centered, so the internet era leaves a broad space for their imagination."
Many Westerners' understanding of China is outdated and inadequate, he said. "Some government bureaus or individuals still choose to promote folk customs overseas, such as Lion or Dragon dances," Xu said. "In fact, that lacks a deep understanding of 'telling a good Chinese story'."
Xu used the exhibitions of the China Artists Association as an example. Many have attracted large audiences via overseas promotions-for example, the National Exhibition of Fine Arts, held every five years, has toured in more than 40 countries, he said.
"It shows an image of the Chinese people in this era, but the language of expression is very new," he said.