A lesson in dedication
Share - WeChat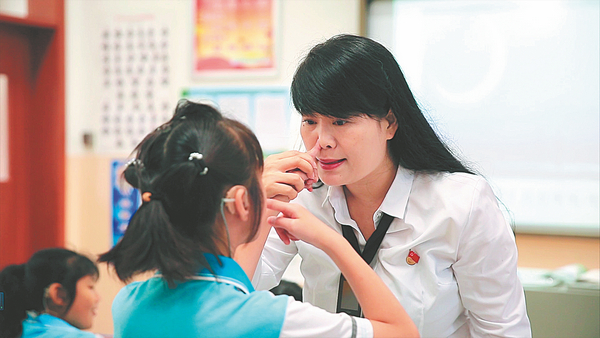 A female neighbor who was unable to hear and speak became the inspiration for Liu Lingli in her teenage years in Hengyang, Central China's Hunan province, to study special education.
"The woman was very kind to the kids in the neighborhood. But we did not know what her sign language meant," says Liu, who teaches at a school designated for children with disabilities in Hengyang.
"She was illiterate and could not find a job. Even worse, her husband was not kind to her," Liu recalls, saying that the woman's troubles sparked her compassion for people with disabilities.
When Liu was 14, she applied for a normal college to study special education in Nanjing, East China's Jiangsu province. She learned how to teach people who cannot hear, speak, see, or have an intellectual disability.
Graduating in 1991, she was recruited by the special education school in Hengyang. All the around 300 students at the school are children with disabilities. The ages of the students range from 7 to over 10. Liu takes care of those who cannot hear and speak.
"Once people with disabilities are literate, they are more likely to find a job and live a different life," Liu says.
"The teachers put a lot of effort into their job as the children who can't hear have no knowledge of sign language or how to learn," Liu recalls.
It is especially tough for those who teach the first-graders. "We are teachers as well as 'nannies'," Liu says.
The school offers three-year preschool training and classes for first- to 12th-graders.
"Our students stay here to study longer than their counterparts in ordinary schools," Liu says.
Liu's class teaches sign language, pronunciation and writing. "We also tell them how to create a study routine," she says.
Teachers of special education are, to some extent, therapists. "Teachers taking care of the language training class are responsible for helping students have aural-speech rehabilitation," Liu says.
"And teachers in charge of the children with intellectual disabilities help them know how to control their movements properly and mood.
"The students who can't see are supposed to learn how to walk."
Liu has come up with a textbook on tongue training. "For those students who are unable to hear and speak, their issue is how to use their vocal organs, which are normal but rigid," she says.
At her class, Liu has demonstrations of tongue movements to help her students train their vocal organs.
"We have a situation teaching method tailored for our students who don't know how to do everyday things in life," she says.
A grocery store, for example, has been set up at the class so that students are encouraged to "buy" whatever they want from Liu who plays as a salesperson.
The students are also divided into several groups, in which they are supposed to help one another.
"In doing so, we cultivate their sense of coordination and team spirit," Liu says.
For those students who rehabilitate well enough, they have the opportunity to transfer to mainstream schools. Since 2008, 14 students at Liu's class can speak fluently and have been transferred.
Students from special education schools are supported when they take part in the country's college entrance examinations. Some of them have been enrolled by institutions of higher learning.
"Well-educated, the students are able to work and live a normal life," Liu says. "Knowledge helps change the fate of these individuals."
At a reunion party for the teachers and students last year, Liu saw one student who is now a mother of three children.
"I felt so happy for her and the other students," she says. "The ultimate goal of special education, or education in general, is to help the children earn their salt and live a normal, happy life."
The smiles on her students' faces are a source of happiness for Liu. Her love for her students didn't fade even though she had serious issues of her own.
In 2005, when Liu was 32, she gave birth to a baby boy. The baby was diagnosed with congenital deafness when he was 7 months old. Even worse, her husband divorced her because of their son's disability.
Liu worked hard to have a work-life balance. She continued to teach her class and trained her son to speak. Wearing an artificial cochlea, Liu's son could speak by the time he was a year old. Now 16, he is a high school student and doing well.
Although she is not wealthy, Liu has supported four students financially so that they could finish their schooling. At weekends, she also visits children who cannot go to school because of severe disabilities.
Kuang Mingsheng, principal of Hengyang Special Education School, says that Liu's commitment to teaching and love for the children with hearing and vocal disabilities helps them find a bright future.
Liu was awarded by the Communist Party of China Central Committee as an outstanding member of the CPC in June.
Feng Zhiwei in Changsha, Hunan province, contributed to the story.
Contact the writer at caihong@chinadaily.com.cn
Most Popular