Li's a legend in the making
Share - WeChat Tokyo 2020 champion already targeting more medals as she eyes weightlifting domination
At the age of just 21, weightlifter Li Wenwen has already realized many of her sporting dreams. The Tokyo Olympic champion, however, is determined not to rest on her laurels as she aims to become a bona fide legend of the sport.
Li shot to prominence by winning the women's +87 kg gold at Tokyo 2020 before triumphing in the same category at the National Games, which closed in Xi'an on Monday.
"My dream was that one day I would step into the weightlifting venue and I would see my name beside each record on the big screen. And now my dream has come true," Li told China Daily during a livestream interview on Weibo last Friday.
Indeed, the big screen in Xi'an displayed nine of Li's records, ranging from national youth to Olympic marks. She admits, though, that the moment she accomplishes a goal can often feel like an anticlimax.
"My mind was pretty much empty at that time. I didn't have a chance to think too much because every day I need to be very focused on training and competing," said Li.
"So when I actually won the gold in Tokyo, I wasn't exactly overwhelmed with emotion to be honest. Before the National Games, somebody even asked me if I was treating the competition as a vacation. But I kept the same mentality and prepared the same way as the Olympics."
Li reckons she has matured a lot in her approach to tournaments, and is increasingly less reliant on her coach's guidance as a result.
"My coach doesn't worry too much about my mentality now. Before he would specifically tell me how to prepare and how to adjust my mentality," she said.
"But during the National Games, he didn't say too much to me. I was surprised and asked him why, and he said, 'You are doing just fine.'"
Li's coach is Wu Meijin, a silver-medalist from the 2004 Athens Olympics. Their bond is so strong that Li once said she would quit weightlifting if Wu ever abandoned her.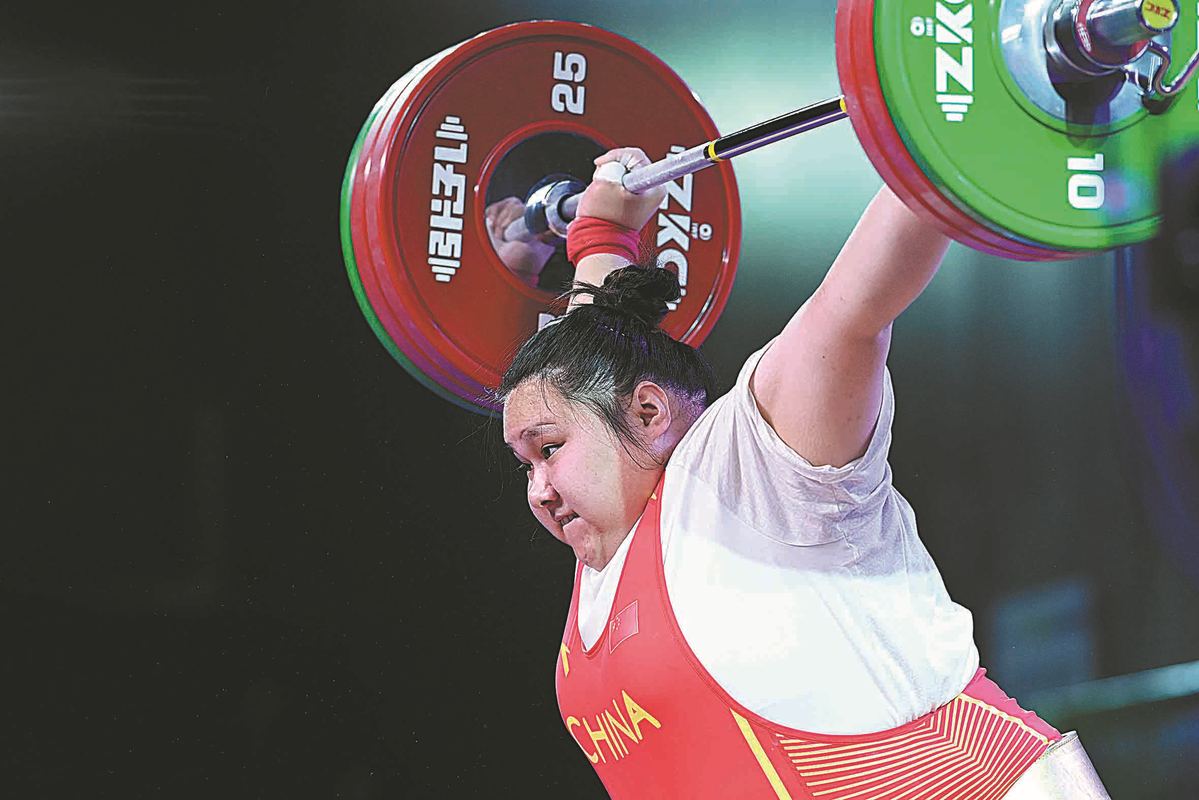 "We began working together in 2018, when I had just joined the national team. His approach was that he would never force me to do anything. He would simply observe and then patiently point out all my weaknesses, explaining what was wrong. Our relationship works really well," Li told China Daily.
"The hardest time for me was in early 2020 when I needed to further level up my physical strength. For about two months, I was totally exhausted. But my coach told me if I can manage to get through this challenge, I will reach a new level.
"My coach was by my side through the entire process. He would not rest until I had finished my training. We were usually the last two to leave the training base."
Praise from Wu, Li says, is something of a rarity and he always "uses the most gentle way to give me the strictest instructions". That often involves an invitation to drink tea.
"He knows I'm too young and he's afraid I might become cocky. He notices any small change in my mood, and in such situations he usually invites me to drink tea with him. That's usually when he lectures me and helps me to adjust my thinking," said Li.
"But the problem is I don't like drinking tea! So I sit there for two hours and listen to everything he has to say, which is normally delivered with plenty of jokes."
Wu's huge pride in Li, however, is obvious when he speaks to media.
"Wenwen continues my Olympic dream. The journey was tough for both of us, but luckily we are having great results now," Wu told Xinhua. "We have a great relationship. I give her suggestions, and she can recognize how my methods improve her. That's how we build our trust."