Domestic cosmetic firms sitting pretty
Share - WeChat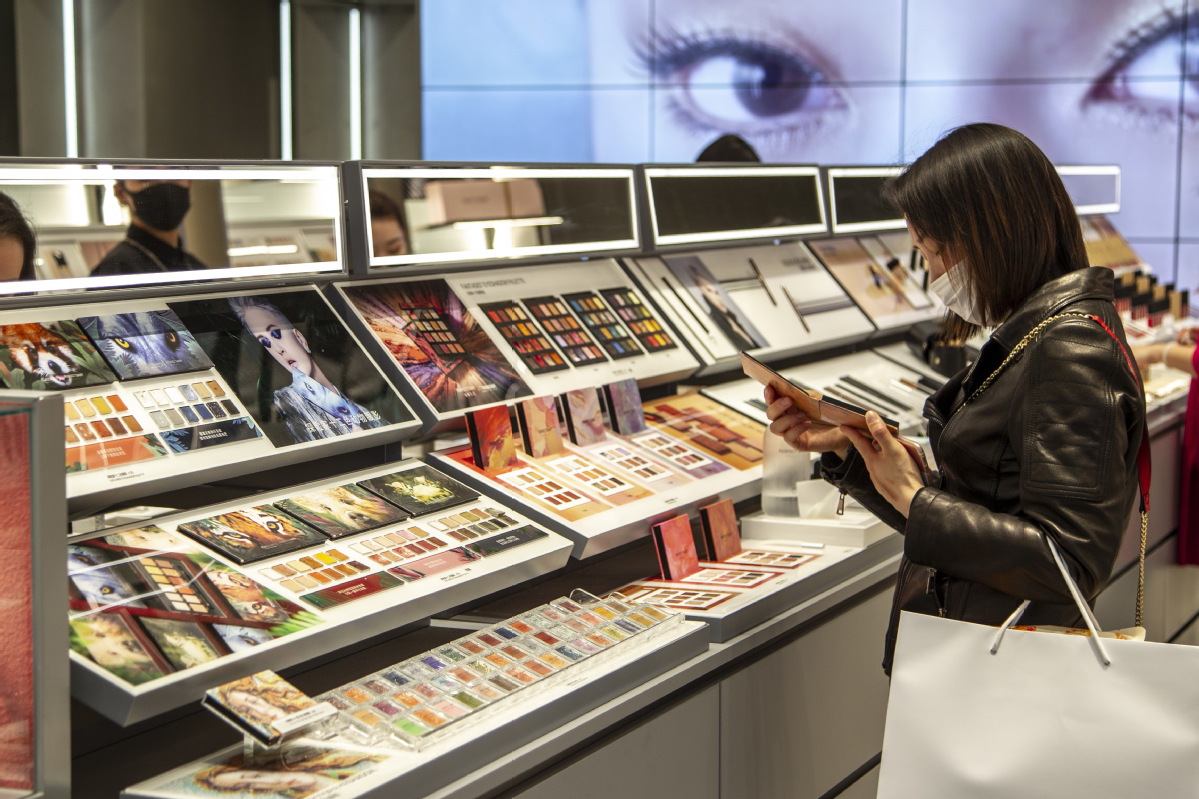 2020 investments in sector stood at 4.8 billion yuan on lifestyle upgrade
With sales revenue skyrocketing, Chinese homegrown cosmetics brands should think of business strategies to not only promote sales, but also build brand image, industry experts said.
According to a report released by Shanghai-based research consultancy CBNData, in 2020, sales revenue of China's cosmetics industry increased 23 percent year-on-year, and that of domestic cosmetics brands surged by 78 percent on a yearly basis.
Meanwhile, the report said that in 2020, investments into the country's cosmetics industry totaled 4.8 billion yuan ($741.1 million), up 324 percent on a year-on-year basis. Homegrown cosmetics brands such as Guangzhou, Guangdong province-based Yatsen Holding Ltd and Kunming, Yunnan province-based Botanee Group also completed initial public offerings.
Liu Qian, an expert at consumption online media portal Chaomoods, said: "After having bestsellers, newly emerged domestic cosmetic brands are no longer satisfied with short-term profits. They are shifting from a sales-oriented development mode to a brand-oriented mode."
"When sales of newly emerged brands reach a certain stage through non-price-oriented marketing methods, this gives the brand unique memory points and increases user stickiness, thus allowing enterprises to grow sustainable brands," Liu said.
He added that through the development process, newly emerged brands face the dilemma that merely focusing on quality cannot accurately gauge marketing effects, while only focusing on sales raises the cost of acquiring customers. Therefore, pursuing both quality and sales becomes the goal of brands.
Li Jin, general manager of the social e-commerce department of Shanghai-based skincare brand Pechoin, said: "Consumers' highest level of recognition of a brand is to purchase its products and become advocates of the brand. With numerous top sellers coming out, the combination of quality and sales is a brand's ultimate goal."
To reach the ultimate goal, Chinese homegrown cosmetics brands are constantly exploring various consumption scenarios and making innovations.
For example, after benefiting from the temporary bonus of livestreaming, brands are upgrading livestreaming content and focusing on communicating brand concept. They are considering how to turn the traffic of livestreaming into a sustainable force to support brands' long-term development.
Brands are selecting livestreaming hosts that conform to their style. Skincare brands Winona and Biohyalux invite dermatologists to enter their livestreaming chat rooms, while traditional Chinese cosmetic brand Florasis invited Wang Yifan, an expert at restoring ancient cosmetics, to its livestreaming sessions. The experts use their expertise to answer audience queries, and enhance consumer impressions visa-vis brands.
After selecting hosts, enterprises take advantage of livestreaming to communicate brand value and help consumers better understand brands and products. Wuhan, Hubei province-based personal care brand Triptych of Lune invited two celebrities to discuss scalp health, and raise solutions to different scalp problems. Views for the session surged 209 percent over the brand's normal numbers and left deep impressions among consumers.
"For newly emerged cosmetic brands, livestreaming is still a necessity. However, it is no longer a price-oriented marketing strategy. Livestreaming connects hosts and consumers. Whether having an instant effect or a long-term effect, it is helping build brand image," Liu said.
Apart from livestreaming, domestic cosmetics brands are using innovative content to attract consumers. At the beginning of this year, Perfect Diary, a sub-brand under Yatsen Holding Ltd, launched autonomous sensory meridian response videos, which played the sounds associated with Perfect Diary's eye shadow palette and lipsticks. After viewing the ASMR videos, consumers had a deeper impression of the brand.
Meanwhile, other brands launched their virtual idols to attract consumers and convey brand concepts. For example, the virtual idol of Florasis is an ancient beauty, conforming to the brand's traditional Chinese culture.
"As a newly emerged homegrown cosmetics brand, we feel it is our mission to build brand image and convey Eastern beauty and culture to the world. We are prepared to cultivate the market for a long period of time. We are doing it slowly, taking one step at a time. We could have promoted sales more quickly, but to build brand image and convey brand message takes time. We need to effectively communicate with consumers, not merely quickly expand our market share," said the spokesperson of Florasis.
Xu Mengyi, a consumer expert at online financial media portal Chaojingji, said: "After all, good products talk. High-quality products should be the core competitiveness of cosmetic brands. They should constantly enhance research and development, upgrade product formulas and balance costs vis-a-vis product development and promotional channels."
"Homegrown cosmetic brands are surging rapidly. After they took advantage of capital investment and quickly expanded, the next step for them should be launching high-quality, distinguished products and building up brand cachet to increase repurchase rates and gain a firm foothold in the market," Xu added.