CSCEC unit to ramp up infrastructure
Share - WeChat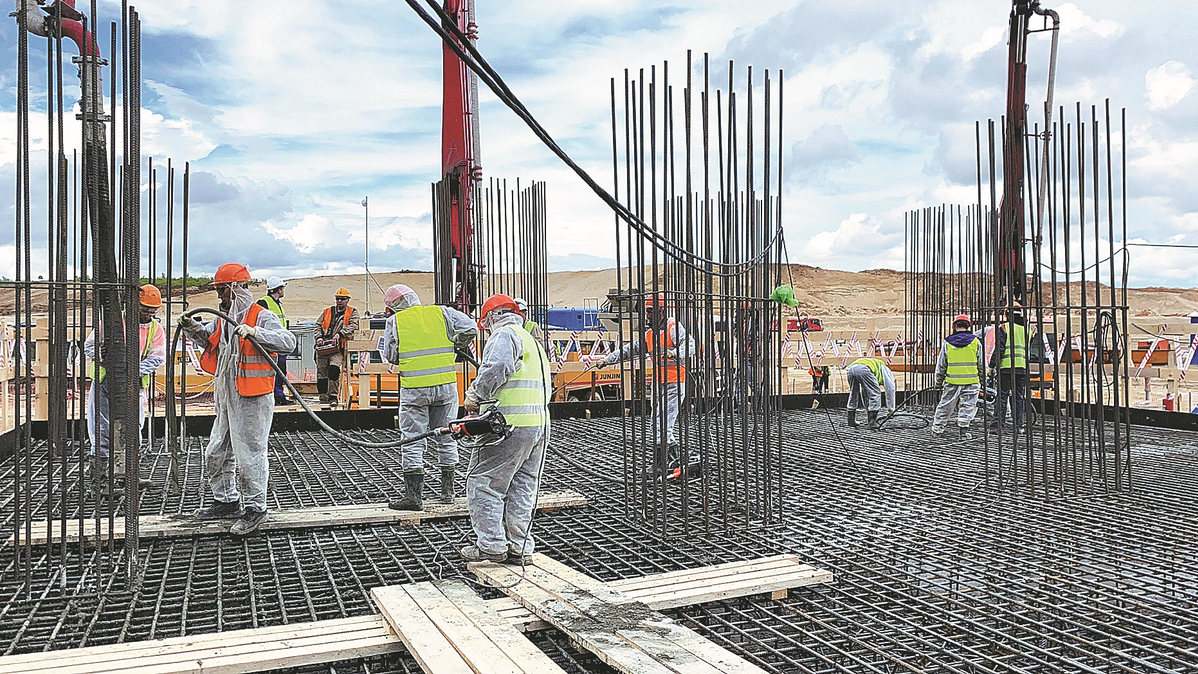 The Third Construction Co Ltd of China Construction First Group, or CSCEC1B3, the Beijing-based State-owned enterprise, will expand its higher-end building and infrastructure projects while transforming into an industry chain builder in both the domestic and global markets during the 14th Five-Year Plan period (2021-25), said its executives.
CSCEC1B3 is confident that it will harness new growth opportunities presented by both China and many other countries' plans to build key infrastructure projects, economic development zones and service hubs. It will also upgrade their urbanization and modernize their economies for scale and sustainable growth, said Yang Jianping, the company's chairman.
Supported by three pillar businesses-building construction, infrastructure project development and overseas business, CSCEC1B3, also a third-level subsidiary of a centrally administered SOE-China State Construction Engineering Group Co Ltd-plans to raise the amount of newly signed contracts to 64 billion yuan ($9.9 billion) globally by 2025, while gaining 550 million yuan in annual profit.
To better support the country's dual-circulation growth paradigm, Yang said that CSCEC1B3 will continue to deploy resources and manpower to seize greater market share in the Beijing-Tianjin-Hebei region, the Yangtze River Delta region and the Guangdong-Hong Kong-Macao Greater Bay Area, as well as China's northwest region between 2021 and 2025.
Under the dual circulation model, the domestic market is the mainstay while the domestic and foreign markets reinforce each other. The model has been touted as the linchpin of China's 14th Five-year Plan for economic and social development as well as the long-range objectives through the year 2035.
"For further development, we will continue to focus on better outcomes under the Belt and Road Initiative by providing high-quality services during the construction of projects," Yang said, adding the company will focus on the key markets in Russia, Southeast Asia, West Asia and North Africa to ensure robust growth in the new five-year plan era.
CSCEC1B3 completed 14.16 billion yuan of contract volume in the first half, while it signed 3.66 billion yuan of new contracts in overseas markets. It currently operates businesses in countries including Russia, Iraq, Egypt and a number of Southeast Asian countries.
In addition to building a number of landmark building projects such as Kuntai Jiarui center, Meirui Taifu building and skyscraper for China Aviation Industry Corp's capital business in Beijing's Chaoyang district, the company has planted haloxylon trees and completed other sand-fixation engineering projects on 3,200 hectares of desert land in Ulansuhai Nur in Bayannur, the Inner Mongolia autonomous region.
Together with 1,533 hectares of economic forest planting and 667 hectares of aerial seeding afforestation conducted by CSCEC1B3, company President Wang Liang said these efforts will help effectively prevent soil erosion and improve the ecological environment of the middle and lower reaches of the Yellow River.
After the completion of this project, a total of 1 million cubic meters of sand will be stopped from flowing into the Yellow River every year. The water ecological security of the middle and lower reaches of the Yellow River will be further enhanced and guaranteed, helping more people living in these areas to earn more income.
China will invest more to support the construction of energy-efficient and low-carbon projects under the central budget investment plan, according to the National Development and Reform Commission, the country's top economic regulator.
Projects that will receive government support include those related to the low-carbon renovation of key industries, optimization of energy use in industrial parks, demonstration areas of carbon reduction technology, low-carbon transition for urban and rural areas, renewable energy and desalination, as well as others that help with the nation's goals to peak carbon emissions by 2030 and reach carbon neutrality by 2060.
The move will prioritize projects in key areas including the Beijing-Tianjin-Hebei region, the Yangtze River Economic Belt and national pilot zones for ecological conservation, said Wei Xiaoquan, a researcher specializing in regional economic development at the University of International Business and Economics in Beijing.