Cloud infrastructure market sees rapid expansion
Share - WeChat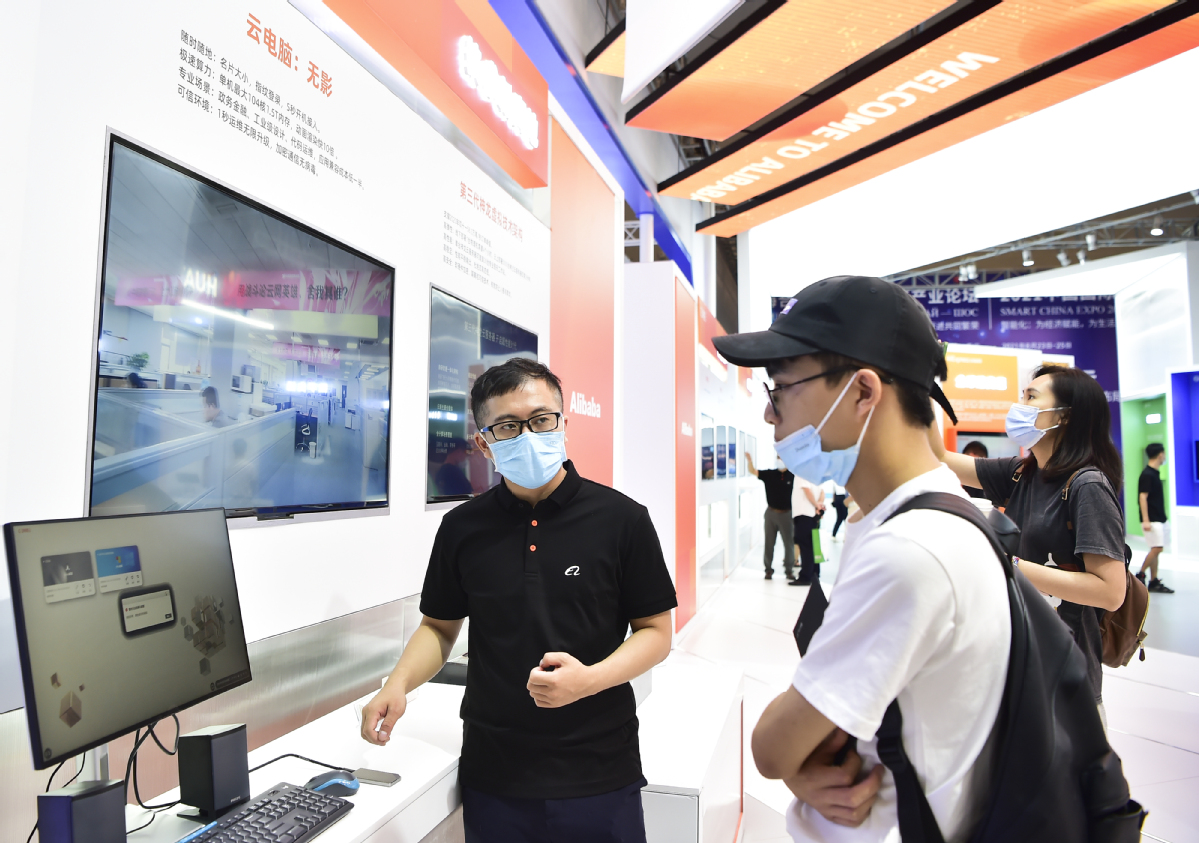 China's cloud infrastructure market grew 54 percent year-on-year in the second quarter to $6.6 billion, as the country's tech heavyweights are banking on the burgeoning cloud computing market, an industrial report said.
Data from technology market research firm Canalys showed the four Chinese cloud titans, namely Alibaba Cloud, Huawei Cloud, Tencent Cloud and Baidu AI Cloud, have successfully maintained their dominant position in the market, collectively growing 56 percent to take up 80 percent of total cloud spending.
Alibaba Cloud remained the market leader with a 33.8 percent share of total cloud infrastructure spending in China. Huawei maintained its second-place position in China's cloud infrastructure market during the second quarter of 2021 with a 19.3 percent market share.
Tencent Cloud took third place, taking up an 18.8 percent market share, while Baidu AI Cloud was fourth with a 7.8 percent share. It continued to focus on simplifying AI technology for broader enterprise adoption.
The report said local demand remains high as digital transformation, artificial intelligence and smart industries all remain on corporate and government agendas.
At present, the scale of the cloud computing industry is growing rapidly, and competition in the domestic market is becoming more intense.
Baidu's cloud service reported a 71 percent increase in revenue year-on-year in the second quarter, according to its second quarter financial report. Its market share in the fields of industrial internet, intelligent transportation and others all achieved further growth.
Specifically, in the field of industrial internet, Baidu AI Cloud has won the bid for a project worth 179 million yuan ($27.7 million) in Tongxiang, Zhejiang province. It will jointly build an industrial internet platform for new materials and fashion industries together with local government to cultivate the world's advanced manufacturing industrial clusters.
In addition, Baidu AI Cloud provides private cloud solutions and other applications to serve Geely, the largest private automobile group in China, and its smart transportation solutions have been expanded to 20 cities as of June.
Alex Smith, vice-president of Canalys, said Chinese tech companies can always rely on their local market, and leading Chinese cloud service providers, such as Baidu AI Cloud, are expected to gain more growth in this market.
Cloud computing is seen as a key profit driver for Alibaba over the long term and it has invested heavily in this segment. Alibaba Cloud is the technology and public cloud platform underpinning Alibaba's rich and diverse ecosystem, which ranges from e-commerce and payments, to logistics and supply chain management solutions.
Zhang Jianfeng, president of Alibaba Cloud Intelligence, said cloud intelligence is one of Alibaba's core strategies, which is not affected by the COVID-19 pandemic.
"Alibaba Cloud is not only a cloud computing company, but also a service provider of digital transformation, offering overall digital capabilities, which should be more professional, more localized, and accelerate the integration of technology and industry," Zhang said.
The company also provides government and enterprise customers with more professional industrial solutions. Last year, Alibaba Cloud announced it would invest 200 billion yuan in the research and development of core technologies such as cloud operating system, servers, chips and networks within three years.
Matthew Ball, chief analyst of Canalys, said Huawei is an infrastructure and device company that also happens to have developed a strong cloud business, and it is in a strong position to drive growth, particularly in the public sector.
China's overall cloud computing market increased 56.6 percent to hit 209.1 billion yuan in 2020, according to the China Academy of Information and Communications Technology.
Chen Jiachun, an official from the information and communications development department of the Ministry of Industry and Information Technology, said cloud computing services have expanded from e-commerce, government affairs, and finance to manufacturing, healthcare, agriculture and other fields.
Cloud computing is effectively promoting enterprises to accelerate digital transformation and has gradually become an important engine driving the transformation and upgrading of traditional industries and empowering China's digital economy.
Chen added more efforts should be made to optimize the layout of new infrastructure such as cloud computing and data centers, and improve key technologies, services and application standard systems of such centers.