Locked onto the target
Share - WeChat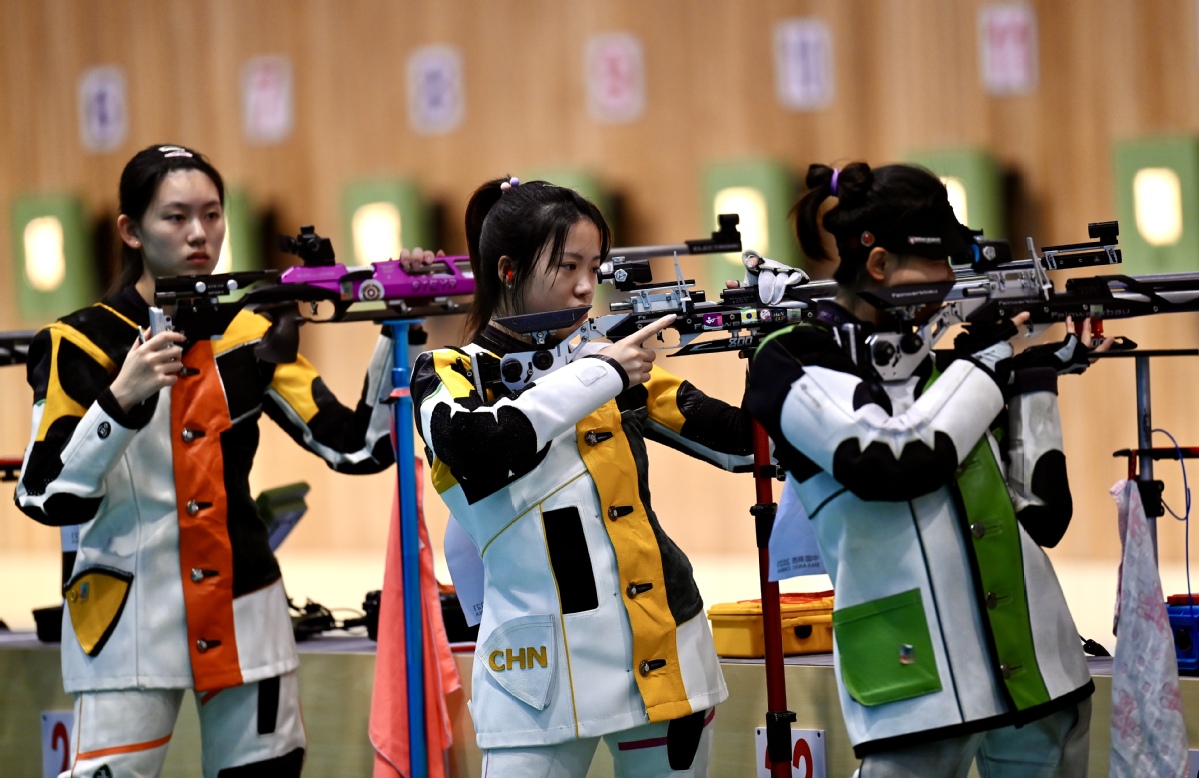 China's young Olympic shooting stars have proved adept at not only adding more medals to their collection at the National Games but also in dealing with the intense spotlight they now face, showing maturity well beyond their years.
A case in point is Zhang Changhong, who became a household name in China by winning the men's 50-meter rifle 3 positions gold at the Tokyo Olympics with a world-record score of 466 points.
Keen to keep his focus on bagging more titles, Zhang shied away from the media for the majority of his campaign in Xi'an and even switched to a different WeChat account to avoid unwanted distractions.
After finishing with two golds (50m rifle 3 positions and 10m air rifle) and a bronze (10m air rifle team) in Xi'an, the 21-year-old representing Shandong province said:"Winning two gold medals at the National Games is a milestone in my career, but there will be more challenges waiting for me in the future.
"And for me the next goal is to surpass the achievement of my national team coach Du Li (the Chinese shooting icon who won Team China's first gold at the 2004 Athens Games)."
Shandong team coach Song Jingna heaped praise on the youngster, saying: "Among all our shooters, Zhang Changhong's performance was undoubtedly the most impressive.
"After the Tokyo Olympics and following the medical quarantine, he had just about 10 days to prepare for the National Games. It's really not easy for him to maintain such a level."
An even more intense spotlight has been shining on Yang Qian, who shot to overnight fame by winning the first gold of the Tokyo Games, in the women's 10m air rifle.
Every little detail of Yang's time in Xi'an has seemingly been under the social media microscope. Indeed, a video of her downing a bottle of water with just two gulps as she appeared to be feeling the pressure of competition was viewed over 280 million times on Weibo in just two days.
Yang ultimately bagged two national titles but still faced criticism for only managing a bronze in the 10-meter air rifle. She refused to participate in any interviews before her final event on Saturday, with the focused young Tsinghua University student later admitting that trying to produce her best under the media glare is far from easy.
"Such attention for me is pressure, because there are too many eyes watching. There is too much information. All I can do is try to balance all these elements, and try to be the best of myself," Yang told China Sports Daily.
"But on the other hand, I feel I have helped more people discover the sport of shooting. I know that many people would like to give the sport a try now, and I feel this can only be a good thing."
Next on Yang's agenda is the resumption of her academic studies at Tsinghua, followed by the start of preparations for the 2024 Paris Olympics.
"I always tell myself to remember why I chose this career. The second I step down off the podium, everything starts from zero. I will be a new me to embrace the next challenge," Yang said.
"In terms of the preparations for the next Olympics, I will follow the plan of my coach. I will keep adjusting my mentality and my approach to face more challenges."
Yang's coach, Ge Hongzhuan, prefers to focus on the positive aspects of her new-found fame.