4th CIIE to feature more diverse content
Share - WeChat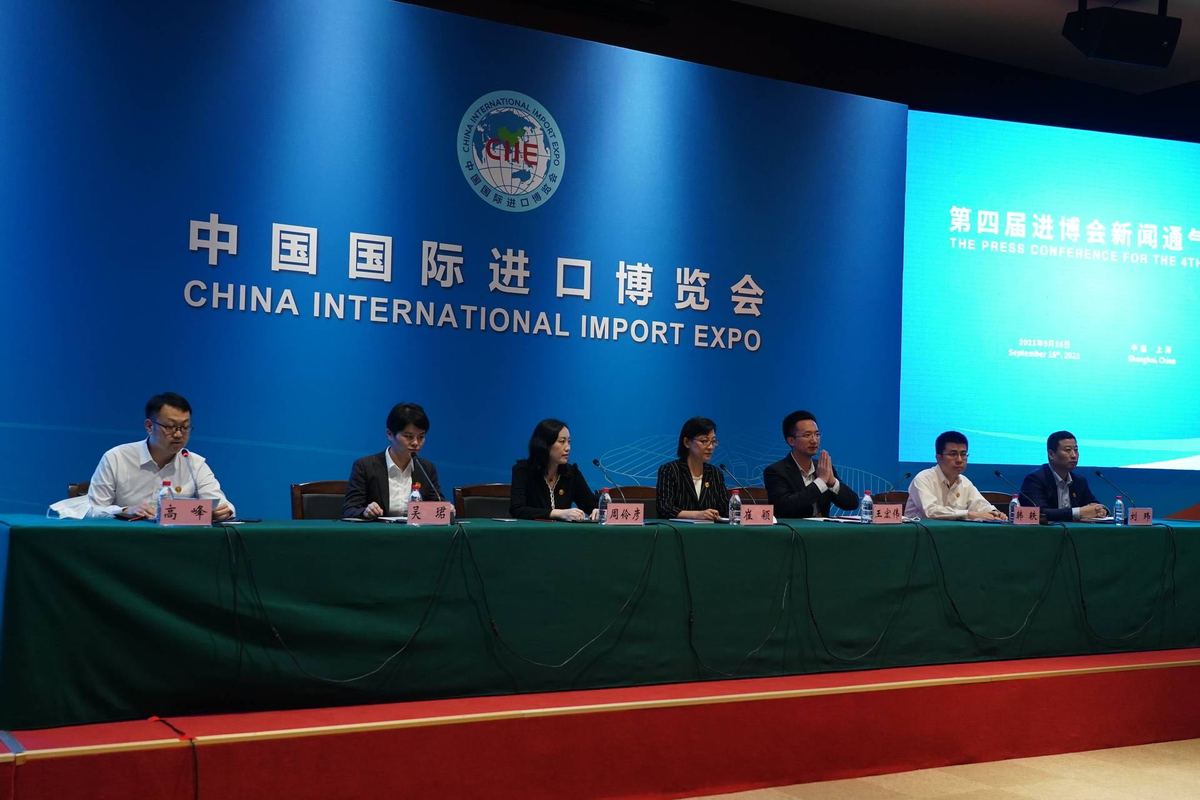 While the exhibition area of the upcoming fourth China International Import Expo will remain the same as last year, its content will be more diverse, professional and digital so as to facilitate trade and business cooperation, the organizers said on Thursday, which marked the 50-day countdown to the event.
Zhou Lingyan, deputy general manager of the business exhibition division of the CIIE Bureau, said more small and medium-sized enterprises will be attending this year's expo in groups, with their numbers up by 30 percent compared with last year.
Trade agencies from countries such as Japan, Denmark, Poland, and New Zealand have increased their booth sizes to house more small exhibitors as well.
"The Central and Eastern Europe booth measures more than 1,500 square meters and will host 60 companies," she said.
A total of 13 themed zones will be set up to attract professional buyers. These booths will focus on hot industries such as chips, biomedicine, smart mobility and low-carbon technologies. As China will be holding the Winter Olympics in 2022, the sports zone has received a massive boost in size from 2,000 sq m last year to 9,800 sq m this year.
Around 100 activities will be held during the expo, with some of the biggest events being the forum held by the Ministry of Commerce and the Hong Kong Special Administrative Region, a conference by the New Development Bank, and a summit for overseas Chinese and the China market.
Wang Hongwei, head of the division of buyers services of the CIIE bureau, said they have held 17 roadshows in the past months to introduce the expo to a wide range of businesses. These roadshows were attended by more than 2,600 domestic companies.
The CIIE Bureau and the Bank of China will hold large matchmaking conferences from Nov 6 to 8 and facilitate one-on-one meetings between buyers and exhibitors. Services such as interpretation and video conferencing will be available.
In the past three years, onsite matchmaking conferences have helped more than 3,000 exhibitors and 7,000 buyers reach deals or future cooperation agreements, according to Liu Wei, general manager of the inclusive finance department at the Bank of China's Shanghai branch.
Cui Ying, director of the country exhibition division, said that this year's country exhibition will be held online as well as offline at an experience zone in the North Hall of the CIIE venue where visitors can use virtual reality devices to tour the online exhibition hall.
The general public will also be able to access the online country exhibition on the official website and app of the CIIE, she said.