Bellingham grabbing Mbappe's Champions League record
Share - WeChat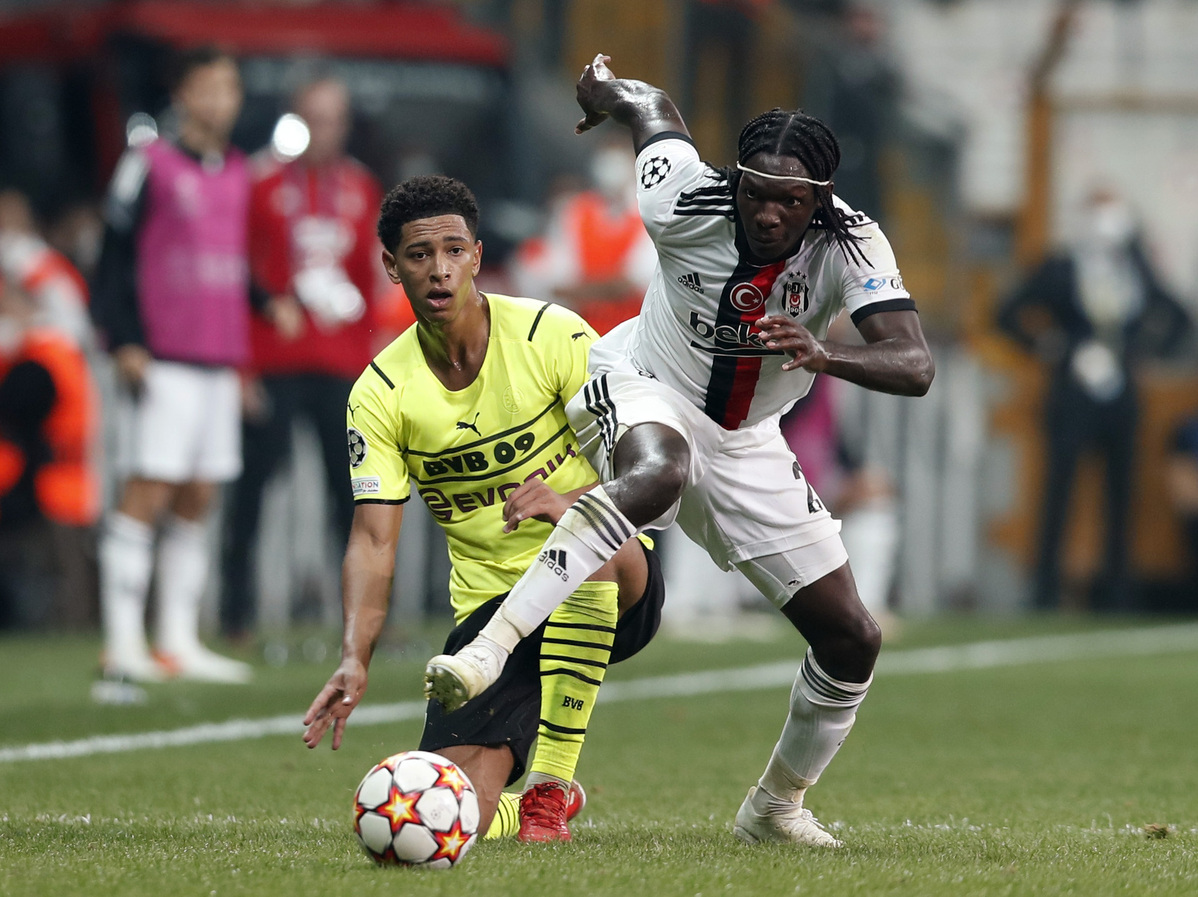 BERLIN -- At a breath-taking pace, Jude Bellingham has developed into one of Borussia Dortmund's irreplaceable leaders.
The England international appeared like a well-behaved scholar when joining the Black and Yellows in 2020 from Birmingham City for 23 million euros.
The 18-year-old meanwhile turned into an indispensable force in Dortmund's midfield and seems on his way to make a brilliant career.
Last season, the youngster was one of the most promising upstarts in the German Bundesliga, followed by his first major tournament at the Euro 2020 in the Three Lions shirt.
This season Bellingham seems to benefit from his new coach's tactical system.
As Marco Rose is mostly using a midfield diamond, the Englishman is happy about an additional share of freedom. That might be one of the reasons for him to set a new record in the UEFA Champions League.
In Borussia's group opener of the 2021/2022 campaign against the Turkish side of Besiktas Istanbul (2-1), the midfielder delivered an assist for Dortmund's goal-machine Erling Haaland (2-0).
The Norwegian scored his 21st goal in his 17th Champions League appearance, while Bellingham delivered his fourth scorer point.
Scoring the lead after 20 minutes against the Turkish champion made Bellingham the youngest player in UCL history to score in two consecutive games.
Bellingham outperformed no one less than Paris super-star Kylian Mbappe. The French international was 17 years and 85 days when scoring his second goal in March 2017.
The Dortmund forward crossed the line being seven days younger. Last year he had scored his first Champions League goal in the quarterfinals against Manchester City.
"He is just amazing. I mean he is three years younger than me, but already at that level. I can't find words to describe him, he is outstanding," Haaland commented.
At a brisk speed, Bellingham conquered peoples' hearts as he is far from a selfish star but stands for a solid working mentality, which they are especially fond of in the workers' region around Dortmund, located in the middle of Germany's former coal mining area.
Aside from his fighting heart, developed in a year of relegation battling in Birmingham, he is responsible for enchanting, sometimes artistic football.
Under Rose Bellingham enjoys his role as a pure box-to-box player as he is given more options to act between the wing and the center and conduct the game.
The Dortmund Youngster seems a perfect match as he combines physical strength along playing skills and tactical smartness.
Over the past month, Borussia's number 22 not only gained more playing time as a regular in Dortmund but increasingly often slipped in England's shirt.
No surprise to nearly every day read about new rumors about the interest of big European clubs.
Dortmund fans meanwhile hope the young man might as well extend his contract running until 2025 as he has turned into an identification figure.
Most Popular
Highlights
What's Hot