Self-service segment helps reinforce New Retail
Share - WeChat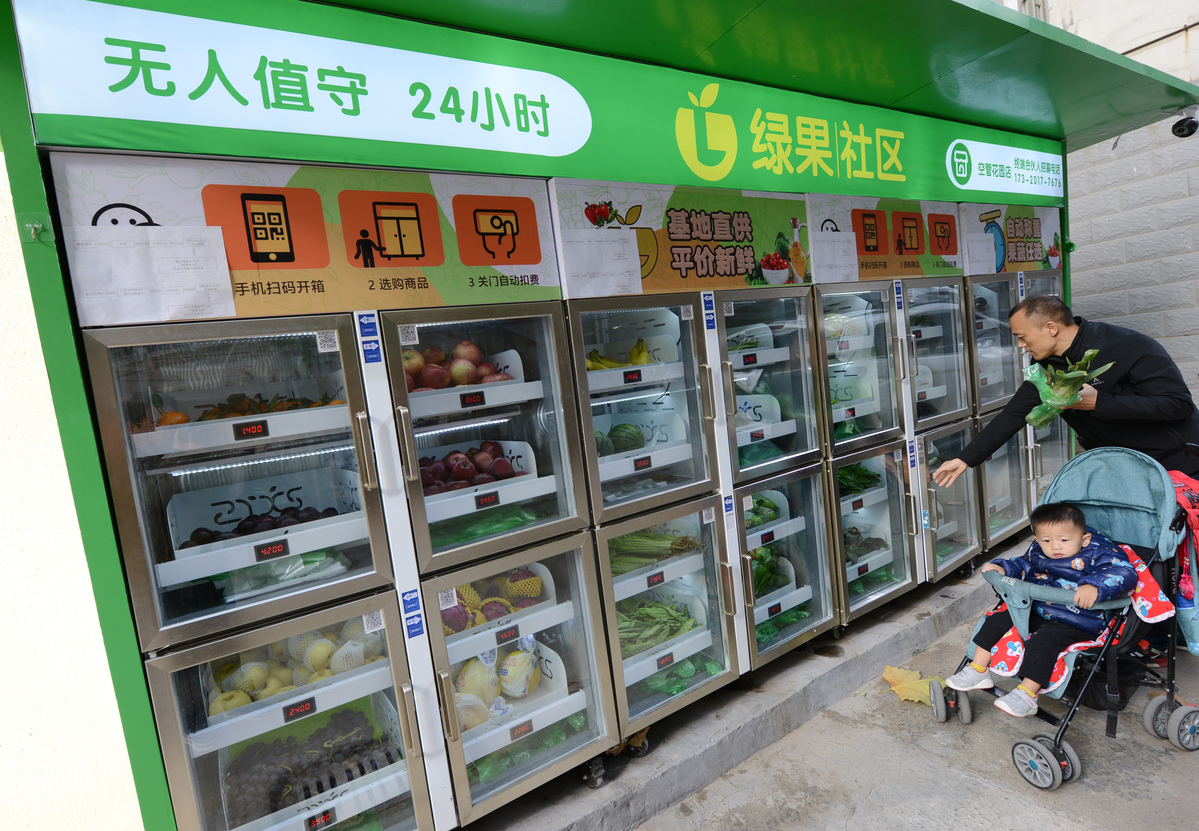 Owing to the ongoing integration of online solutions and offline retail, for most consumers, shopping is now an even easier and happier experience. Some industry insiders call it New Retail. In New Retail, a key component has been added to the shopping experience-self-service retail.
The concept is familiar to more and more subway passengers as a growing number have already bought drinks on the run from unmanned vending machines. In fact, the moment a straphanger scans a QR code on such machine, he or she has officially become a participant in New Retail.
Self-service retail has been a buzzword for quite some time, with application scenarios from supermarkets and convenience stores to office buildings and transportation hubs. And this very mode of retail has been deemed as something common in the digitalized world, and has played a vital role in China's ongoing battle against the COVID-19 pandemic.
In some residential communities far from downtown Beijing, rows of vending machines stand side-by-side beneath towering buildings. Some machines are operated by Zailouxia, which translates to "downstairs". The company is a Beijing-based self-service startup. Products vary from fresh foods to snacks.
"We can make orders on Zailouxia's mini-program through WeChat and after half-a-day or one day, we can collect the products we ordered with a verification code from the seller," a Beijing housewife surnamed Li said.
Asked why she tolerates relatively higher prices for such products, she said: "Our community is far from big markets and some of us are reluctant to go that far to get the products we want. The distance is making delivery services harder as well. At a time when social distancing is crucial to contain the novel coronavirus, many consumers like me prefer to buy groceries this way."
According to a report by fresh food industry news platform Shengxianbang, during the COVID-19-hit 2020, Zailouxia newly set up machines at more than 200 sites in Beijing. In March, some machines saw sales profit surge more than 200 percent year-on-year. The company did not disclose specific earnings.
"Among the 15,000-plus residential communities in Beijing, many have confronted problems of living far from supermarkets and grocery stores, and some grocery stores were shut down due to failure to meet operating qualifications. We aim to tap this part of the market and solve the problem," Zhang Ying, chief executive officer of Zailouxia, was quoted in a report by Shengxianbang.
The 24/7 self-service vending machines from Zailouxia now provide more than 2,000 products, with fresh foods making up the largest part, the company said.
"Self-service retail has made great contributions during the COVID-19 battle, as social distancing is a must for all residents in the nation. As long as the 'must' remains, self-service will find its support in the market," said Li Jincan, an analyst at the LeadLeo Research Institute.
Li Baoli, an independent analyst of the e-commerce sector, said: "Self-service vending machines were just an innovative way to bring products to consumers a few years ago. They basically cannot be called a new thing in terms of a business mode.
"However, Zailouxia made the selling more targeted and consumer-oriented. The benefits brought by the upgrades are very clear. The convenient locations of machines and the products shelved in the machines are all making those machines different from the past."
With encouraging news of Zailouxia installing more machines during the COVID-19 period, experts began saying the self-service sector was getting back on the growth track.
Many recalled the glory days between 2016 and 2018, when some industry players in the sector garnered extreme attention and investment. Zailouxia, for instance, raised over $10 million in a series A plus round of financing, which was led by IDG Capital and Sinovation Ventures, and Vision Capital also made investments in 2018.
The company also attracted Unity Ventures and Hike Capital as investors in earlier years. According to a report from the Qianzhan Institute, in 2017 alone, there were 93 fundraisings in the self-service retail sector, and the expected market value of the sector in 2020 could exceed 30 billion yuan ($4.6 billion).
However, unlike Zailouxia, many failed to survive longer periods, such as Xingbianli-a self-service convenience store that once raised more than 480 million yuan in two fundraisings. Such companies faded away since 2018 due to failures triggered by problems in machine maintenance and supply chain management.
Li of LeadLeo said: "In the future, self-service players should have the guts to leverage cutting-edge solutions like the internet of things, artificial intelligence and 5G technologies."
"Besides, Generation Z consumers-consumers born between the mid-1990s and the early 2010s-are becoming the backbone of purchasing power. This deserves in-depth study of retailers, as the young group has greater requirements for well-known brands and innovated consumer experiences."