Christmas exports keep pace with challenges
Share - WeChat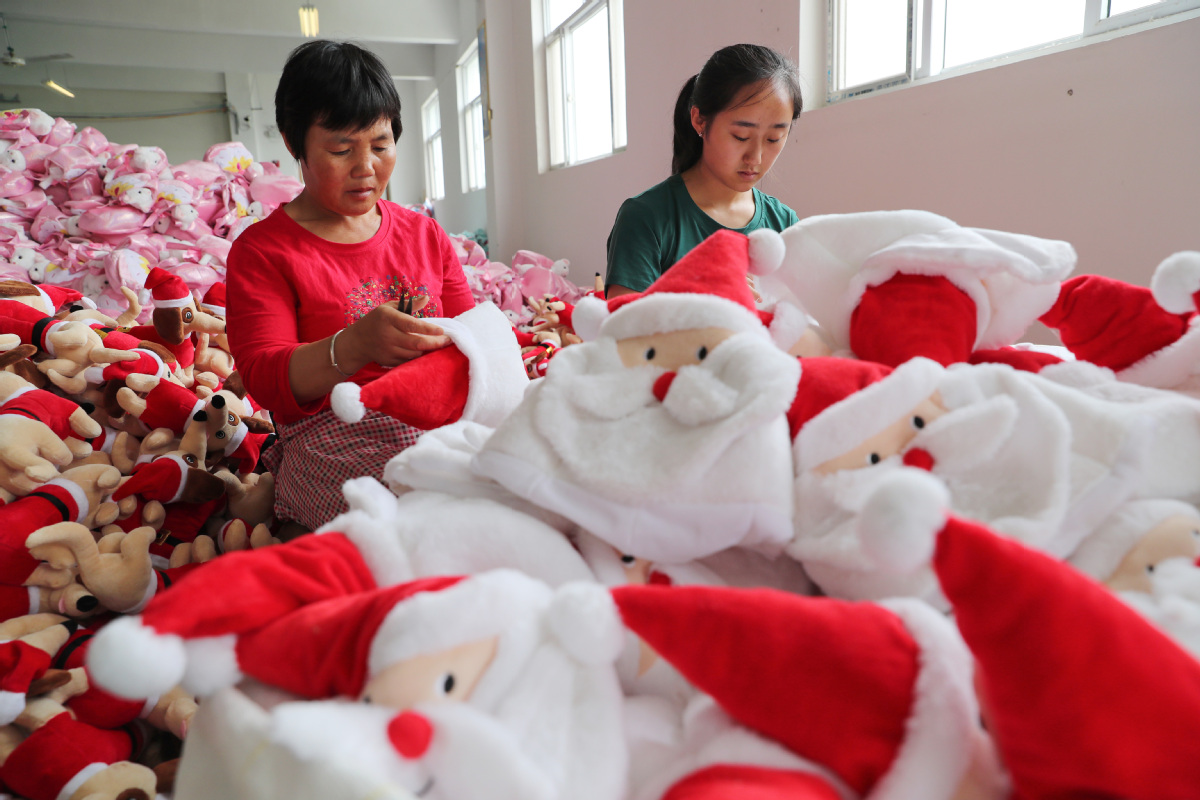 Decorative trees, lights find ways to foreign markets despite pandemic
Christmas goods suppliers in Yiwu, Zhejiang province, experienced a shipping season earlier than usual in recent months, as overseas clients requested orders to arrive sooner than in the past, due to inventory and logistics chain risks.
Yiwu is the world's largest distribution center for Christmas products like tree decor, Yuletide clothing, festive lights and packaging, with two-thirds of the world's goods in this category coming from the county-level city.
Although August was typically the busiest month for selling Christmas products to global markets in past years, many popular products have already been sold out, said Su Xueqin, a Christmas goods supplier at Yiwu International Trade Market.
"Pushed by costly ocean shipping container prices and fear of a disrupted supply chain caused by the COVID-19 pandemic, many overseas clients started to place their orders as early as February and March. Therefore, the peak purchasing season for Christmas goods has come to an end ahead of schedule compared with earlier years," Su said.
Apart from Yiwu, major export ports handling Christmas supplies such as Ningbo-Zhoushan Port, Zhejiang province, also saw an export peak period for Christmas supplies since May this year, said Meng Yuefeng, an official at Cixi Customs, a branch of Ningbo Customs.
While shortages of stevedores, terminal congestion and suspension of voyages continue to occur in many overseas markets, turnover efficiency of ships has dropped, and the balance between supply and demand has been seriously disturbed, Meng said.
He Jun, head of Yiwu Luochen Crafts Trading Co Ltd, said the company's orders rose 50 percent from a year earlier; yet, it is fairly difficult for the products-a large amount of which are Santa Claus figures and dolls-to be delivered right away.
To avoid congestion, some Christmas decorations have embarked on their journey to overseas markets much earlier than before, he said.
However, the tense situation has not been alleviated and the shortage of shipping capacity is still increasing. Christmas products are time-sensitive. Therefore, foreign customers and domestic exporters have made early preparations, booking orders and shipping them in advance.
The majority of cargo owners and goods producers have formulated production and transportation plans in advance, and then lock the shipping box space a month or even earlier, said Chen Yang, general manager of Ningbo Kimwo International Logistics Co Ltd.
"In addition to racing against time, they also have to race against freight rates," Chen said. "The impact of the pandemic has caused ocean freight to continue to rise as the shipping price for a forty-foot equivalent container box exceeded $20,000 on shipping routes between China and eastern ports of the United States in August, soaring 500 percent year-on-year."
However, there is a time difference between order times and delivery times of Christmas products. If the cost increases, it will cause financial losses to foreign trade companies and customers. At present, the increase in shipping prices has exceeded the budgets of some buyers, and many Christmas products with low value and limited profits are facing the risk of being canceled.
For example, a customer originally ordered a container box with a product value of about 310,000 yuan ($47,864). During production, ocean freight rates rose to $15,000, already accounting for one-third of the value of the goods. The client, therefore, may consider canceling the deal, Chen said.
Pressured by high costs, foreign trade companies have to rely on innovation to produce items with more digital functions and added value, as well as develop personalized Christmas products for targeted consumer groups in various countries.