COVID-19 controls spur recovery of marine sectors
Share - WeChat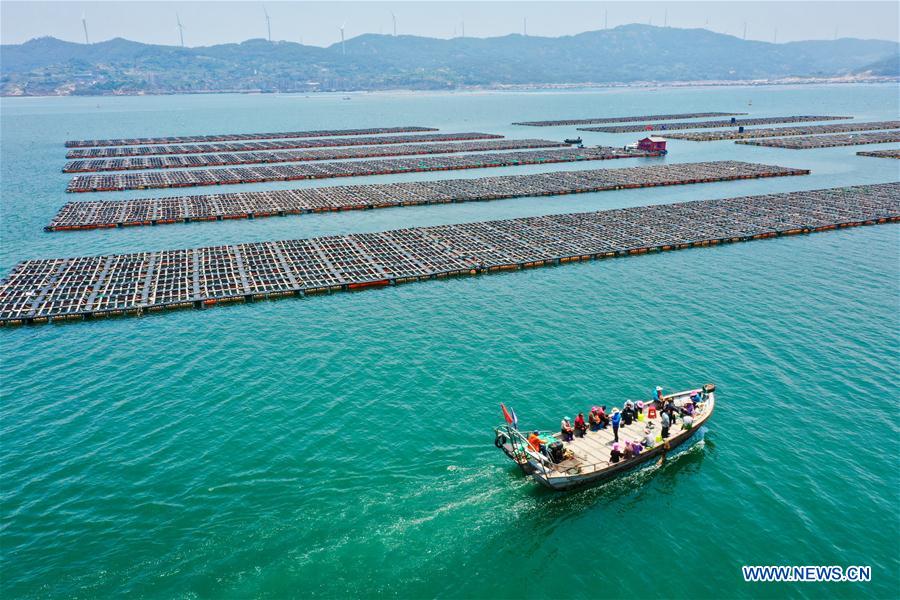 China's marine economy is accelerating the pace of its recovery and is expected to embrace high-quality development thanks to effective measures to prevent and control the COVID-19 pandemic, a blue book said recently.
The economic importance of China's marine sectors will continue to grow this year and through to the end of the 14th Five-Year Plan (2021-25) period, with domestic consumption booming and the international market increasingly dependent on Chinese products, said the Blue Book of China's Marine Economy (2021), which was released in Qingdao, Shandong province, on Sunday.
The sectors' economic output value decreased slightly last year but showed signs of recovery. The book said China's marine GDP reached more than 8 trillion yuan ($1.24 trillion) last year, dropping 5.3 percent year-on-year.
However, market players in the marine sectors accelerated industrial reconstruction and quickly narrowed declines in revenues and profits with the help of favorable government policies.
The blue book was compiled by Ocean University of China, which is based in Qingdao, and the National Marine Data and Information Service, a government-funded public institution based in Tianjin that is responsible for the management of national marine data and information resources.
Wang Dianchang, former director of the policy, laws and regulation department of the State Oceanic Administration before it was merged into the newly created Ministry of Natural Resources in a government reshuffle in 2018, said China should establish a new pattern for high-quality development of the marine economy, and major coastal cities should play a big part.
Bay areas, like the Guangdong-Hong Kong-Macao Greater Bay Area, should undertake more tasks to improve their industrial structures and reduce repetitive construction and blind competition, Wang said at the blue book's launch ceremony.
He also mentioned the marine aquaculture sector, saying that the development of marine ranches represents a high-end trend for the sector.
The blue book said the marine economy will ride waves of scientific and technological innovation and make breakthroughs in more key technologies.
Marine engineering equipment manufacturing is expected to see greater application of Chinese-developed technology. For example, 5G technology will help new types of marine equipment, such as unmanned ships and remotely operated vehicles, enter the fast lane of development, the blue book said.
"The blue book features a comprehensive demonstration of China's efforts and achievements in promoting high-quality development of the marine economy, as well as its contribution to addressing global climate change," said Zhao Xin, director of the blue book's editorial board and dean of School of Economics at Ocean University of China.