China, Arab states bolster agricultural projects
Share - WeChat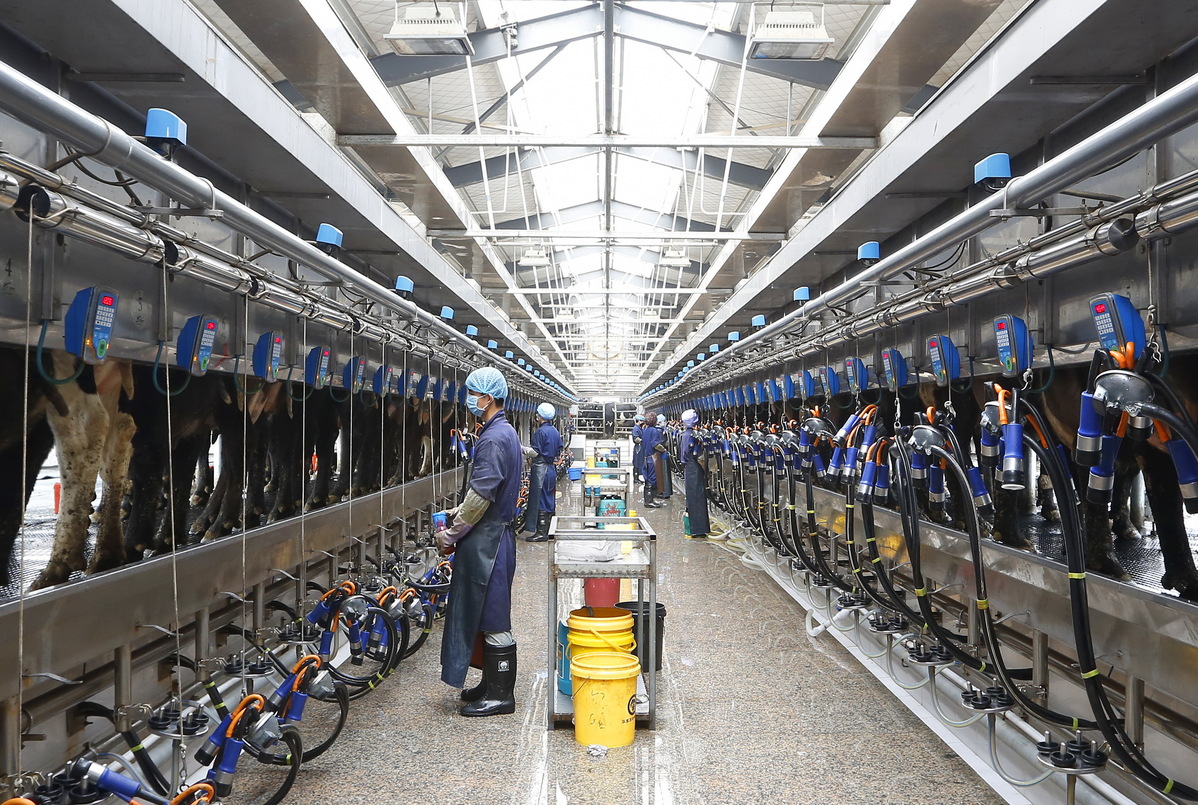 Water-saving work, modern animal husbandry will see robust growth
More measures to strengthen China-Arab agricultural cooperation are expected to address the pandemic's impact on food security amid concerted efforts by both sides to promote economic exchanges for win-win results, government officials and experts said.
Li Jinxiang, national chief veterinary (officer) of the Ministry of Agriculture and Rural Affairs, said as COVID-19 has compounded global challenges for food security, logistics and grain prices, it is important to promote communication and cooperation between China and Arab states in areas of agricultural policy and technology, food security, disaster prevention, trade and investment.
"Agriculture has become an important part of China-Arab cooperation. Agricultural production of China and Arab countries has its own characteristics, and agricultural economic activities and trade between the two sides are highly complementary," Li said.
"In recent years, the content of China-Arab agricultural cooperation has been continuously enriched. Promotion and implementation of key cooperation and investment projects have been smooth. Communications between professionals from both sides have been increasingly closer," he added.
According to a report in People's Daily, China's technological development in agricultural water conservation, modern animal husbandry and desertification prevention and control are highly compatible with the needs of many Arab states.
The report said in recent years, China has stepped up efforts promoting technologies and training professionals in many Arab states, including promoting dairy cattle embryo transfer technology in Mauritania, setting up vegetable growing demonstration areas in Jordan, growing rice in deserts in the United Arab Emirates, and promoting smart irrigation and water-saving technologies in Egypt.
Li said trade in agricultural products has also seen steady growth. Last year, the trade value of agricultural products between China and Arab countries reached $4.06 billion, up 5.8 percent year-on-year, despite the COVID-19 impact. In the same period, China imported agricultural products worth $1.59 billion from Arab countries, up 30 percent year-on-year, according to Li.
Qu Sixi, China's representative of the World Food Program, said: "The COVID-19 pandemic outbreak has led to various degrees of disruption in the international food supply chain as well as soaring food prices on a global scale last year. It also threatens food security in many countries, including Arab states. Currently, the development of agriculture in Arab states, especially those located in West Asia, North Africa and East Africa, is still facing considerable pressure, and the situation is getting worse because of the pandemic."
Qu said that China's experience in containing the pandemic, ending absolute poverty and boosting rural economic development will provide a reference to Arab states in need.
"There are many similarities in natural resources, weather conditions and agricultural development patterns between the Arab states and some northwestern areas of China. China has accumulated rich experience in modern agricultural technology, production systems and management after more than 40 years of development since the reform and opening-up," Qu added.
Despite COVID-19's impact last year, the total production value of the agriculture and reclamation-related economy reached 827.98 billion yuan ($127.58 billion) in China, an increase of 5 percent over the previous year, said the Ministry of Agriculture and Rural Affairs.
Total output value of agriculture, forestry, animal husbandry and fisheries was 423.03 billion yuan, a year-on-year increase of 9.5 percent. Among them, the output value of the agricultural industry was 264.99 billion yuan, the ministry said.
"Despite the challenges brought by the pandemic, last year marked the 17th consecutive year of good agricultural harvests in China, and farmers' income growth has outperformed that of urban residents for 11 consecutive years," Qu said.