Chinese firm supplies modules to Russia
Share - WeChat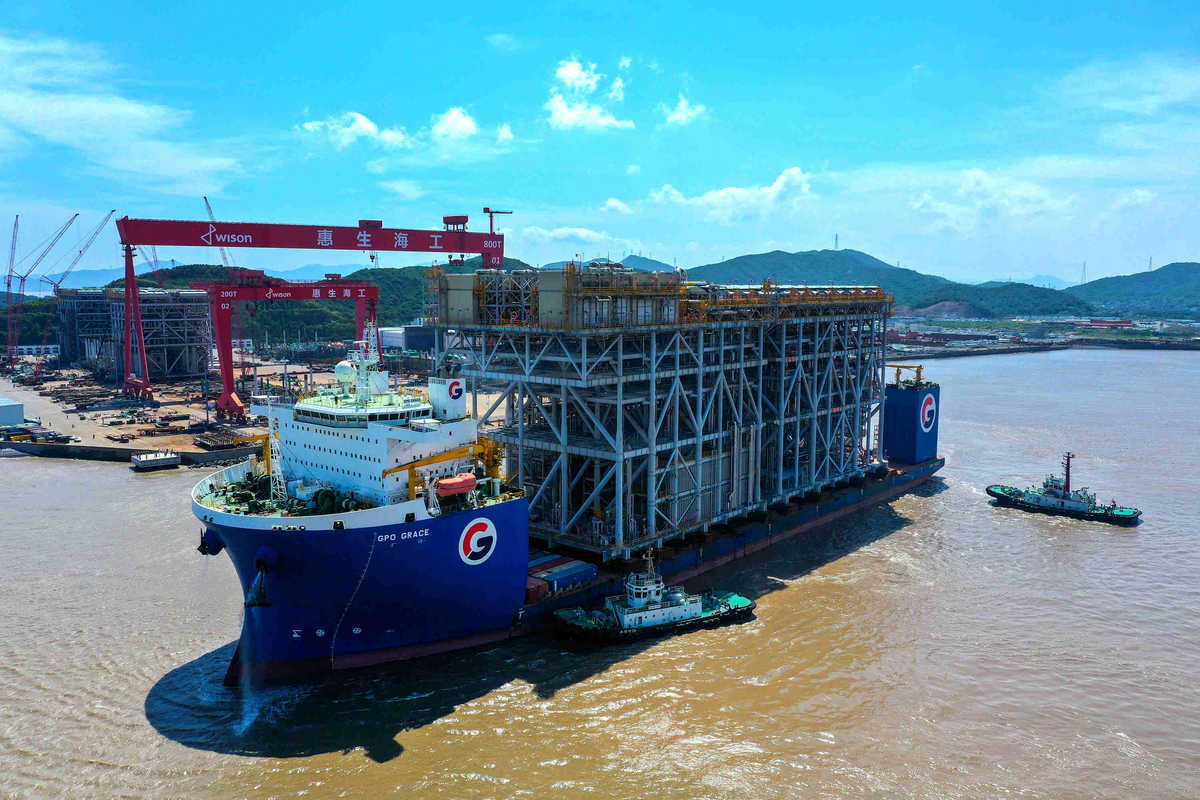 Wison's feat shows China's prowess in high-end engineering products
Shanghai-based Wison Offshore and Marine Ltd, a subsidiary of privately owned Chinese conglomerate Wison Group, shipped the first two of four giant industrial modules for the Arctic LNG 2 project of Novatek, the largest independent natural gas producer of Russia, on Thursday.
Zhang Shouyue, vice-president of WOM's Zhoushan manufacturing base in Zhejiang province, said the delivery of modules for the liquefied natural gas project fills a gap in the building of China's marine engineering prowess, indicating the nation has joined the world's top club in the construction of high-end marine engineering products and large and complex module construction.
The modules dispatched from Zhoushan will arrive at Russia's Arctic port city of Murmansk after 25 days.
Among the world's largest and heaviest industrial modules, WOM's products are complete preassemblies of equipment, bulk materials and components.
They were first fabricated at an off-site facility into a steel structure, which is now being shipped, to be installed at the main construction site, according to information provided by the Beijing-based China International Contractors Association.
"Even though the COVID-19 pandemic caused a shortage of workers and raw materials, especially in 2020, all of our business units, and partners from upstream and downstream industries have overcome these difficulties and completed the project as scheduled," said Zhang.
Such modules can vary in size, typically ranging from a few tons up to several thousand tons, depending on design and installation constraints.
To enable Novatek to exploit the LNG reserves in Arctic areas, WOM selected project materials that match construction quality standards for operating normally in extreme cold weather, he said.
Backed by a total investment of $25.5 billion, the ALNG2 project comprises three LNG trains at 6.6 million tons per annum each, using gravity-based structure platforms.
The project is based on the hydrocarbon resources of the Utrenneye field in the Gydan peninsula of Russia's Yamal-Nenets Autonomous District. More than half of its territory is located beyond the Arctic Circle.
With the project starting in December 2019, WOM's work scope has been engineering, procurement, fabrication and commissioning of modules in train one with a total weight of 48,000 metric tons.
Established in 2004, WOM has grown a product portfolio that includes floating LNG facilities, module fabrication and commissioning, offshore platforms, high-specification vessels and cranes.
Because many large-scale energy projects are planned to be operated at remote areas or under harsh weather locations, modularization in the construction of LNG plants is considered a standard practice for developing onshore facilities these days, said Feng Hao, a researcher at the National Development and Reform Commission's Institute of Comprehensive Transportation in Beijing.
The old-fashioned approach to construction of process plants was to build the facilities entirely at the main building site using a large labor force. This is no longer desirable or feasible; so, a modular method has been adopted in many countries such as Iceland and Qatar, in a bid to reduce the work at the main construction site by using one or more prefabrication and preassembly sites in other locations.
For instance, China International Marine Containers (Group) Co, a Shenzhen, Guangdong province-based transportation equipment manufacturer, has built many prefabricated module-themed building and public utility projects across the world to drive growth and diversify its product categories.
It supplied high-end modular products to Brazil to help the country rebuild its research station in the Antarctic. It also provided prefabricated modules to the Ras Abu Aboud Stadium in Qatar toward building a greener venue for the Qatar soccer World Cup 2022. Last year, the company completed a steel structure modular hotel in Iceland for its client, the Courtyard brand of premiere hotel chain Marriott International.