China-Africa forum brings digital focus to cooperation
Share - WeChat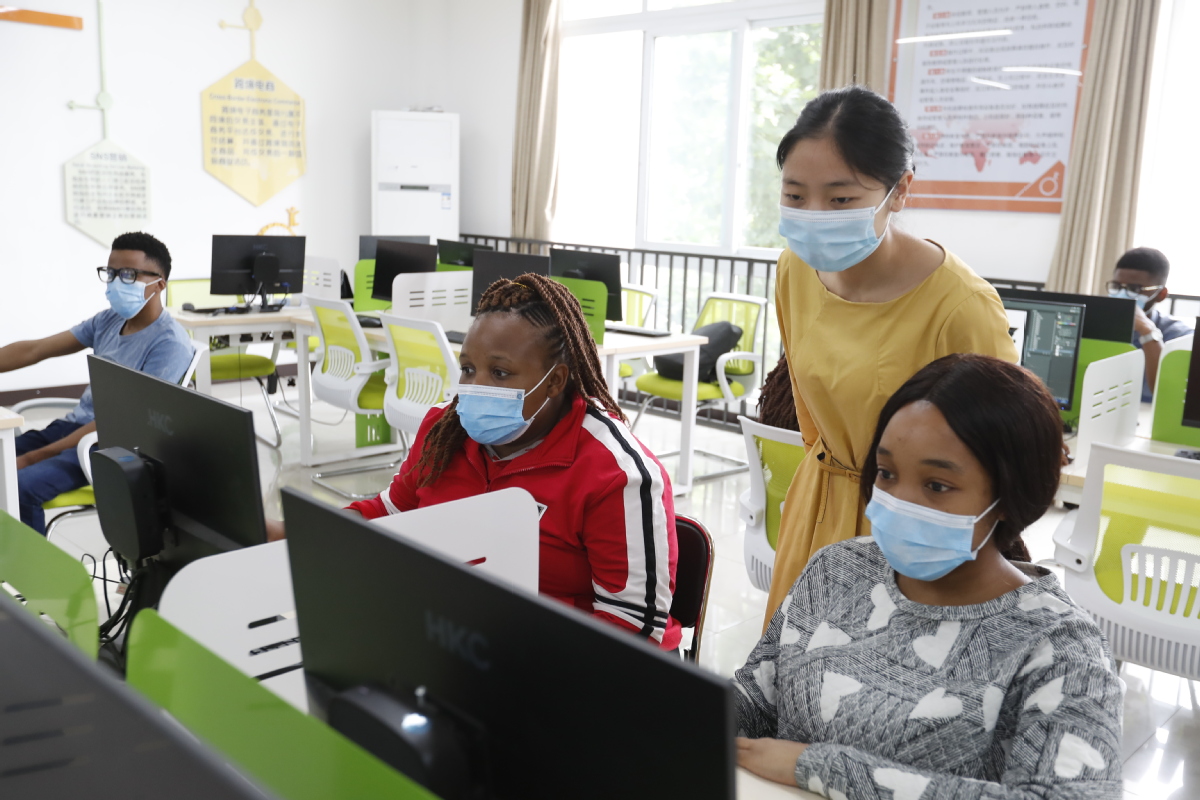 China and Africa have been deepening cooperation on digital technology, network security and information infrastructure construction in recent years, aiming to jointly build up a community with shared future in cyberspace, Zhuang Rongwen, Minister of Cyberspace Administration of China said on Tuesday.
During the China-Africa Internet Development and Cooperation Forum in Beijing, government officials, experts and business leaders from both sides were bullish about the prospects for bilateral communications, especially in digital applications for poverty reduction and the global economic recovery from COVID-19 pandemic, as well as maintaining data security and cracking down on cyber crimes.
Statista, a global business data platform, showed the internet penetration rate in Africa stood at 39.3 percent as of the first quarter of 2020, meaning roughly four in every 10 individuals on the continent used the web.
The figure saw robust growth of 20 percent year-on-year, with new internet users increasing about 3 million annually, said Augustin Kibassa Maliba, Minister of Post and Telecommunication for the Democratic Republic of the Congo.
Although the internet sector is growing rapidly in African countries, its penetration is still far below the world average, which has reached nearly 60 percent.
Problems have emerged, including weak network infrastructure, imbalanced development between rural and urban areas, inadequate internet laws and regulations as well as frequent cyber terrorism activities, Maliba said.
Zhuang highlighted the significance of building up a global internet governance system and pushing forward the comprehensive strategic cooperative partnership between China and Africa to a higher level.
The two sides added they were ready to draw up a partnership plan on digital innovation to further enhance advanced technology application in infrastructure, education, financial service and data management.
Siyabonga Cwele, South African ambassador to China, expected more cooperation on offering affordable broadband network for less-developed areas, and building up African nations' satellite communication capabilities.
He also put a great emphasis on education about digital abilities, nurturing qualified talents in modern agriculture, cross-border e-commerce and international logistics, which could facilitate the poverty alleviation in a digitalized way.
China, a country with 1.4 billion people, has been the biggest trade partner of Africa, a continent with over 1.2 billion people, for 11 consecutive years.
A variety of Chinese internet and tech companies are eyeing booming investment opportunities, engaging in telecommunication, internet services and e-commerce.
Tech leader Huawei provides over 70 percent of 4G services for African users, and it is also the first company to launch 5G there.
JD, an online shopping platform in China, set up direct connections with African suppliers with special logistics and sales channels, making it much easier for Chinese consumers to enjoy coffee from Tanzania, cocoa from Cote d'Ivoire, black tea from Kenya and many other specialty products.
The forum also discussed the cyber security issue, which has become an important topic due to a complex international political environment.
China and Africa would strengthen cooperation on network safety, including data management, personal information protection and combating cross-border cyber crimes, said Hu Xiao, director-general of the Cyberspace Administration's Bureau of Data Management in China.