Braving threat of COVID-19 to treat Cameroon people
Share - WeChat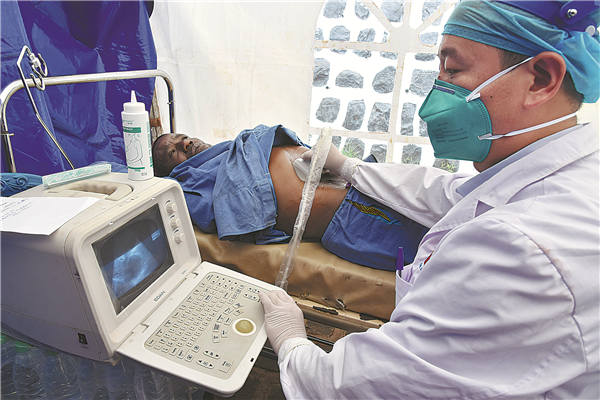 In the early morning of a working day, a makeshift but comprehensive Chinese clinic in Bangante, a small town in Cameroon's western region, was already full of patients.
Among them was 70-year-old Rose Nya who had been suffering from cataracts for more than 10 years.
"I have headaches and an eye problem and that is causing me to have an uncontrollable running nose," says Nya, a mother of four, while waiting patiently to see one of the Chinese specialty doctors on a 21-member team, who had arrived in the town on Aug 12 for a two-day free consultation and treatment campaign.
Bangante is surrounded by rural communities with abundant wildlife and dispersed settlements, but without hospitals. Villagers are often troubled by such health problems as typhoid, malaria, cataracts, rheumatism, but most of them, like Martin Ngamga, 68, who trekked for more than 20 kilometers to benefit from the campaign, cannot afford medical services.
"I learned about the consultation on the radio and from WhatsApp groups. If Chinese medicine can help me better than the others I will be very happy because the medicine is free. Do you know that there are people who die because they do not have the means (to get treatment)?" Ngamga asked as he joined Nya in the queue.
As COVID-19 infections persist in the central African nation, stoking fear and anxiety in the public, Chinese medical doctors have continued to treat patients with various ailments, underlining the cordial health cooperation China and Cameroon enjoy, says Tian Yuan, head of the Chinese medical team in Cameroon, at a ceremony to launch the campaign.
"Our sole objective is to permit patients to benefit from high quality Chinese medical services and let them feel love from the other side of the world without stepping out of the country. We will do our best help citizens in need," Tian says while addressing Nya and the hundreds of other patients who had congregated at the premises of Bangante council to be consulted and treated.
Eric Niat, mayor of Bangante, is grateful to the Chinese doctors for braving COVID-19 to provide healthcare services to the local people.
"Thanks to the excellent Sino-Cameroon health cooperation, we decided to invite the Chinese team of experts to help our population. This event was organized because, in our country, we are so behind in terms of providing healthcare to our population, especially in rural communities like ours. So it was necessary to organize the event with the help of China," says the 47-year-old mayor.
Most Popular