SOEs' recast to create third-largest steelmaker
Share - WeChat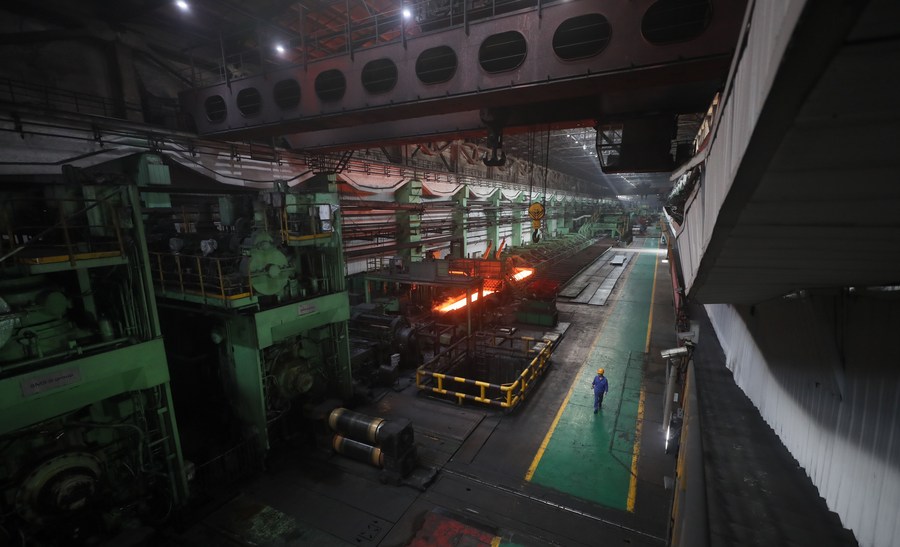 The strategic restructuring of Ansteel Group Corp Ltd (Ansteel), the Liaoning province-based centrally administered State-owned enterprise, and Ben Gang Group Corp (Ben Gang), another Liaoning-based steelmaker, will create the world's third-largest steel manufacturer by production volume, the country's top State asset regulator announced on Friday.
The move came as the provincial State-owned assets supervision and administration commission of Liaoning province transferred its 51 percent shareholding in Ben Gang-a locally administered SOE-to Ansteel without any conditions. Ben Gang has become the latter's subsidiary.
After the reorganization, the annual crude steel production capacity of Ansteel will reach 63 million metric tons, and its operating income will reach 300 billion yuan ($46.14 billion), ranking second in China and third in the world, a statement released by the State-owned Assets Supervision and Administration Commission and the Liaoning provincial government said.
Addressing a share transfer meeting in Anshan, Liaoning province, Weng Jieming, vice-chairman of the SASAC, said the restructuring is conducive to deepening supply-side structural reform, promoting the optimization and structural adjustment of China's steel industry, and upholding the high-quality and sustainable growth of this sector.
"Giving full play to the rich mineral resource advantages of these two SOEs in both home and overseas markets, the move will reinforce China's ability in controlling strategic resources, as well as better ensuring the security of the steel industry and supply chains," he said.
The official said it is practical to optimize resource allocation of SOEs in the country's northeast region, release synergies and contribute to China's efforts to create a number of world-class businesses with strong competitiveness.
With 63,000 employees, 145 billion yuan of assets and annual sales of more than 100 billion yuan, the Benxi, Liaoning province-based Ben Gang's annual crude steel production capacity is 20 million tons. It has been one of the top 10 iron and steel manufacturers in China and ranks 17th in the world, the company said.
Ansteel has a production capability of 39 million tons of raw steel, 3,000 steel grades and more than 60,000 specifications of high value-added steel, vanadium and titanium products, on an annual basis. They are widely used in dozens of industries such as railway, building, automobile, machinery, shipbuilding, petroleum and petrochemical, aeronautics, and astronautics.
Thanks to mixed-ownership reform, technology breakthroughs and efforts to relieve the obligation of undertaking social programs, Ansteel saw its sales revenue and profit reach 150 billion yuan and 20.2 billion yuan, respectively, in the first half of 2021.
Zhou Lisha, who works with the research institute of the SASAC, said the government has been encouraging a realignment of the country's crowded steel market, aiming to better prevent a potential glut and cut carbon emissions in heavy industries, as well as produce more high value-added metal products.
"This is also a part of central authorities' newly launched program for promoting coordination between local SOEs in the country's northeast region and central SOEs to ramp up the revitalization of Northeast China," she said.
Under the government program introduced earlier this week, 111 local SOEs in Heilongjiang, Jilin and Liaoning provinces, and the Inner Mongolia autonomous region, will work closely with 100 subsidiaries of 53 central SOEs.
The government will actively cultivate and in a timely way establish new central SOEs in certain industries to support innovation-based growth. It will follow the principle of marketization, comply with laws and regulations, and steadily guide central SOEs to conduct restructuring activities, the SASAC said in a news conference last month.
In accordance with the needs of industrial development, the government will steadily push forward the restructuring and integration of central SOEs in steel, power transmission and distribution equipment manufacturing, and other industries in the coming years.