Beijing sews up hydrogen energy plan
Share - WeChat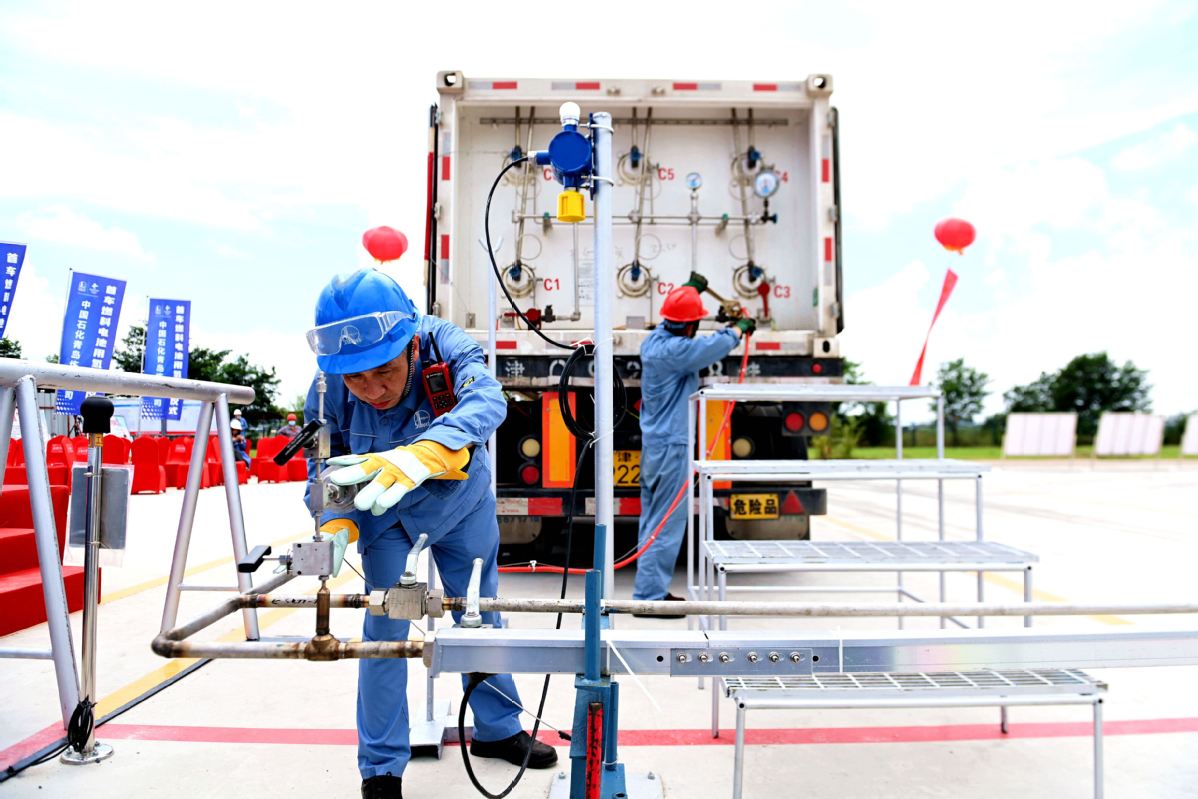 China's capital city of Beijing aims to have over 10,000 fuel cell vehicles on the road and 37 hydrogen filling stations by 2025, as part of its ambitious plan to develop the hydrogen energy industry.
Beijing will also cultivate 10 to 15 leading hydrogen enterprises with international influence and three to four topnotch industrial research and development and innovation platforms by then, according to a hydrogen energy industry development blueprint released by the Beijing Municipal Bureau of Economy and Information Technology on Monday.
The scale of the hydrogen energy industry chain in the Beijing-Tianjin-Hebei region will likely surpass 100 billion yuan ($15.4 billion) by then, it said.
An analyst said hydrogen is likely to play a more important role in cutting emissions in sectors like steelmaking, heavy-duty trucks, shipping and cement in China.
While hydrogen is mainly produced industrially from coal and natural gas, which will generate a certain amount of carbon emissions, the process will be greener as the country is in pursuit of carbon neutrality by 2060, said Luo Zuoxian, head of intelligence and research at the Sinopec Economics and Development Research Institute.
"As China gradually drives down costs, it is expected the country will embrace a 'green' hydrogen era, one that is generated by renewable energy sources without producing any carbon emissions, by 2030," he said.
"The government will also come up with a more detailed hydrogen energy industry development plan that covers hydrogen production, transportation and consumption."
The output value of the hydrogen sector in Beijing reached 3 billion yuan last year. Cities across the country have shown enthusiasm for developing the clean energy. More than 40 cities have come up with their local hydrogen energy industry development plans with a planned industrial scale exceeding 1 trillion yuan.
Many State-owned enterprises, including State Power Investment Corp Ltd and China Petroleum and Chemical Corp, are also laying out plans to tap into the hydrogen sector.
According to Peng Huagang, secretary-general of the State-owned Assets Supervision and Administration Commission (SASAC), more than one-third of centrally administered SOEs have geared up to tap China's hydrogen power development to cut emissions and achieve sustainable development, including hydrogen power production, storage, refueling or related businesses, with a number of achievements in technology research, development and applications.
According to the Hydrogen Industrial Technology Innovation Alliance of China, the country's hydrogen energy industry output value will reach 1 trillion yuan by 2025, while the demand for hydrogen will approach 60 million tons by 2050.
The alliance expects hydrogen will account for more than 10 percent of the country's terminal energy mix and become a new growth pillar of the economy with annual output value of the industrial chain exceeding 12 trillion yuan by 2050.