Captain fantastic Zhu can rebound from Tokyo tumble
Share - WeChat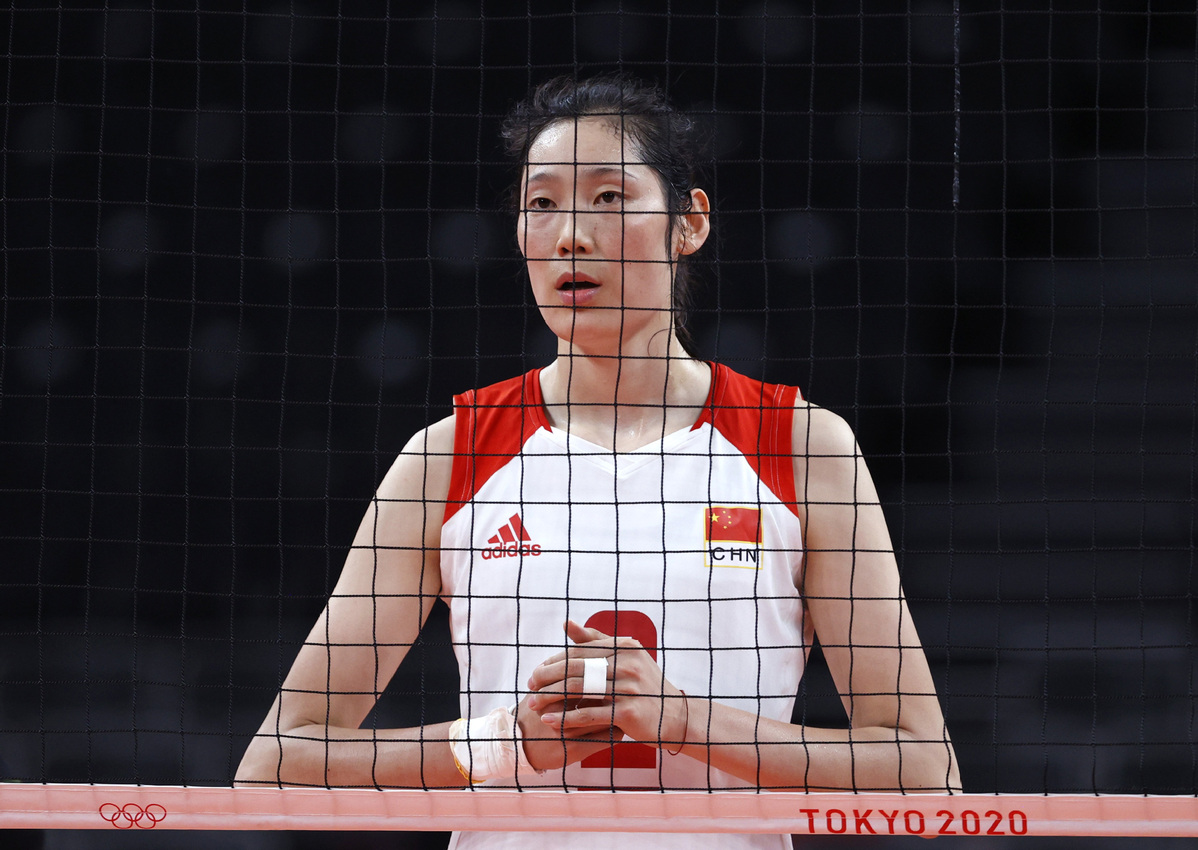 Zhu Ting has arguably hit the lowest point of her professional career.
Beset by injuries, and with her confidence and performance level on the wane, China's captain was a shadow of her former self as the defending Olympic champion crumbled to a ninth-place finish in the women's volleyball tournament in Tokyo.
Three opening defeats saw China fail to progress to the knockout stage-the team's worst ever performance at an Olympics since making its debut at the 1984 Games. With Zhu dropped to the bench, China won its two remaining dead rubbers.
As one of her country's two flag-bearers, Zhu led the Chinese delegation into Tokyo's Olympic Stadium for the opening ceremony. The 26-year-old had been hoping to see the national flag raised once more by leading her team to the highest podium. However an old wrist injury put a spanner in the works.
China's opening 3-0 loss to Turkey was an ominous sign of things to come, with a lackluster Zhu contributing a meager four points.
After the match, a picture showing Zhu's heavily bandaged wrist went viral on Chinese social media.
It was reported that the injury resulted from an accident in 2017, when a conservative course of rehab was chosen rather than surgery.
In the second match, Zhu's condition appeared to improve a little, however her 18-point tally was not enough to rescue China from a 3-0 loss to the United States.
"The pain did affect me a lot in the opener, I felt powerless when it hurt," Zhu told Xinhua after the loss to the US.
Against the Russian Olympic Committee team, Zhu managed 17 points, but the injury appeared to be affecting her decision-making. Instead of going for her trademark power spikes, Zhu was opting for drop shots, while she also struggled with the defensive aspect of her game.
After that defeat, head coach Lang Ping admitted Zhu's performance was "heavily affected" by the wrist problem. "We will consult with Zhu and the medical staff to consider players who are in better shape," Lang said of her plans for the next game against Italy.
China's slim chances of qualification were dashed ahead of that clash when Turkey easily overcame Argentina 3-0, rendering the team's remaining two Group B matches meaningless.
Figurehead
Zhu's rise to prominence coincided with Lang's reappointment as Team China head coach in 2013.
The 1.98-meter spiker can dominate at the net with her imposing size and reach, but is also agile enough to stoop low on defense. The girl from Henan province combined those rare talents with hard work and determination to reach the upper echelons of her sport.
Zhu's first major international competition came in 2014 when she led China to a runner-up finish at the world championship, before winning the World Cup a year later.
In 2016, she was named MVP of the tournament as China grabbed Olympic gold in Rio.
"As the captain and figurehead of China's women's volleyball team, the reigning Olympic champion, Zhu is one of the country's biggest stars," wrote Agence France-Presse at the time.
Some even rate Zhu as one of the best volleyball players of all time, comparing her to Lang, who was the star of the 1984 Los Angeles Olympics when China also won gold.
"Lang and I are from different eras, which means different requirements on the court, so I still need to learn and do better," said Zhu.
A desire to keep learning is key to Zhu's progression.
After the success in Rio, she moved abroad to join Turkish volleyball giant VakifBank.
In three seasons with the Istanbul-based club, Zhu won all of Europe's major honors.
Off the floor, Zhu also broadened her horizons studying for a Master's degree in history at Beijing Normal University.
"I am interested in history, so I wanted to learn more to enrich myself," she said.
Perhaps down the line, China's Tokyo 2020 flop can also prove enriching. As the saying goes, failure is the mother of success. Chinese volleyball fans will certainly hope this proves to be the case in Paris in three years' time.
Xinhua