L'Oreal expands beauty presence in China market
Share - WeChat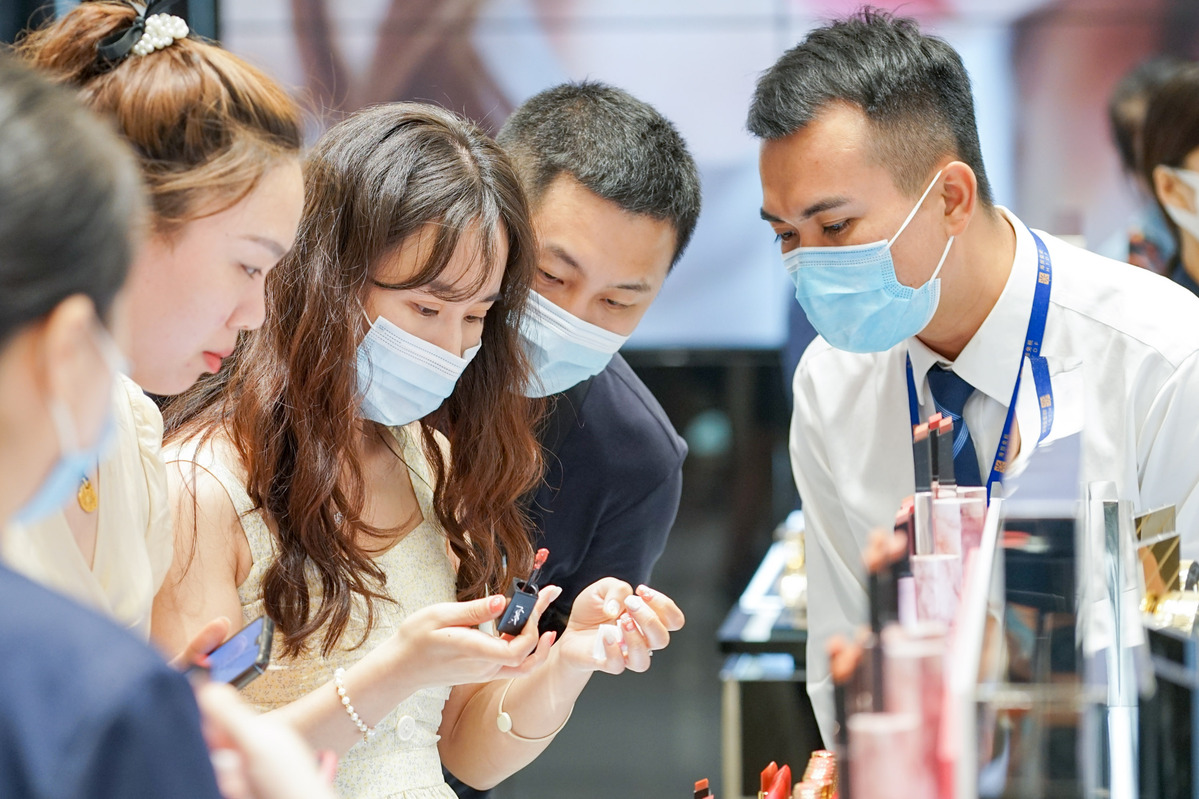 L'Oreal Group, the world's top cosmetics company by revenue, is upping its ante in China with a series of product introductions, a new headquarters campus opening and the roll-out of customized social initiatives to stay relevant in its local agenda.
First half sales in Chinese mainland, a major contributor to L'Oreal's overall performance, reported an increase of 34.2 percent year-on-year, outperforming its global reading of 20.7 percent during the same period, the company said on Friday.
The beauty giant, which in May announced that Shanghai is its North Asia headquarters, will debut a number of new brands, beauty-tech solutions and a unique beauty triangle featuring skincare highlights of China, Japan and South Korea during the fourth China International Import Expo in November.
An AI-backed gadget offering customizable lipstick solutions, which made its premier appearance as a prototype during last year's CIIE, would materialize commercially this year, and is close to being launched in the Chinese market.
"Here at the expo, we are seeing this acceleration of turning more 'exhibits' into 'products', and more 'exhibitors' into 'investors'", said Fabrice Megarbane, the company's president for the North Asia Zone and CEO of L'Oreal China. "The CIIE is fully taking up its role as the nexus linking China's domestic circulation and international circulation."
CIIE's spillover effects are conspicuous. Earlier this month, Valentino Beauty, a luxury cosmetics brand licensed by L'Oreal which debuted during last year's CIIE, officially launched its full range of products in China by teaming up with Tmall, the country's leading e-commerce site.
The Tmall flagship store that opened on Thursday allows Chinese customers to make purchases directly via the online portal. The brand is on course to open physical stores later this year.
"We've sensed the infinite expectations from the public toward Valentino Beauty since its debut at the CIIE," said Laurence Ma, L'Oreal China vice-president and general manager of the Luxe Division, during a ceremony in Shanghai.
"Choosing China as our premier market to launch full-line products in Asia demonstrates the brand's limitless confidence and attention to the China market."
Earlier this month, L'Oreal China kicked off a "two-campus, one headquarters" strategy, by opening a new office building in Shanghai's downtown Jing'an district. Megarbane said this indicates the company's China presence is "entering a new stage and embracing a new role".
"As China becomes the headquarters market of L'Oreal's newly-set North Asia Zone, Shanghai and China are activating the North Asia 'Beauty Triangle' while leveraging the 'China Momentum' to drive the growth of the whole zone," he said.
With the new campus equipped with its first Beauty Tech Hub in Asia and being one of three worldwide, the company is further advancing big data, tech solutions and e-commerce to offer personalized products tailored to Chinese customers, he said.
It has spared no efforts in advancing social undertakings. The company upgraded its signature Campus Charity Sales in July, introducing livestreaming for the first time to allow the participation of university students in diverse forms.
Also, in a move to champion sustainability, it launched a massive campaign to bolster the protection of biodiversity.
By joining hands with China Environmental Protection Foundation, L'Oreal China set up a Special Fund for Biodiversity Conservation to support biodiversity-themed public science education related to the 15th meeting of the Conference of the Parties to the Convention on Biological Diversity, and carry out relevant research in specific habitats of China.
It also released the "Insights on the Role of Youth for Biodiversity Protection 2021", providing insights into real-life scenarios and the connection between Chinese youth and current biodiversity issues.
"As the largest beauty company in both China and the world by revenue, we take 'Create the Beauty that Moves the World' as our sense of purpose, fight against climate change and strive to become a leader in China's sustainable development," Megarbane said.