Alliance of excellence
Share - WeChat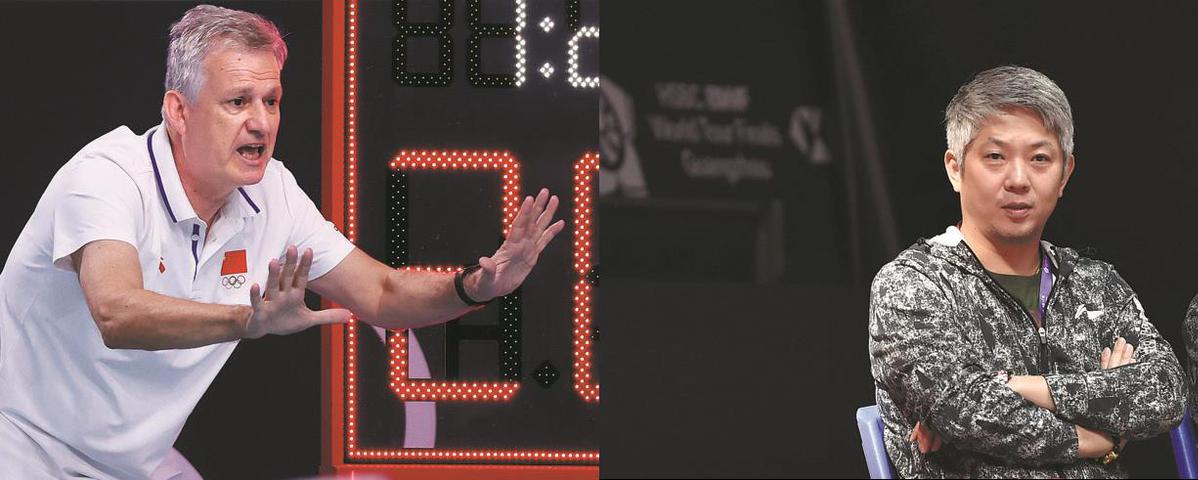 Foreign coaches and China's Olympians strike perfect blend at Tokyo Games
Even dealing with cultural differences, the language barrier and homesickness exacerbated by the pandemic, a group of foreign coaches has hit on a medal-winning formula with China's hardworking Olympians at Tokyo 2020.
Halfway through the action at Tokyo 2020, the Chinese delegation has enjoyed a series of breakthroughs in some of the country's underdeveloped sports, masterminded by a foreign legion of world-class coaches and trainers.
Guided by a total of 30 foreigners in Tokyo-the most among a Chinese delegation since the 2008 Beijing Games-Team China has expanded its prowess beyond its strength events, such as table tennis and weightlifting, to a number of Western-dominated sports.
The success stems from a unique blend of foreign expertise with the traditionally rigorous State-run development system.
It is an alliance perhaps best epitomized by the moment when French coach Hugues Obry carried fencer Sun Yiwen on his shoulder after Sun claimed China's first Olympic gold medal in women's individual epee on July 24.
Obry, a gold-medal winner with the French men's team at the 2004 Olympics, joined China's national program five years ago, tasked with reviving an epee team that left the Rio Games without any golds.
"For me, it was not a tough decision to make," Obry told China Daily through an interpreter in Tokyo. "I was intrigued by the challenge to work with a foreign team away from home, and to see if I could bring my understanding of fencing to a different culture and make it work.
"For my family in France, it was probably a hard decision. But they accepted the choice I made and the sacrifice paid off," added Obry, who has spent most of the past five years away from his wife and two kids.
French recipe
Obry's compatriots Christian Bauer and Daniel Levavasseur led China's swordsmen and women to gold medals at Beijing 2008 (men's individual saber) and London 2012(women's team epee).
The disappointing performance at Rio 2016 triggered a reshuffle of the national program, with Obry immediately shaking things up by picking a new generation of talent.
"My selection was not the strongest at that time, but I picked those that I could help improve the most and who were committed to working with me until 2020.
"Chinese athletes are all hardworking, which instantly impressed me.
"What they lacked was the quality and intensity in training. They have to train hard enough in the right way, not just for long enough."
Under Obry's guidance, Sun, one of only two fencers in the squad with previous Olympic experience in Tokyo, fended off a series of tough opponents before meeting world No 1 Ana Maria Popescu in the final. Sun outmaneuvered the Romanian veteran with composure and precision to secure an 11-10 overtime win.
In the euphoria of victory, Obry stormed onto the piste cheering loudly and holding a Chinese flag to celebrate with his protege, creating an Olympic moment that will live long in the memory.
"I should've held her up higher," Obry said. "There's no better stage to express our emotions and celebrate our efforts than the Olympics."
Most Popular
Highlights
What's Hot