Gong decimates shot put field to finally grab 'dream' gold
Share - WeChat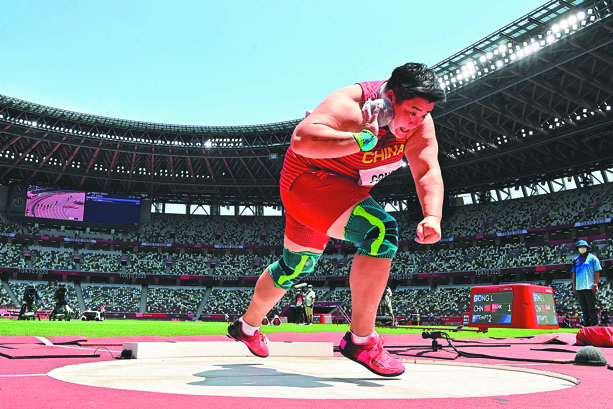 Six attempts, and each of her five valid throws was good enough for the gold medal.
China's two-time world champion Gong Lijiao continued her utter dominance of the women's shot put by storming to her first Olympic title at her fourth Games in Tokyo on Sunday.
"Becoming an Olympic champion is like a dream come true. I have imagined it a million times," Gong said after throwing a personal-best 20.58 meters to claim gold ahead of the United States' Raven Saunders (19.79m) and New Zealand's Valerie Adams (19.62).
Gong's victory was China's first-ever Olympic gold medal in a field event.
And it seems the 32-year-old is already thinking of making more history at the next Olympics in Paris in three years' time. Quizzed on her future plans, a weeping Gong said: "Will I retire? As long as the nation needs me, I will keep fighting on."
"Shot put is an unglamorous event in track and field. In China, people tend to prefer watching the sprinting, hurdles, high jump, and long jump," she added.
"I use my passion and devotion to the sport to draw people's attention to it. It's the Gong Lijiao era."
Born to throw
Gong seems to have been born for shot put, even if her route into the sport was accidental.
Accompanying a friend to shot put practice as a grade-six elementary school pupil in her native Hebei province, Gong was helping pick up the balls when she casually flung a few herself.
Her friend's coach immediately spotted her talent, and Gong soon found herself enrolled in a sports academy. By 2004, she had been selected for the national team.
She finished seventh in her world championship debut as an 18-year-old in 2007, and initially finished fifth at the 2008 Beijing Olympics. However, she was later upgraded to Olympic bronze after two athletes ahead of her were disqualified for anti-doping rule violations.
After pocketing silver at London 2012, she could only manage fourth at Rio 2016, before golds at the 2017 and 2019 world championships established her as the sport's dominant force.
"Every time I stand on the field, my aim is simple and clear-to win the gold," said Gong.
"The Rio setback hit me pretty hard. It took me a long time to walk out of that shadow. I have worked so hard for this day. Now looking back, everything I did is worthwhile."
Having won 12 golds and one silver at the 13 IAAF meets she entered in 2019, the injury-plagued Gong admitted that the postponement of the Tokyo Olympics was tough to deal with.
"I would listen to some old songs when I was exhausted, like Courage by Malaysian singer Fish Leong. Courage was exactly what I needed in my darkest time," she said.
"I couldn't sleep last night. I just kept thinking about how to make a perfect throw, again and again. Now, my life is perfect. I have got what I have been missing, the Olympic gold medal."
Personal bests
Gong took the lead on Sunday with her first attempt-19.95m, a mark that none of her opponents came even close to throughout the competition. She extended her lead with a third attempt of 19.98m.
The 32-year-old started to unleash her full power in the fifth attempt when she achieved a personal best of 20.53m. After that mammoth effort, she let out a roar and pointed to the Chinese national flag on her shirt in front of the camera.
"My first attempt was already enough to win, but I only felt assured that the championship was mine after I threw 20.53m in the fifth attempt," she said. "I felt a little tense in my first three attempts and was only able to relax in the last three."
Gong went on to renew her personal best to 20.58m with her final throw.
"My goal is to go beyond 21 meters. It's a little bit of a pity that I failed to achieve that, but this title is already proof of what I can do," she said.
China's Song Jiayuan threw 19.13m to finish fifth in her Olympic debut, with teammate Gao Yang winding up 10th.
New Zealand's bronze medalist Adams, a two-time Olympic champion, paid tribute to Gong, saying: "I have competed against Lijiao for many, many Games, she's a great competitor.
"I think we are competitors but also friends. I also have a lot of respect for Lijiao, and today she has done an amazing performance and has done China proud."
Gong now hopes her Olympic milestone can inspire a new generation of shot putters to emerge.
"After this Games, shot put should be very hot in China, right?" she beamed.
"It's something deep in my heart, and I hope people come to support shot put and Chinese track and field in general."