China returns to top of medal tally
Share - WeChat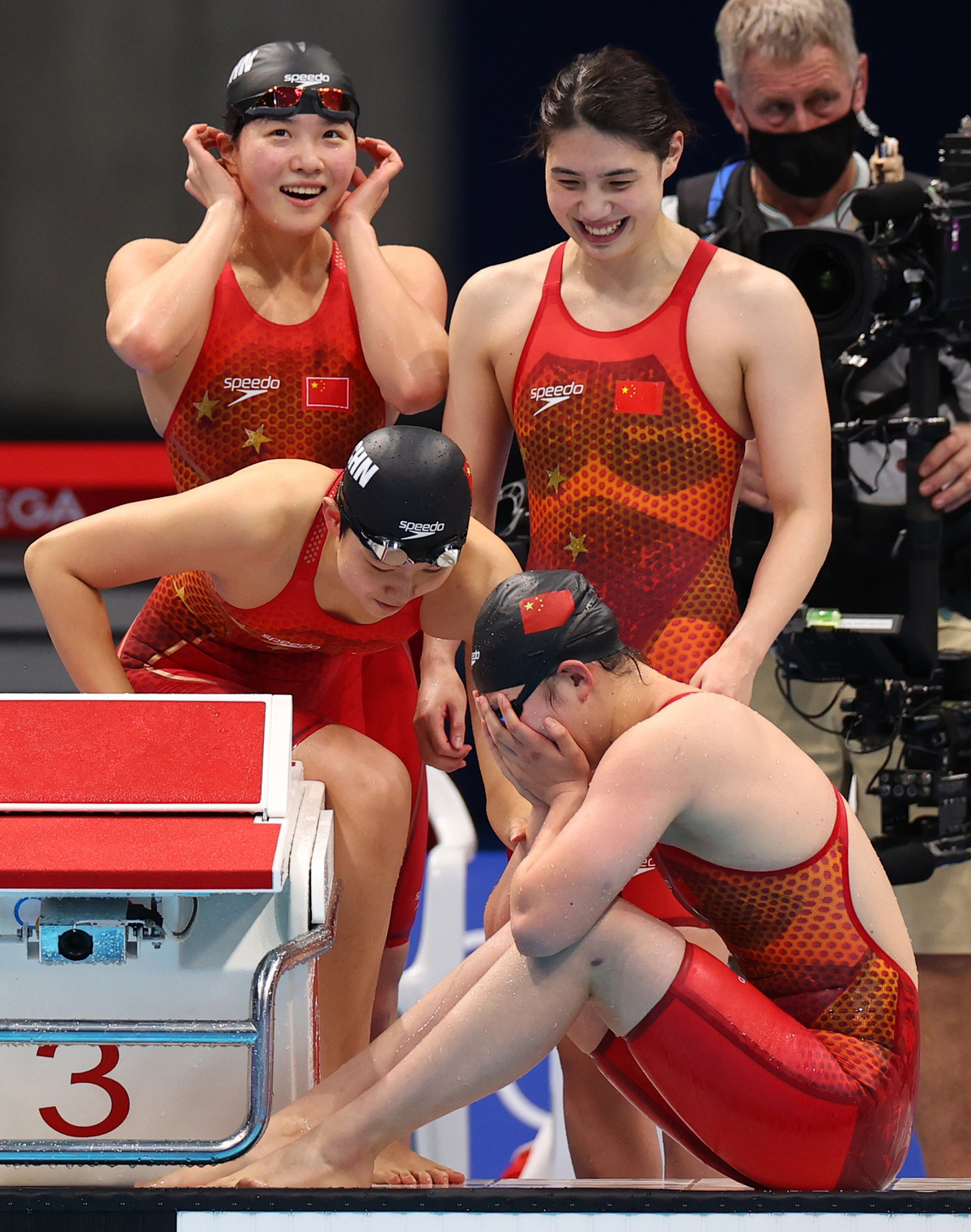 The Chinese swim team helped put the nation back on top of the medal table at the Tokyo 2020 Olympic Games, securing two golds in less than two hours on Thursday.
After breaking an Olympic record to win gold in the 200-meter butterfly event, Zhang Yufei wrapped herself in a Chinese flag and beamed with joy as she finished with a dominant performance-almost two seconds ahead of Regan Smith from the United States, who took silver.
Half an hour after being awarded the gold, the 23-year-old new "butterfly queen" clinched another gold medal as part of an eye-catching Chinese quartet who smashed the women's 4x200m freestyle relay world record with a time of 7 minutes 40.33 seconds at the Tokyo Aquatics Centre.
"I didn't know I was doing it (the relay) until I'd finished the 200m butterfly and our coach told me, 'You're in the relay'," Zhang said.
"We didn't expect to win the gold; we just tried to finish third, because Australia and the United States are very strong."
During the competition, Yang Junxuan set an early lead for China and Tang Muhan recovered the advantage, though Australian challenger Emma McKeon caught up in the middle.
Zhang Yufei swam the third leg and maintained a 0.43-second advantage over second-place Australia before Li Bingjie jumped into the water.
In the end, Li, 19, fended off the challenge from her idol Katie Ledecky of the US to win the gold for China, and Team USA collected silver ahead of Australia, who took bronze with 7 minutes 41.29 seconds.
In table tennis, China secured a one-two finish in women's singles after Sun Yingsha swept Japan's Mima Ito 4-0 in Thursday's semifinal.
Sun was later defeated 4-2 in the finals by teammate and world No 1 Chen Meng.
The Chinese women's volleyball team lost to the Russian Olympic Committee team 3-2 in their preliminary round, falling to the bottom of group B with a record of 0-3, along with Argentina.
"We didn't perform well from the first rally. The weak point was the blocking and spiking," coach Lang Ping said after the match.
"It took a lot of endurance to fight (today), and we still have two matches to fight. (We will) just try our best. There are losses and wins. We are fighting for the athletes' spirit," she added.
Ending the sixth day of the Games, China topped the medal tally with 15 golds, seven silvers and nine bronzes. Japan was in second place with 15 gold, four silver and six bronze medals, followed by the US with 14 gold, 14 silver and 10 bronze medals.