Smartphone makers target sales peak
Share - WeChat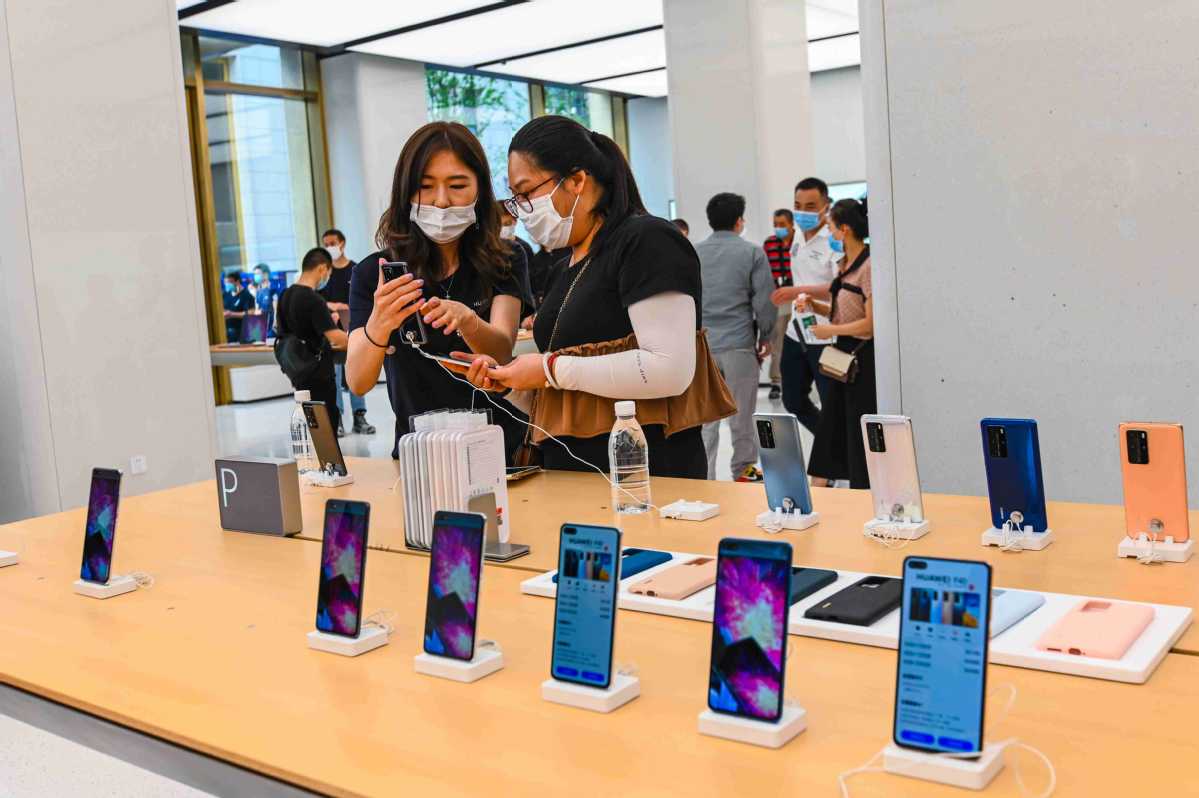 Chinese smartphone makers are increasing budgets to unveil new products to coincide with the peak sales season that starts in the July-August summer vacation and extends through the third quarter of every year.
Xiang Ligang, director-general of the Information Consumption Alliance, a telecom industry association, said the summer vacation is a prime time for smartphone sales as many students may want to upgrade their phones. Smartphone companies are keen to pounce on the time window to grow their businesses.
For instance, Huawei Technologies Co is scheduled to unveil its flagship smartphone P50 series on Thursday night.
Yu Chengdong, CEO of Huawei's consumer business group, said in a post on social networking platform Sina Weibo that the P50 phones would mark the beginning of "a new era of mobile imaging", suggesting the company may once again make the camera the focus of its upcoming flagship.
The move came shortly after Huawei's Chinese smartphone peer Oppo unveiled on Wednesday its latest smartphone Reno 6 Pro+Detective Conan Custom Edition, named after a Japanese comic series that commands a large fan base in China.
Last week, smartphone maker Realme also launched its latest products, the Realme GT Master Explorer Edition and the Realme GT Master Edition. They have been designed in collaboration with celebrated Japanese industrial designer Naoto Fukasawa.
Xu Qi, vice-president of Realme, said as the world's fastest-growing major smartphone brand, the company is dedicated to bringing consumers top-quality products.
Late July saw new phone launches galore, but they were preceded by data from market research company International Data Corp that smartphone shipments in China declined 11 percent year-on-year to nearly 78.1 million units in the second quarter of this year.
With the absence of blockbuster products from April to June, the existing smartphone series failed to pique the interest of consumers, IDC said.
Wang Xi, research manager at IDC China, said many smartphone models unveiled so far this year do not appear to be big on innovation, and their hardware upgrades are also apparently not so impressive.
But many makers of mobile phones that use the Android operating system have continued to accelerate their pace of entering the high-end market. So, in the short term, competition in the domestic market, especially in the mid-range to high-end segments, has been a battle of brands more than a battle of products, Wang said.
In the second quarter, Vivo was ranked first in the Chinese smartphone market with 18.6 million units shipped, up 23.6 percent year-on-year. Oppo, Xiaomi, and Apple were ranked second, third and fourth, respectively, and Honor, as an independent brand, figured among the top five in the domestic market for the first time, IDC said.
Market competition intensified after Huawei's smartphones business was crippled by US government restrictions.