Used car market sees steady sales growth
Share - WeChat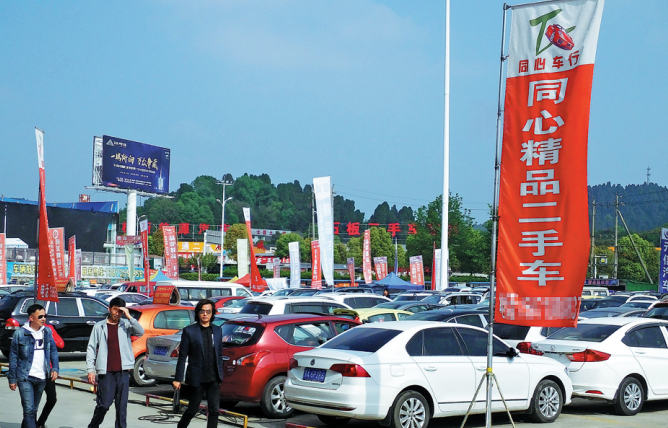 Consumer demand up more than 50 percent as segment continues to mature in China
China's used car market is maturing and expected to reach the same number of sales as new vehicles by 2025, an industry insider said.
Statistics from the China Automobile Dealers Association show sales in the first half of the year stood at 8.43 million units, an increase of 52.89 percent compared to the same period last year. The growth rate a year ago was just 3.93 percent because of COVID-19 lockdowns.
The transaction amount reached 522.88 billion yuan ($80.58 billion) in the first six months, increasing 86.47 percent year-on-year. In terms of different segments, sedans, MPVs and SUVs showed a growth rate of more than 50 percent.
A total of 1.53 million used cars were sold in June, increasing 17.76 percent year-on-year.
Luo Lei, the CADA's deputy secretary-general, forecast that the used car market will continue to grow and exceed 16 million units this year, with an increase of around 15 percent year-on-year. It is expected to surpass 30 million units by 2023.
The market is becoming more mature and the growth is led by healthy market demand because of the consumption upgrade-spurred by growing disposable income and a demand for better products-and car replacement, he said.
Meanwhile, China's policies are playing an important role in the used car market, Luo said.
There are three hurdles to the circulation of used cars: the cross-province transfer restriction, added-value tax and car registration.
Last May, the Chinese government reduced value-added tax on used cars from 2 percent to 0.5 percent.
China's Ministry of Commerce said last month that it would remove unwarranted restrictions and accelerate cross-province registration for trading used cars to boost consumption.
The ministry is working with relevant departments to accelerate the development of the used car market by lifting restrictions on cross-region transfers, assisting trading, promoting information sharing, and innovating circulation models.
Some provinces have implemented the measures and achieved good results. With the policies gradually benefiting more places, the used car market will get rid of opaque information and unregulated market rules, Luo said.
It will attract more people to the advantages of buying a used vehicle as opposed to a new one.
Meanwhile, as global chip shortages take their toll on the new car market, some customers prefer to choose used vehicles instead of waiting for new vehicles, Luo said.
The sales ratio of used and new vehicles was 0.55:1 in the first half of last year. The figure has grown to 0.65:1 this year so far.
Compared with developed countries, whose ratio is more than 1.5, there is still huge potential in China's used car sector. As a result, secondhand vehicle platforms are attracting investors' attention.
Last month, Beijing-based online car trading company Chehaoduo, which is parent company of used-car platform Guazi, announced it completed a new round of financing worth $300 million. It has accumulatively raised funding over nine rounds and is valued at more than $10 billion now.
In the week following that, another online used car dealer, Uxin, announced that it had entered into definitive agreements with Nio Capital and Joy Capital. Both investors have agreed to invest a total of up to $315 million.
Chinese used car trading service platform Chexiaoduo recently obtained $6 million in Series A funding led by Nio Capital and Li Xingxing, son of Li Shufu, the founder of Chinese automaker Geely Group.
The export of used cars from China has grown too. Last week, more than 1,000 used cars, including gasoline cars and new energy vehicles, were exported to 37 countries across Africa, Europe, Southeast Asia and South America.
China only started to export used cars in 2019.