School of thought
Share - WeChat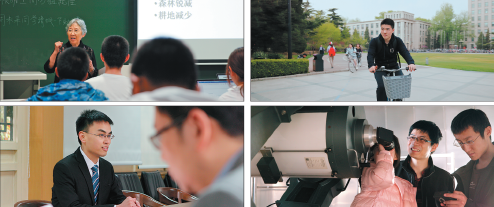 When Wang Jing was studying at the School of Journalism and Communication of Tsinghua University, she stumbled upon a heartwarming notice. It was a pivotal moment. The notice had been released by Song Yuntian-the 40th president of the students' union in the university-on his personal WeChat account.
Song, then a doctoral student majoring in hydraulic engineering, took inspiration from Japanese novelist Keigo Higashino's The Miracles of the Namiya General Store.
In order to help fellow students tackle their worries and reduce stress, Song placed three boxes at his dormitory building, two for exchanging letters for those who needed suggestions and one filled with candy as it is a surefire way to improve people's mood.
Wang was deeply impressed by this novel practice, teasingly commenting below the online notice that she wished she could be transferred to the hydraulic engineering department with such a caring senior.
Such a "dream" didn't come true, but Wang got a new opportunity to get to know Song better a few years later.
In 2018, Wang and Sun Hong, also educated at the School of Journalism and Communication of Tsinghua University, were tapped by their professor Lei Jianjun to join the documentary project, The Great Learning.
As a program to mark the 110th anniversary of the founding of Tsinghua University, the documentary opened in theaters across the country on July 9.
Currently, the film has earned 8 points out of 10 on the popular review site Douban. It is the latest cinematic retelling of the prestigious university's spirit after the 2018 star-studded blockbuster, Forever Young, and the recent documentary One Day When We Were Young.
Wang and Sun-who co-directed the film alongside another departmental schoolmate Ke Yongquan-planned to attract an audience of youngsters in modern society.
"For most young people, their university years are a key period in their development, playing a significant role in shaping the rest of their lives," says Sun, credited for a series of documentaries, including The Tale of Chinese Medicine.
"We have been curious about what universities can bring to their students and how plans for their careers and their future will be influenced," she adds.
With the crew members all from Tsingying Film, a studio affiliated to the Tsinghua University, the directors started to search for ideal candidates-ones who represent the university's spirit in their respective fields.
Aside from Song, the directors also convinced three other students and teachers to join the documentary as "protagonists".
These were Yan Yunzhou, a freshman; Cai Zheng, a young scientist who has returned from the United States to work at Tsinghua University, and Qian Yi, an 86-year-old professor at its School of Environment.