School of thought
Share - WeChat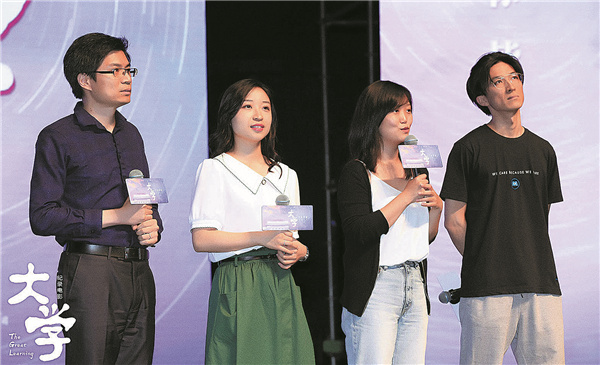 Interwoven in parallel lines, the feature unfolds with the nerve-wracking moment as Yan checks his scores in the gaokao, or the college entrance examination. A native of Shanghai, the then 18-year-old earned the top score in a physics examination specially organized by Tsinghua University to recruit young talent, but his gaokao score turned out to be less than that of the university's admission threshold. Luckily, the young man was admitted by the university's computer science department based on the talent he displayed in the physics exam.
"When we started the shooting in 2018, the time was close to gaokao," recalls Sun. "As we couldn't guess who would finally be admitted by Tsinghua University, we started following several high school students. Yan's tale was the most interesting and dramatic."
In the documentary, Yan's story depicts him both as a shy boy in a suit attending his first college dance party, and assuredly joining his classmates to prepare for the first semester's final exams.
"Interestingly, you can sense the pure happiness in learning, which has an infectious quality," says Sun. "The students majoring in the sciences really find solving puzzles entertaining."
While Yan's tale gives the directors a nostalgic hint of their early campus years, Song's struggle to chart a career in his final, or ninth, year in the university, unveils a graduate's ambition and sense of responsibility.
Despite having to leave his girlfriend who lives in Beijing, Song, from rural Henan province, rejected an offer from his alma mater to stay on as a teacher, instead returning to his hometown to work as Party chief for a village. He has since been promoted to be a town head.
"His grandmother had worked as a village Party chief for more than 30 years. His parents are both college teachers," Wang explains. "I believe Song has been influenced by his family, yearning to serve the locals in his home province for a long time."
Cai, one of the four people featured in the documentary, exemplifies Chinese scholars' patriotism. After earning a PhD from the University of Arizona, Cai worked at UC Santa Cruz in California between 2015 and 2019, before returning to Beijing to land an academic job at the astronomy department at Tsinghua. His main goal is to develop the next-generation spectral telescope to unravel more of the universe's mysteries in space.
"Cai was promoted to associate professor," Wang says.
The most difficult to get in front of the camera was, surprisingly, Qian Yi, the revered octogenarian professor.
Despite being the daughter of Qian Mu, one of the greatest historians and philosophers in the 20th-century China, Qian Yi, also an academician of Chinese Academy of Engineering, humbly believes that some of the other elderly professors from the university are more deserving of the attention.