Smart technologies' influence driving carmakers to make difficult choices
Share - WeChat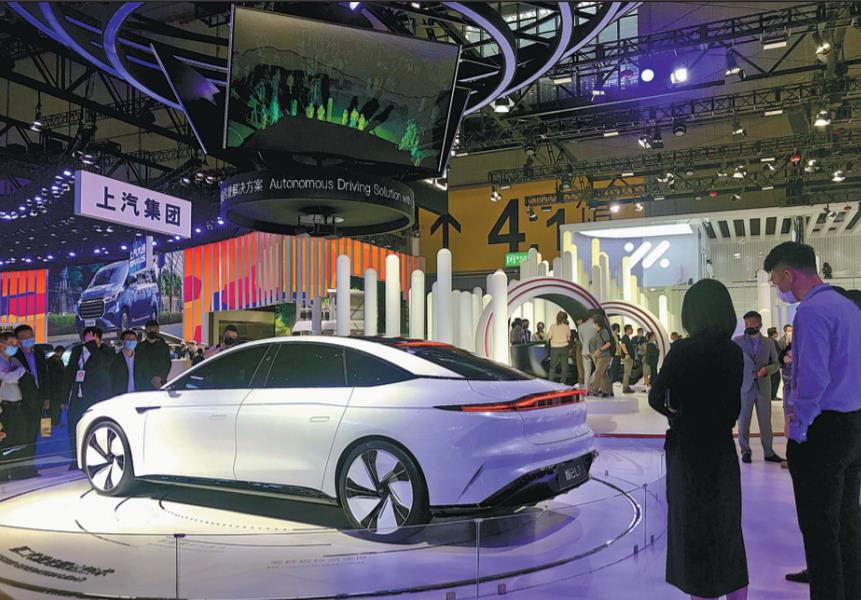 Manufacturers facing question of whether to outsource on software or to develop in-house
Carmakers are facing a dilemma in outsourcing their smart technology needs, as the role it plays in the cars of the future continues to grow in influence.
Some want the money- and time-saving expedient offer, while others worry overreliance may prove uncompetitive in the long run.
Aion, GAC's young electric car marque, is an example of the first type. GAC said last week that its board has given the nod for Aion to partner with Huawei, which is vowing to "bring digital into every car".
The two will codefine and codevelop a number of smart vehicles in coming years. To be specific, the chassis will be Aion's, while all things that enable smart vehicle functions, like the chips, the computing and communication architecture and the operating system, will be from Huawei.
Aion said the first model, which will feature Level 4 autonomous functions, will roll off the assembly line in late 2023. It will cost 780 million yuan ($120.65 million).
Aion is not the only carmaker that is betting on Huawei's technological prowess and its vast number of phone users and fans, who are estimated to love the seamless connection of their phones and vehicles that share the same operating systems.
Three months ago, at the Shanghai auto show, State-owned carmaker BAIC's premium brand Arcfox unveiled a model it codeveloped with Huawei.
It features the company's Harmony operating system, Kirin chips and autonomous driving solutions. It also bears the logo HI, representing Huawei Inside, and that is expected to add to its appeal to young customers who are increasingly proud of Chinese brands.
A video clip shows the model, which is claimed to be the result of 5,000 Huawei and Arcfox engineers working together, can navigate through busy urban traffic without the help of a human driver.
Wang Jun, head of Huawei's smart car unit, said the company has set a target to launch driverless solutions around 2025.
He said it is also working to further improve onboard functions. Huawei is investing $1 billion in smart vehicle technologies this year.
"Vehicle cabins will become smart spaces. As for what people can do there, there are boundless possibilities," Wang said.
While carmakers agree that smart functions will be a major selling point and software-based services for car users will become an important stream of revenue, they are divided on whether it is wise to completely outsource it to suppliers.
So far companies that have chosen to use one-stop solutions are smaller and less competitive carmakers that wish to boost their fortunes by partnering with giants like Huawei, while large carmakers have been working on their own solutions to future mobility.
Chen Hong, chairman of China's largest carmaker SAIC Motor, said in the age of software and data-based cars, one-stop package solutions from suppliers will reduce carmakers to simply hardware companies.
"It is like we become flesh and they are the soul, and that is not acceptable to us. We want to retain our soul," said Chen at an investor meeting earlier this month.
SAIC, partner of GM and Volkswagen, is investing heavily in electric and smart vehicles, with a budget of 300 billion yuan before 2025.
Its subsidiary, Z-One, is working on an architecture capable of Level 4 functions, which will be unveiled in 2023. It has also launched a digital platform that functions like Google's Android system for smart mobile phone makers and users.
Zu Sijie, chief engineer of SAIC, said the company will roll out a fleet of 40-60 robotaxis later this year.
Global giants including Volkswagen AG and GM have also been working on autonomous driving and other smart functions.
"We want to develop a leading automotive software stack. And we will continue to invest in autonomous driving and mobility services," said Volkswagen AG's chief financial officer Arno Antlitz.
The German carmaker estimates that around 60 percent of the software it needs in a car will be developed in-house.
Its automotive software company CARIAD aspires to develop a leading software platform by 2025, as a single software backbone for all of the group's cars.
By 2030, up to 40 million vehicles across brands will be operating on the group's software platforms. Already today, around 1,000 software engineers work for CARIAD in China.
Stephan Woellenstein, CEO of Volkswagen Group China, said Volkswagen will not refuse cooperation with technology companies but it would like to develop the core competence by itself.
He said Volkswagen will not make itself fully dependent on any supplier. Otherwise, it means the competence will move over to the supplier side, which is not in the strategic interest of any carmaker.
"Cars will be like smartphones in the future … but we will make sure that our part on the car is at least as big as Huawei or Apple in their smartphones," Woellenstein said.