Specialists say China's services trade boost augurs well for recovery
Share - WeChat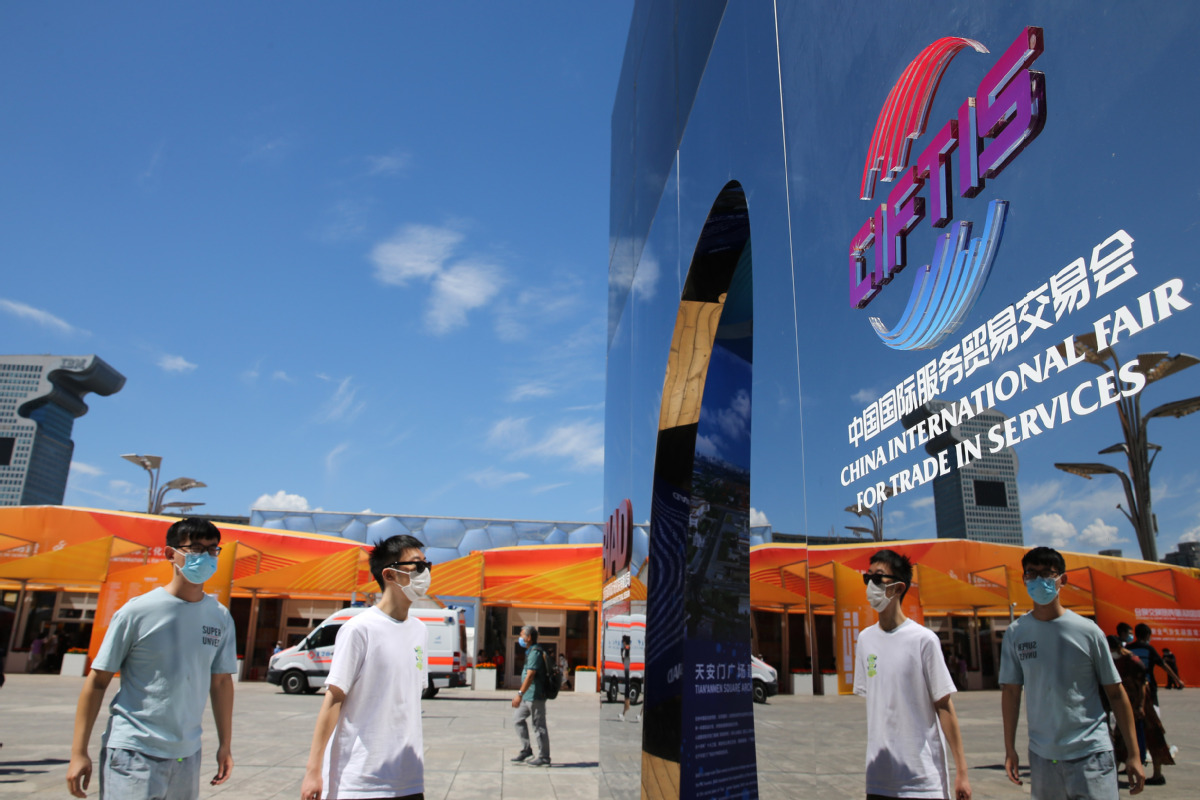 China's pursuit of innovation-driven high-quality development and the expansion of the nation's domestic market will shore up its trade in services, and continue to contribute to the global services trade growth and economic recovery from the COVID-19 pandemic, experts said.
Their comments were in response to latest data from the Ministry of Commerce that China's services trade in the January-May period rose to 1.94 trillion yuan ($300 billion).
Exports were up more than 20 percent year-on-year to about 911.78 billion yuan but imports fell 7.5 percent to around 1.03 trillion yuan.
Excluding tourism, a sector still suffering heavily due to the pandemic-related travel restrictions, China's services exports and imports would have surged 24.3 percent and 11.4 percent year-on-year in the five-month period, respectively.
In May alone, exports rose 7.7 percent year-on-year to 165.6 billion yuan and imports grew 3.7 percent to 207.85 billion yuan.
"China's services trade is growing at a fast pace and the nation is expected to have stronger presence in the global services trade on the back of its high-quality economic development and huge domestic market," said Zhou Mi, a senior researcher at the Chinese Academy of International Trade and Economic Cooperation in Beijing.
The nation has a complete industrial chain in manufacturing, a sector currently undergoing transformation and upgrade in pursuit of high-quality development, which will support the development of the services sector, especially subsectors closely related to manufacturing, he said.
Besides, services trade in sectors such as travel and education will resume rapid growth, underpinned by China's huge domestic consumption market demand, as the pandemic is gradually getting under control with the rollout of vaccination programs in various countries, he said.
The government's efforts to push innovation, improve the overall business environment and encourage trials in pilot free trade zones will also give rise to new business forms and models, which should inject growth impetus into the services trade, he said.
Huo Jianguo, vice-chairman of the Beijing-based China Society for World Trade Organization Studies, said the five-month data have shown that the country has made a great contribution to the global services trade, which is even more important as the world economy is still suffering from the impact of the pandemic.
As China continues to improve its business environment and open up wider to the rest of the world, its huge domestic market is set to attract more foreign investors, which will eventually boost the domestic services industry, especially in knowledge-intensive segments such as high-tech and financial services. This will make the country a stronger player in the global services trade, he said.
The MOC data have demonstrated rapid growth momentum in the nation's trade in knowledge-intensive services, which increased by 11 percent year-on-year to nearly 899 billion yuan during the five-month period.
Exports grew by 14.4 percent year-on-year to 493.33 billion yuan, while imports grew by 7.3 percent to 405.66 billion yuan, which jointly made the knowledge-intensive services account for 46.4 percent of the total trade in services, up 3.1 percentage points from the same period last year.
Among the knowledge-intensive services exports, subsectors that registered fastest growth were personal cultural and entertainment services (32.6 percent), telecommunications, computer and information services (22.6 percent), and charges for intellectual property right use (14.7 percent).
Imports in financial services and insurance services surged by 20.7 percent and 13.2 percent year-on-year, respectively.