CBDCs have big global potential, finds report
Share - WeChat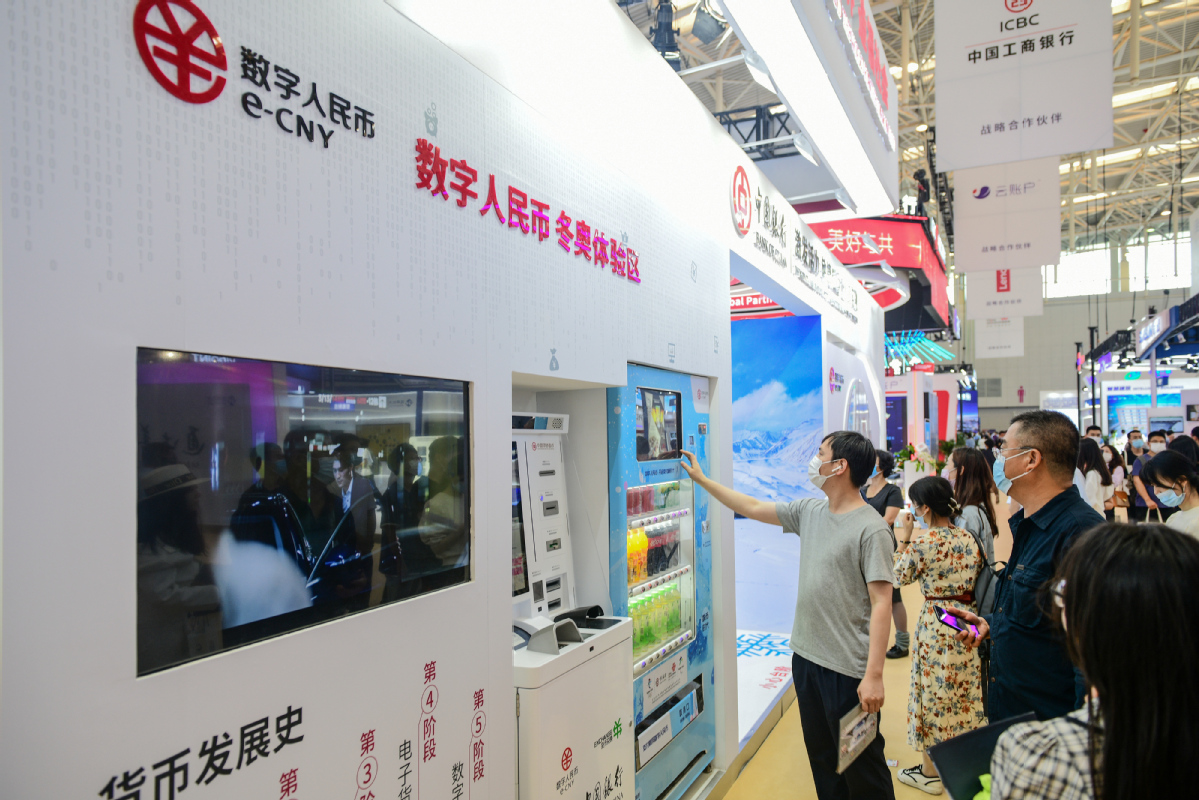 BIS: Cross-border circulation possible if central banks agree on protocols
Central bank digital currencies, or CBDCs, can achieve cross-border circulation if monetary authorities in different countries agree to share individuals' personal identities, which requires international cooperation, a report from the Bank for International Settlements stated.
China's account-based digital RMB, or e-CNY, can circulate widely in another jurisdiction, if both the issuer-the People's Bank of China, the central bank-and its counterpart in the receiving jurisdiction agree to accept sharing of digital IDs, according to a subsection of the BIS annual report, which was published on Wednesday.
That is a way to limit the risks of currency substitution, such as "dollarisation", the BIS said.
BIS research showed that at least 56 central banks and monetary authorities, which cover about one-fifth of the world's population, are developing their own CBDCs, a form of digital money that will be a direct liability of the central banks concerned, if they become mainstream e-cash.
The BIS annual report recognized the rise of CBDCs, which are receiving massive support from various central banks that are keen to develop their own digital coinage system.
The BIS' Innovation Hub has conducted a CBDC-related project jointly with partner central banks in China, Thailand and the United Arab Emirates.
This project explores how CBDCs could help reduce costs, increase transparency and tackle regulatory complexities in payments.
A multinational-used CBDC should surmount the hurdles of sharing digital identities across borders, it said.
The BIS report stated: "The potential for a foreign CBDC to make deep inroads into the domestic market, or to take off as a 'dominant' global currency, is likely to be limited.
"China's e-CNY is to shield the identity of the user by designating the user's public key, which is issued by the mobile phone operator, as the digital ID. The central bank would not have access to the underlying personal details."
So far, digital ID schemes have emerged in several countries. In China, the two biggest payment platforms-Alibaba's Alipay and Tencent's WeChat Pay-have developed their own digital IDs.
But the cross-border sharing of ID information will require a high standard of cybersecurity, the BIS said. "The rising incidence of major data breaches in recent years, in particular at financial institutions, underscores the possibility that data or funds may be stolen. Such risks would be similar for CBDC payment services."
The BIS said the entry of big technology companies into financial services would result in concentration of market power and push authorities to take anti-monopoly measures.
A research report from Fitch Ratings indicated that wider adoption of CBDCs could lead to changes in data-sharing and competition.
In China, the broader use of e-CNY in the future could lead to changes to the revenue structure of Alipay and WeChat Pay, which dominate non-bank mobile-based payments.
Discussions on cryptocurrencies rose in intensity recently when the world's largest cryptocurrency, Bitcoin saw massive sell-offs that began in May, followed by tough regulations in China and the United States.
China banned commercial banks and payment institutions from providing cryptocurrency services, and the US announced the prosecution of Binance, the world's largest cryptocurrency exchange, for alleged dubious actions.
Some analysts such as Victor Argonov, from London-based investment company Exante, think cryptocurrencies "no longer seem like a speculative toy that you just need to profitably resell and forget".
The BIS affirmed that other types of cryptocurrencies "are speculative assets rather than money", saying that they are used in many cases to facilitate money laundering, ransomware attacks and other financial crimes.