Timely revival
Share - WeChat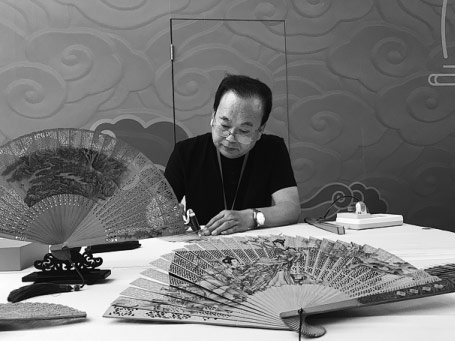 Age-old crafts get modern update with artists seeking creative ways to preserve the art forms, Cao Chen reports in Shanghai.
On display at the Baoshan International Folk Arts Exposition are traditional Chinese crafts. The expo at Shanghai's Baoshan district will run through July 11 in commemoration of the centennial of the Communist Party of China's founding.
The exhibition showcases works ranging from paper-cuttings to wood and bamboo carvings by more than 120 inheritors of national intangible cultural heritage and some 60 Chinese artists.
At a special exhibition zone featuring significant traditional Chinese artworks of the past century, a jade sculpture created by 34 Shanghai jade carvers is one of the exhibition highlights. The sculpture depicts images of important revolutionary sites and documents from the period of the Party's founding. These include the site of the First National Congress of the CPC and the first Chinese translation of the Communist Manifesto by German philosophers Karl Marx and Friedrich Engels.
The sculpture will be donated to the memorial of the First National Congress of the CPC in Shanghai's Huangpu district after the exhibition.
The show also enables visitors to admire a set of cloisonne artwork praised by the late reputed author Guo Moruo as "the first national gift of China". The set includes three plates created by artists, including Chang Shana under the guidance of late architect and writer Lin Huiyin in the 1950s, using Chinese enameling techniques that were widely seen in metalwork dating back to the Ming Dynasty (1368-1644).
The set was a gift to representatives from other countries participating in the Asia-Pacific Regional Peace Conference held in Beijing in 1952 after the founding of the People's Republic of China in 1949. Patterns on the pieces are from the Mogao Grottoes in Dunhuang and include doves and flying apsaras that symbolize peace and happiness.
Most Popular