Great leaps forward
Share - WeChat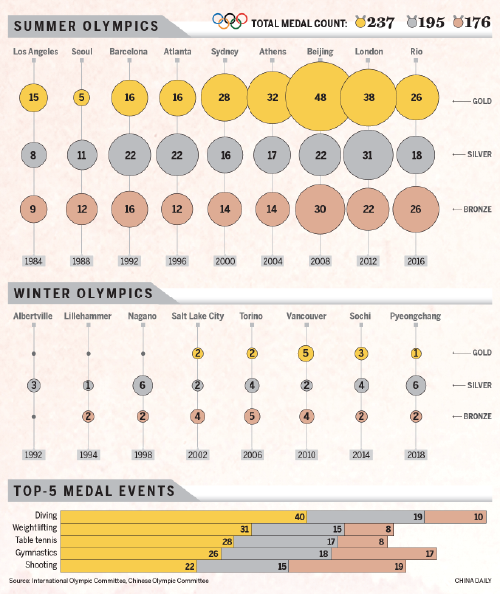 How China's golden era of Olympic achievements continues to go from strength to strength
Editor's note: To celebrate the 100th anniversary of the founding of the Communist Party of China, China Daily is publishing a series of stories on the changes and developments in various fields and industries.
From glorious moments on the podium to showcasing the nation's vibrant new face, China's involvement in the Olympic Movement has borne witness to monumental changes in the country's sporting, cultural and economic development.
Decades after resuming its legitimate membership of the International Olympic Committee in 1979, China has come a long way in the promotion of Olympism. From first being an onlooker, and then a medal winner, China will now play host for a second time as Beijing gears up to stage the 2022 Winter Games, which open on Feb 4.
Having already proven its athletic prowess by winning 48 gold medals to dominate the 2008 Summer Games at home, Chinese organizers are now capitalizing on Beijing 2022's influence to benefit national fitness, regional development and economic growth. The net result is a new chapter in China's contribution to the Olympic Movement.
Guided and overseen by President Xi Jinping, China is sparing no efforts to finalize preparatory work for hosting a streamlined, safe and splendid Winter Olympics as the country celebrates the 100th anniversary of the founding of the Communist Party of China.
Xi, also general secretary of the CPC Central Committee and chairman of the Central Military Commission, reiterated during a May telephone conversation with IOC president Thomas Bach that China is fully confident of staging successful Winter Olympics next year on schedule, and is willing to cooperate with the international community to ensure the safe delivery of not just Beijing 2022 but also the delayed Tokyo 2020 Summer Games.
During his inspection visits to Beijing 2022 venues in the city's downtown area, Yanqing district and co-host Zhangjiakou, Hebei province in January, Xi underscored the Games' role in facilitating a national goal of popularizing winter sports among 300 million people while boosting coordinated development in the region in infrastructure upgrade, outdoor tourism and carbon neutralization.
The vision has earned international acclaim as the IOC acknowledges China's efforts in making the most of the Games' legacy.
"Beijing and China have had the experience not long ago in 2008 of staging extraordinarily efficient Summer Games. Now you are celebrating for the first time in history as the same city organizing the Summer and Winter Games, which is a great opportunity," IOC vice-president Juan Antonio Samaranch said in a video speech during Beijing 2022's first diplomatic briefing last month.
"We not only praise your capacity of work, but the legacy that these Games have already started producing even before the start," added Samaranch, who also chairs the IOC's coordination commission for Beijing 2022.
"The legacy on the venues, the legacy on the hundreds of millions of Chinese people that would be brought into the winter sports activities. So the legacy is already there."
With all the 12 competition venues needed for the Games completed and tested, Beijing 2022 organizers are now busy improving COVID-19 control and prevention protocols, training volunteers, promoting Olympic education and finalizing post-Games venue operation plans.
Inspiring a nation
As prominent as China is now in the Olympic Family, the country fought hard to earn its place during a period when sports achievements were perceived as a morale boost for the nation in austere times.
After a decades-long standoff due to political reasons, the IOC agreed to resume China's legitimate membership at a meeting in Nagoya, Japan on Oct 25, 1979, paving the way for history-defining moments at the Games to inspire the nation.
At the 1984 Summer Olympics in Los Angeles, Chinese shooter Xu Haifeng won the country's first Olympic gold medal in men's 50-meter free pistol to kick off a strong campaign which also saw legendary gymnast Li Ning collect six medals, including three golds, and the women's volleyball team also top the podium.
China's memorable Olympic highlights also include the growing might of the country's diving, table tennis and badminton teams since the 1992 Barcelona Games, as well as the breakthrough in Western-dominated events, such as sprinter Liu Xiang's victory in the men's 110m hurdles at the 2004 Athens edition, and the short-track speed skating team's gold rush at the Winter Games.
The journey has seen China make enormous sporting and social strides, including winning 237 Olympic gold medals, launching a national mass fitness program, and hosting 13 international sports events-the most notable of which, of course, was Beijing 2008.
Maximizing the extensive exposure during Beijing 2008, China built a confident image at a critical time for its ambitions to play a more prominent role in international affairs.
"There was no better platform and timing than the 2008 Olympics for China to flex its muscle in not just competitive sports but all aspects of development during two weeks of intense global exposure," said Ren Hai, a sports sociology professor at Beijing Sport University.
The Games served as a window for the world to understand China in an unprecedented and direct way, Ren added.
Instead of just admiring Olympians' strong performances, as they did decades ago, Chinese people nowadays, especially health-conscious urbanites, are more interested in living active lives of their own by exercising regularly, enjoying professional sports shows and placing greater emphasis on sports' role in education.
The awareness of sports participation as a lifestyle choice is witnessed in the growing number of city marathons, accessible exercise facilities and mass fitness activities.
The Olympic motto of going "faster, higher and stronger" has trickled down from the elite level to the everyday lives of Chinese people as the country aims to build a 5 trillion yuan ($783 billion) sports industry by 2025 by providing more accessible exercise facilities and sports-related tourism and consumption destinations.
The 2022 Winter Olympics are expected to keep the momentum going, according to Olympic expert Yi Jiandong.
"The initiative to involve 300 million people in winter sports has boosted the domestic demand for winter sports gear and equipment and increased the sales of sports goods in China," Yi, a professor at Wenzhou University, said in a column published in China Daily earlier this year.
"This is possible because of efficient social governance, collaboration among different regions and a well-designed national fitness program.
"As such, the 2022 Winter Games is not only about a global sports gala but also about inspiring more and more people to take up sports in order to lead a healthy life."
During a symposium in 2019 to commemorate China's return to the Olympic Family, IOC president Bach hailed the country's prominent role in the Olympic Movement.
"Looking back at four decades of progress and success, China has written Olympics history in so many ways," Bach said.
"Your athletes have made sporting history with outstanding athletic performances. Their success is a reflection on the incredible progress of China as a whole.
"Having the world's most populated nation in the Olympic Movement has proved a huge success story for China and the movement in recent years, and you can see China's growing contribution."