Students show off their inventions at design competition
Share - WeChat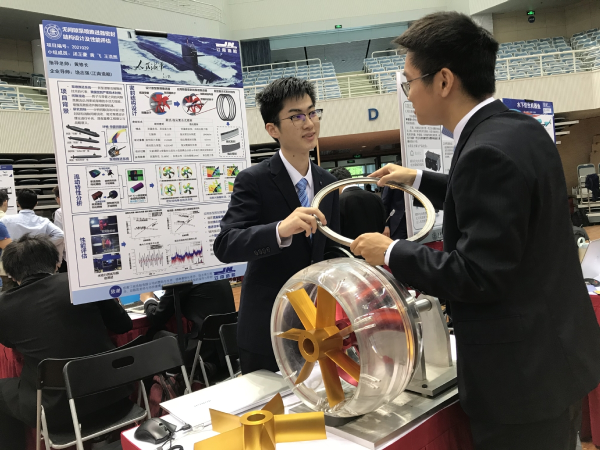 Mechanical engineering undergraduates from universities across China showcased their graduation projects at the fourth "Hengxing Cup" Graduation Design Competition that concluded at Shanghai Jiao Tong University on May 26.
Held by the Mechanical Education Union of Excellent Engineers, the competition featured 55 projects related to industries like aviation and micro-electro-mechanical system. Students from Tsinghua University, Zhejiang University and 24 other domestic universities made the finals.
According to judges of the contest, commercial value, innovation and legal compliance were among the key assessment factors.
"Mechanical engineering is a technical discipline that requires practitioners to apply theories they have learned in school to real-life problems. All the topics of the graduation projects were put forward by the enterprises that teams cooperated with for the contest," says He Cunfu, secretary-general of Mechanical Education Union of Excellent Engineers.
"We want students to practice their capabilities in teamwork, public presentation and professional skill," he adds.
One of the gold award winners was an exoskeleton equipped with computer-controlled motors. Developed by students from the mechanical engineering school at Shanghai Jiao Tong University, the device can be used for lower limb rehabilitation on children with cerebral palsy.
"Sports rehabilitation is often used to treat patients with cerebral palsy. However, the effect of traditional treatment depends heavily on the working experience of therapists who have limited resources to ensure continuous treatment for a prolonged period," says Fu Zejun, the team leader.
Fu also points out that most traditional rehabilitation devices are bulky, heavy, expensive and only suitable for use in medical institutions.
"Our design tackles these problems as it facilitates the efficiency and frequency of rehabilitation and enables children to carry out rehabilitation training at home," he adds.
Being a part of the competition has been a fulfilling experience, Fu says, as he was presented with the opportunity to cooperate with rehabilitation physicians from Xinhua Hospital affiliated to the university's school of medicine and understand the real demands of the industry.
"We also got to share insights with top students from domestic universities and broadened our knowledge in scientific research in the field. The judges in the contest provided valuable guidance for our project as well," he says.
Seven projects won silver awards at the contest. Among them was a design by Wang Mingxian from the engineering school at Beijing Jiaotong University in collaboration with China North Vehicle Research Institute-a cost-effective smart robot dog for the elderly.
Another silver award winner was Han Xiangyu from the school of mechanical engineering at Zhejiang University, who created a noncontact sensor that can monitor breathing patterns.
"Through cooperation with enterprises, I have learned how to determine market demand and what to expect in the industry. This is all very helpful for my career," says Qin Chuan from the school of mechanical engineering at Shanghai Jiao Tong University.
Qin's team presented a fishlike biomimetic underwater robot that can be operated up to a depth of 10 meters. Utilizing double-sided metal elastic plates and an automatic gear structure, the robot can be used for marine research.
Most Popular