Blossoming of a dream
Share - WeChat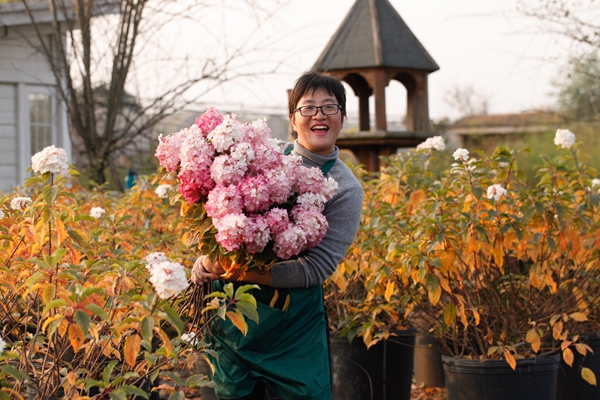 Woman changes career to embrace her passion and educate people on the beauty and importance of flowers, Wang Ru reports.
Qiu Yamin, 42, was inspecting her flowers in Chengdu, Southwest China's Sichuan province, one afternoon, while having it livestreamed. When she saw the fading sunlight and realized sunset was approaching, she climbed to the roof, and enjoyed the panorama with about 700 people watching online.
For the woman who made her hobby of planting flowers her job, it's a great pleasure to enjoy the blossoming flowers with others who share her passion.
Back in 2008, Qiu was living a different life, one far removed from pots and plants. The computer saleswoman was bored with her job."At that time, I had a job I disliked, and the busy work day after day meant I did not have enough time to appreciate even the change of seasons. I felt my life would remain the same."
As a result, Qiu decided to quit her job and follow her heart by opening a flower store. But the retail side was not profitable, since fresh-cut flowers wither easily. If they were not sold in several days, they were discarded.
By chance, Qiu and her husband went to Sansheng township in Chengdu, where there was a large flower retail market. On the way, she saw some tall apartments with balconies which seemed to be either empty or full of clothes people were airing. Then the idea hit her.
"I rented a vacant lot of 2,000 square meters in Sansheng and grew numerous plants inside, changing it into a garden, which is also a flower market. People can visit the garden and buy plants," says Qiu.
At that time, she was expecting her first child, Heidi, and named the garden Heydear Garden. She carefully designed the garden with her family and opened it to the public when various flowers began to bloom there. She was called Heidi's mother by visitors from then on.
Several years later, when Qiu's second daughter Lulu was born, she opened a new garden in Shuangliu district, Chengdu, and named it the Garden of Heidi and Lulu. Nearly 2,000 kinds of plants are growing in the garden with an area of 3,000 square meters. It soon gained popularity online, attracting many tourists to come to the garden to take photos.
"I feel very happy seeing many people visit the garden, I want to make people realize the attractiveness of plants and gardening," says Qiu.
The garden has 10 parts with different themes, including a dinosaur garden which Qiu designed for Lulu. "Lulu likes dinosaurs very much, and asked for a dinosaur garden. We visited dinosaur museums and made a dinosaur skeleton with wood."
They also designed parterres in the area in the form of dinosaur bones.
According to Qiu, they allow 600 people to visit the garden every day, and people can apply to visit it online.
Most Popular