Deep fried spare ribs with dried tangerine peel in strawberry sauce
Share - WeChat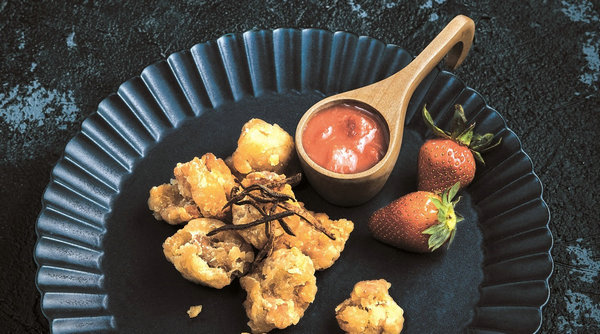 Ingredients :
1.Strawberry 8 pcs
2.Spare ribs 400g (chop into pcs)
4.Lemon juice 2 tbsp
5.White vinegar 2 tbsp
6.Corn flour 160 grams
7.Drinking water 130 ml
8.Cooking oil 900 ml
9.Egg 1 pc
Marinate spare ribs:
1.Dried tangerine peel (Chen pi) 3 pcs
2.Shaoxing Wine 2 tbsp
3.Salt 1/2 tbsp
4.Granulated sugar 2 tbsp
5.Light soy sauce 2 tbsp
6.Oyster sauce 2 tbsp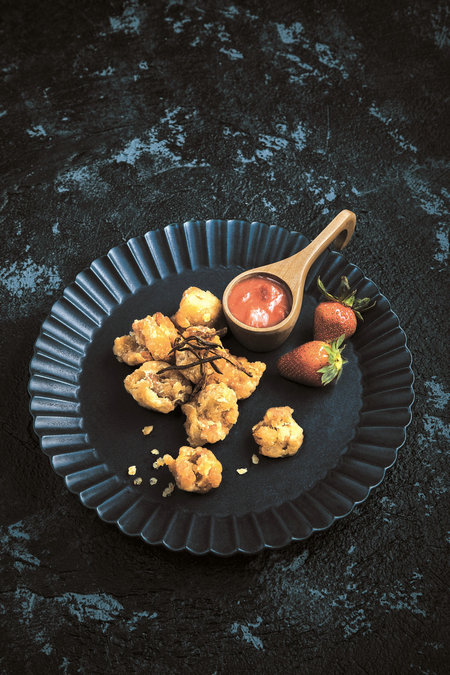 Preparations and Steps:
1. Wash spare ribs, use hot water to soak for 3 mins, rinse out the bloody by running water; use kitchen towel to dry the spare ribs;
2. Wash dried tangerine peel, use tape water to soak until soft;
3. Use knife to scrape away the white pith which is at the back side of the peel; (to avoid bitter taste);
4. Wash strawberry by running water, take out the stems;
5. Cut 6 pcs strawberry into 4 pcs each;
6. Add strawberry pcs and 130 ml drinking water into the blender, use medium speed to blend until liquid and pour it out;
7. Cut the rest of strawberry into pcs ;
8. Mix 2 tbsp corn flour and 100 ml drinking water together to become corn flour water;
Marinate the spare ribs:
Add salt, dried tangerine peels, Shaoxing wine, light soy sauce, oyster sauce and sugar into the spare ribs, stir is well, keep refrigerate for at least 3 hours;
Cooking strawberry sauce:
1. Add strawberry sauce into a pan, use medium heat, add sugar, white vinegar, keep stirring during cooking until sugar completely dissolved;
2.Add lemon sauce, then turn off the heat;
Deep fried spare ribs: (deep fried for 2 times)
1. Beat an egg and add it into the spare ribs and stir it well;
2.Add corn flour evenly on each of the spare ribs, stir it and wait for 15 mins before deep dry;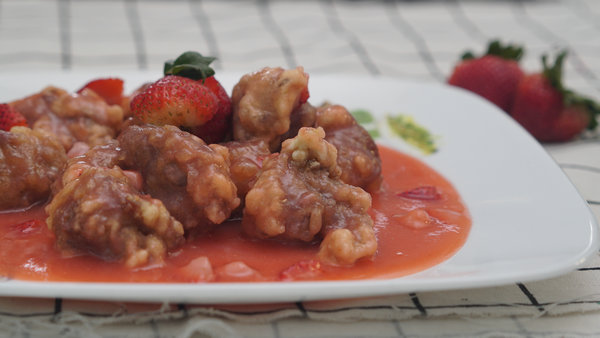 3. Add cooking oil into a saucepan, use high heat ; (use wooden chopsticks to test the oil temperature, oil ready when you see bubbles surrounding the chopsticks);
4.Add spare ribs one by one carefully, turn medium heat to deep fry for 4 mins (keep stirring to avoid spare ribs stick together;
5. Spare ribs out from oil;
6. Turn on the heat again, use high heat to deep fried the spare ribs for 3 mins, turn off the heat, drain the oil of the spare ribs;
7. Use high heat to re-heat the strawberry sauce, add strawberry pcs together, turn to medium heat, add corn flour water (stir the corn flour water before adding into the sauce)
8.Turn off the heat, add spare ribs into the strawberry sauce immediately, stir it slightly and serve;
Enjoy !!!
Tips:
1. Shaoxing wine and dried tangerine peel can be available in most of the Chinese gourmet stores;
2. Increase the flavours of the spare ribs if marinate for overnight;
3. Hot water MUST NOT be use for making corn flour water;