Property investment up 21.6% in first 4 months
Share - WeChat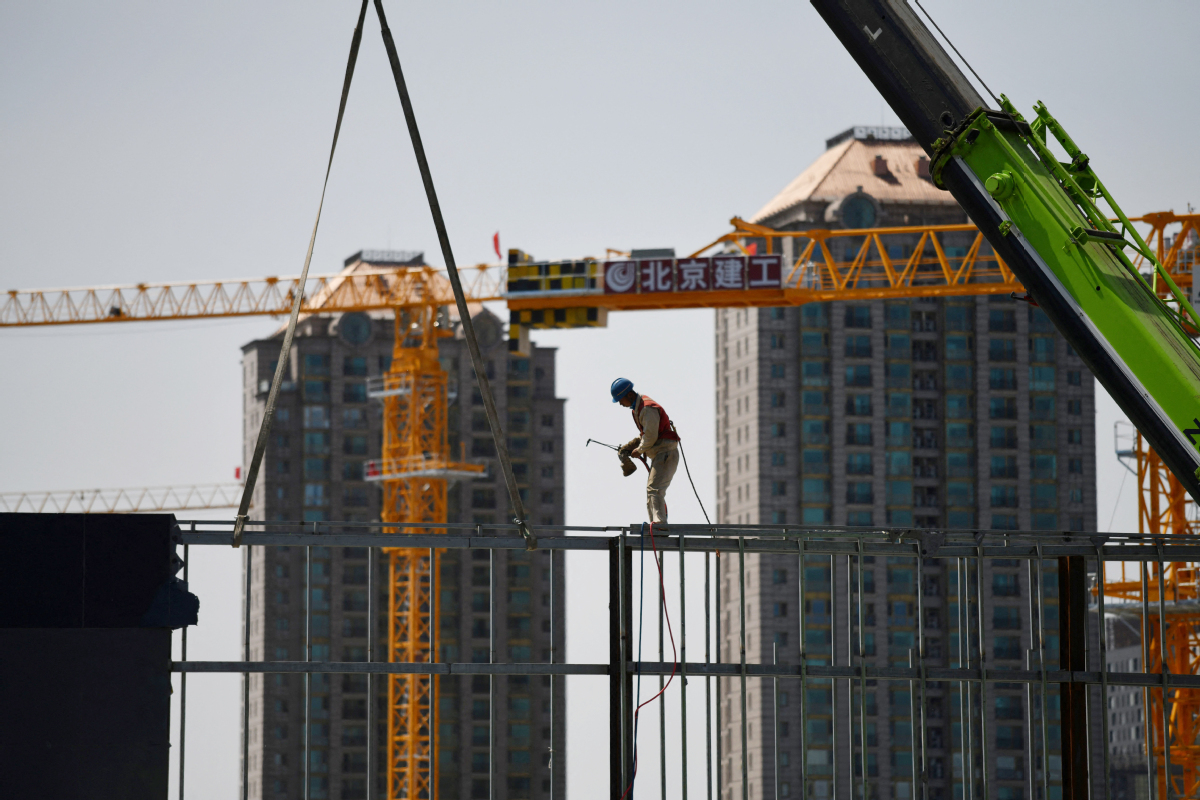 Real estate investment in China rose by 21.6 percent to 4.02 trillion yuan ($624 billion) during the first four months of the year from a year ago, official data showed on Monday.
Nearly 3.02 trillion yuan of the total was used for residential development, up 24.4 percent on a yearly basis, according to the National Bureau of Statistics.
Property investment growth slowed down during the four months compared to an increase of 25.6 percent in the first three months, further eclipsed by a 28.8 percent rise in residential property investment between January and March from a year ago, it said.
Experts expect the sector to remain stable along with an improving business environment and continue to abide by the central authorities' guideline that housing is for living in, not for speculation.
Property sales from January to April grew by 48.1 percent on a yearly basis in terms of floor area, slowing from a 63.8 percent rise in the first quarter of the year. Home sales grew 51.1 percent and 73.2 percent on yearly basis in terms of gross floor area and sales revenue, both of which were relatively milder than the 68.1 percent and 95.5 percent seen in the first quarter, respectively, according to NBS data.
The slower investment data and sales figures are due to the curbs on the property market as well as a seasonal slowdown, said Pan Hao, a senior analyst with the Beike Research Institute.
Since the beginning of this year, cities like Dongguan in Guangdong province, Jiaxing and Ningbo in Zhejiang province, Nanjing of Jiangsu province, Hefei of Anhui province, Guangzhou of Guangdong province and Chengdu of Sichuan province have announced various policies including purchase restrictions, price caps, lucky draws for home purchase, and presales management, which have effectively stabilized local home prices, said Pan.
The rapid economic recovery from COVID-19 has buoyed demand for new homes in China, and in response to the market demand, property developers are becoming more active in terms of land acquisition, said Zhang Dawei, chief analyst at Centaline Property Agency Ltd.
The NBS also released data on new home prices in the nation's 70 major cities on Monday, which showed an across-the-board growth in April, while pre-owned apartment sales showed varied trends, said Sheng Guoqing, chief statistician with the NBS.
In April, new home prices in the 70 major cities tracked by the NBS rose by 0.5 percent on a monthly basis and by 4.4 percent on a yearly basis.
"Although most of the major cities had announced restrictions on home purchases, prices continued edging up in April, showing the necessity for local governments to react more spontaneously when surge signs appear," said Yan Yuejin, director of the Shanghai-based E-house China Research and Development Institution.
Of the 70 cities, 62 saw growth in new home prices, three cities reported no change, while five posted declines.
New home prices in the four first-tier cities rose by 0.6 percent on a monthly basis, with Guangzhou taking the lead with 1.1 percent growth, followed by Beijing with 0.6 percent, Shenzhen with 0.5 percent and Shanghai with 0.3 percent.
Compared to a year ago, the four top-tier cities saw a 5.8 percent growth in new home prices, up 0.6 percentage point from that of the previous month, according to the NBS.
First-tier cities outperformed smaller cities in new home price growth. The 31 second-tier cities monitored by the NBS saw prices increase by 0.6 percent on a monthly basis, and by 4.9 percent on a yearly basis, while the figures were 0.4 percent and 3.9 percent for 35 third-tier cities.
In the pre-owned home market, first-tier cities continued to take the lead in price gains. Compared with March, prices of pre-owned homes in the top-tier cities rose by 0.8 percent on average, and witnessed an 11.3 percent growth on a yearly basis.
Used home prices in 31 second-tier cities, mostly provincial capitals, rose 0.5 percent from a month ago, and 3.4 percent year-on-year. The 35 third-tier cities saw existing home prices edge up 0.3 percent on a monthly basis, and by 2.5 percent from the same period a year ago.