Food for thought
Share - WeChat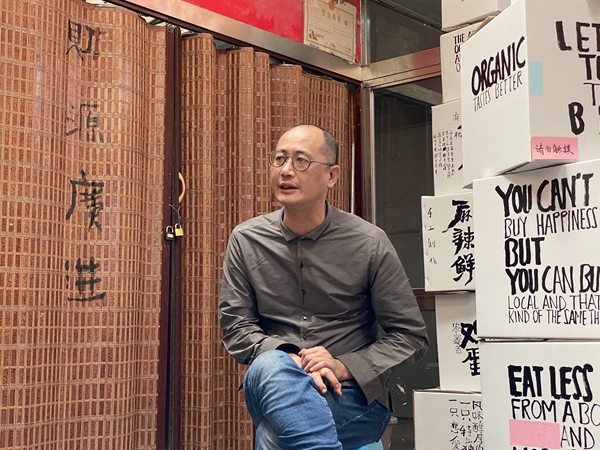 Qiu Zhijie holds his calligraphy exhibition at an unusual venue to promote art in daily life, Deng Zhangyu reports.
When Zhu Zhengtian began his work at his stall in Sanyuanli food market in Beijing as usual on May 1, he was surprised to find that each of the eggs in his shop had a Chinese character written on it, and together they made up a poem.
"Very interesting! I never saw this before," says Zhu, a vendor who has worked in the market for 20 years, adding that the eggs quickly sold out at a much higher price than usual.
The labels on grain boxes at Zhu's stall also had calligraphy-style characters written with ink brushes.
There are dozens of calligraphy scrolls hung in the market as part of artist Qiu Zhijie's exhibition, titled To the People, Food Is the First Necessity. The market houses more than 100 stalls selling vegetables, fruit, meat, seafood and spices.
The show is a project to advocate art in daily life.