Shenzhen village moves from making replica paintings to creating originals
Share - WeChat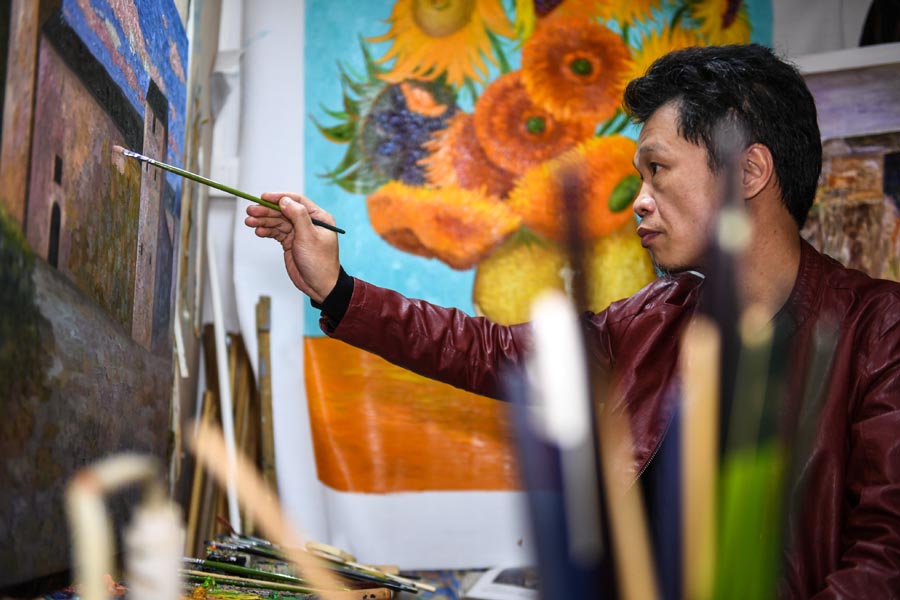 The village of Dafen in Shenzhen, Guangdong province, known for large-scale production of paintings, has figured out a way to survive storms in the world economy since the 2008 global financial crisis. Despite difficulties, it has found a way to thrive.
Last year, as the novel coronavirus pandemic began to buffet economies around the world, people in Dafen steered into the wind. They survived what could have been a disastrous shipwreck by moving to online sales.
"Most of my income last year was from selling pictures online," said Xiao Shuihui, an oil painter in Dafen. In 2020, his monthly income shrank to 10,000 yuan ($1,534) because of the COVID-19 pandemic, but then income from e-business platforms began to rise steadily.
In 2019, Xiao sold dozens of his oil paintings, earning about 30,000 yuan per month. Now his monthly income is already on par with 2019. "I attach great importance to my online stores," he said.
Dafen, once known as the world's largest oil painting reproduction center, has been exploring the online market since 2012. Now there are more than 2,500 digital shops for Dafen businesses operating on Tmall, Taobao, JD.com and Alibaba. Annual sales of the shops range from 3 million to 30 million yuan.
The village's total annual output was valued at 4.1 billion yuan last year. Although gallery sales dropped sharply, the online shops generated the considerable sum of 2.34 billion yuan, up 30 percent year-on-year.
Yu Jinrui said Dafen has never stopped innovating when faced with economic difficulties. Yu became an apprentice of a famous painter in Dafen in 2000 when he was 17 years old. Now he heads the industry's association in Dafen.
In 1989, Huang Jiang, a Hong Kong art dealer, moved 26 painters to Dafen, which helped start the movement that eventually made it into a significant international marketplace for oil paintings. Thousands of people without professional training flocked to Dafen. They supported their families by learning the oil painting skills needed to imitate world-famous paintings.
The secret that ultimately positioned Dafen at the center of processing, production, marketing and distribution was the assembly line concept, Yu said.
"Twenty people lined up in a row to do a landscape oil painting. The first person was responsible for mixing colors, then one by one, they painted the sky, the mountain, the tree and the house. The assembly line is fast and unified," Yu said, recalling his participation in the first assembly-line production in the village.
The annual output value in 2007 was 430 million yuan. Eighty percent of the replica oil paintings were exported.
The 2008 financial crisis quashed foreign demand for reproductions. But with the gradual development of decor for homes' interiors, Dafen found a way to transform itself from low-end copying to original artwork.
"A large number of five-star hotels have been built in China since 2008, and about 70 percent of the paintings for interior decoration were produced in Dafen," said Feng Jianmei, a successful merchant based in the village since 2002.
Xiao, the artist, started his studio in the village in 2013. In his view, the place has everything necessary to start a business. "You can even use convenient express services to deliver oil paintings to buyers," he said. "Different ideas can provide a rich source of inspiration for artists."
In January 2018, Feng built a residence in Dafen for international artists. It has attracted 207 artists from 14 countries who spend one to three months creating artworks and exchanging ideas with local artists.
In 2019, the annual output value was 4.6 billion yuan, but export revenue was only 500 million yuan. "The exports are mostly decorative paintings of high quality," Feng said.
Now there are 1,200 galleries in Dafen. Feng said the village feels more accessible to many consumers, who said they can talk with artists.
"I hope the village will become a tribe of international artists," she said.