FDI inflows set to rise this year
Share - WeChat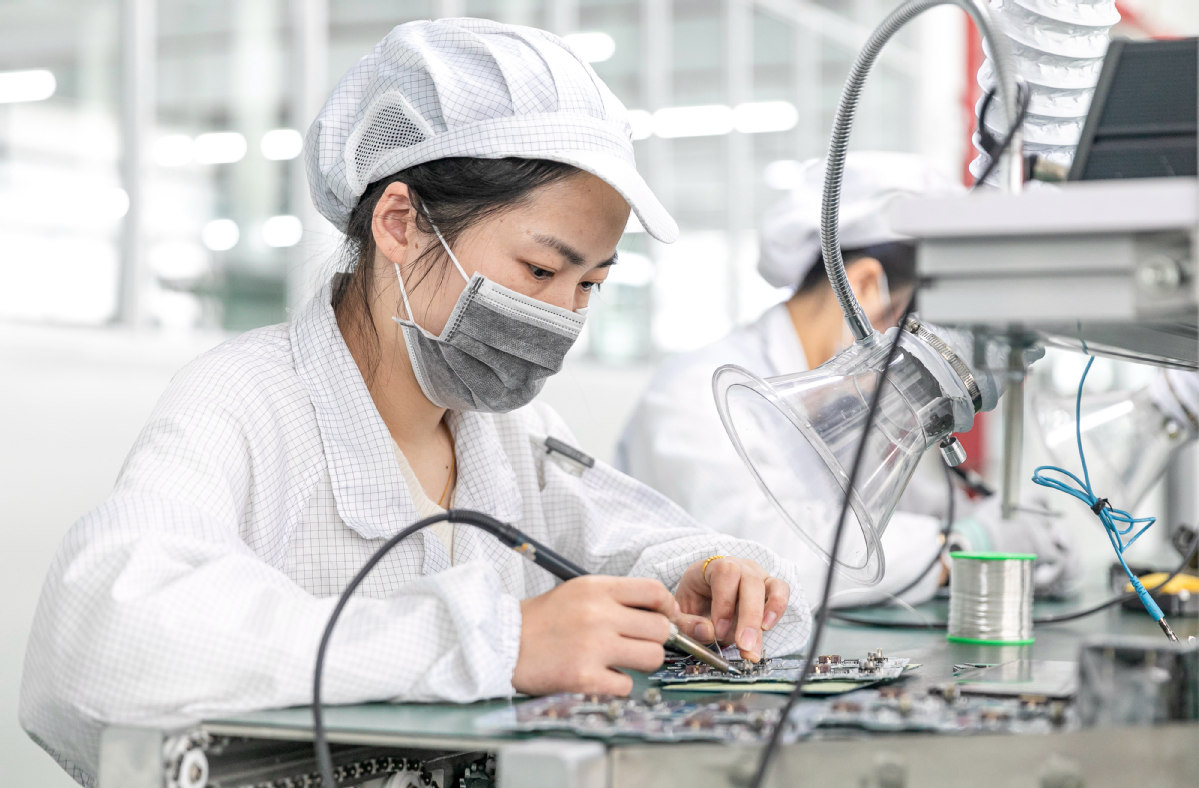 Upticks likely in producer services and advanced manufacturing
Foreign direct investment inflows into China are expected to expand at a relatively fast pace this year despite the complex domestic and international situation, according to industry experts and business leaders.
Sectors like producer services, a category of services based on service functions, high-tech and advanced manufacturing, will become more attractive for foreign investment this year, they said.
China plans to attract and utilize foreign capital by optimizing the various services and strengthening foreign investment protection, according to the blueprint for economic and social development for the next five years and the long-range objectives through the year 2035.
Latest data from the Ministry of Commerce show that China's actual use of FDI rose by 31.5 percent on a yearly basis to 176.76 billion yuan ($27 billion) during the first two months of this year. The nation surpassed the United States as the biggest FDI recipient last year.
"China will face greater pressure in attracting foreign investment this year, due to changes in the global supply and industrial chains," said Zhang Fei, associate director of the Institute of Foreign Investment of the Chinese Academy of International Trade and Economic Cooperation.
"However, the country's strong economic resilience, huge market potential, industry-friendly policies, and continuously improving business environment will continue to be attractions for foreign investors."
China's efforts to foster a higher level and international rules-based opening-up also show its determination to promote openness and win-win cooperation. This will help the country to attract more foreign investment and bolster the confidence of overseas investors, she said.
According to a recent survey released by the American Chamber of Commerce in China, 61 percent of the respondents termed China as a priority investment destination and expressed confidence that the country would further open its markets to foreign investment.
The members continue to see business opportunities in the going global plans of Chinese companies, efforts to boost domestic consumption and new digital technologies.
Leon Wang, executive vice-president of AstraZeneca and CEO of AstraZeneca China, said the country will continue to attract foreign investment with the help of lower tariffs, shorter negative lists, improved market access, transparent market rules and an attractive business environment.
AstraZeneca is bullish on China's new dual-circulation development model and will continue to invest in the country, he said.
Zhang from the CAITEC expects sectors like advanced manufacturing, smart manufacturing, intelligent terminals, autonomous driving, smart home, sensors and commercial 5G, and digitalization-related industries to be key areas for foreign investment during the 14th Five-Year Plan period (2021-25), as China needs to seize the opportunities arising from the new round of global technological revolution and industrial transformation.
Zhang Yansheng, chief researcher at the China Center for International Economic Exchanges, expects China's high-quality economic development to channel more FDI into the services sector, while the producer services sector will remain attractive for FDI as the Chinese economy expands.
"More FDI will flow into industries such as artificial intelligence, information technology, pharmaceuticals and healthcare, high-end manufacturing, as well as the new economy, such as industrial internet."
Green industries that include technologies, equipment and services for carbon footprint reduction will also become increasingly appealing to FDI, as China continues to make efforts to deliver on its commitment to peak carbon emissions by 2030 and realize carbon neutrality by 2060, he added.
However, experts said trade tensions between China and the US could cause uncertainties for FDI flows.
The growing global emphasis on safety of supply and industrial chains could cause confusion and a sense of uncertainty among foreign investors, said Zhang from the CCIEE.
He said China should strengthen the unofficial or non-government-led communication channels to enhance mutual understanding with foreign investors. Zhang said China must also improve occupational education and training to boost the labor quality, and enhance consistency of regulations, both at the central and local government level.